Seven school teams from South East Europe embarked on a journey to meet colleagues from schools in Germany, France, Belgium and Luxemburg (Grande Region), during March 16 – 21, 2014.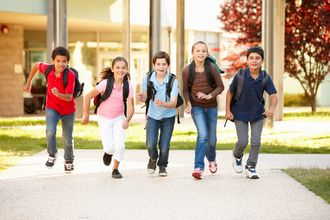 A wise person once said that if we want to make a change we do not have to think years ahead, or plan big actions. It is enough to take the smallest step towards that change and it will happen and from there it will be like a ripple effect.
Working towards a more inclusive education system we tend to forget that the essence of inclusiveness lies in its values and like the slogan of our Project says, every child is welcome, every parent is involved and every teacher is valued. The practice then emerges with the creativity and motivation of teachers.
Many participants of this study visit said that it was only when they came back to their own schools that they put into perspective the lessons they had learned. Changing paradigms and accepting these values are something that all participants of the study tour stressed as the most important, if we truly want to have inclusive schools.
After the visits to schools in Luxembourg, Nataša Palac, a psychologist from the Primary School "Vladimir Nazor" in Ploče, Croatia said: "We did not learn recipes there. They, unfortunately do not exist, only little sparks and directions. In Croatia, we test ignorance instead of knowledge". One of the most important lessons Nataša learned was to offer students a choice. "It is not easy but it pays off. It strengthens the confidence of children; it makes them feel they matter. We have to take into account their differences. We are all unique. If somebody is good in written tests and poor in oral exams, we should allow that child to only have written tests."
After visiting La Grand Region (Grande Region), teachers from Ploče started giving their students a choice between the two or more tasks during lessons. They also started working with the students who have difficulties on developing their competencies, instead of just trying to fulfil the programme.
After learning the importance of team work with other resources and institutions through examples from Luxembourg, they organised a training of teachers workshop to help them work with children with various difficulties. This training was organised in cooperation with a mobile team from the Centre for Education and Upbringing "Goljak" from Zagreb a centre specialised in working with children with motor skills difficulties. After the study visit, they established a team for innovative inclusive practice which will also be in charge of identifying innovative teaching methodologies and approaches and support teachers to implement them.
"I was very impressed how the students felt so relaxed and interacted so freely with teachers in the Belgian schools we visited. This is not something common in our classrooms. This is the attitude I am trying to implement in my classroom", says Arjan Malcellari, a science teacher from General Secondary School "Muharrem Çollaku" in Pogradec, Albania. Together with his peers, Elena Dimashi and Sofilda LLogori, who were part of the study visit, he is discussing how they can take forward the good examples they identified.
According to Arjan "they started applying the small groups' model of working with underperforming students, who need additional support in subject areas." It is a challenge in a traditional classroom, but they will not give up.
Duško Perinski from VET school "Moša Pijade", Preljubište, "the former Yugoslav Republic of Macedonia", says that the biggest change after the study visit was that it opened a discussion about what 'inclusion' actually means. He feels that there are still so many questions and many answers to look for. After the participants presented their experience from the study visit to other staff members in the school, many became aware of the variety of learners in their classrooms and they keep introducing tasks with different levels of complexities.
Duško says that exchange with the colleagues from the Grande Region helped him better support two students with difficulties in his classroom; one who had just moved from the United States and has a problem expressing himself in oral or written form and the other with cerebral palsy. In the literature class, instead of writing essays, these students described the two female characters from the novel using mind maps. They worked very hard on identifying the words they could use to describe these two characters. After the presentation of their work to the rest of the class, the other students saw that they do have the ability to fulfil their task, only in a different way. Duško is currently working on identifying a suitable computer program for students who have difficulties with writing skills, especially the ones with motor skills problems, also an example from Grande Region.
After spending time in a classroom in a French school, Slavica Pejić, a Serbian language teacher in the Primary School "Aleksa Dejović", Sevojno, Serbia says that she stopped giving a "correct" answer to students but rather started posing more questions that will help students think and reach the answers themselves, which is especially important for students who need more time.
Branka Polimcević, a class teacher from the same school started using materials other then textbooks, like excerpts from magazines, printed materials from the internet with different levels of complexities, etc. thus encouraging children to look for information and answers in all available resources, based on their preferences and abilities.
*This designation is without prejudice to positions on status and is in line with UNSCR 1244 and the ICJ opinion on the Kosovo Declaration of Independence