Joint European Union/Council of Europe Project
Regional Support for Inclusive Education in South East Europe
The Joint EU-CoE Project "Regional Support for Inclusive Education" concluded its 3-year journey in Sarajevo where the project's final conference took place on 5 and 6 November 2015.
The conference was hosted by the Ministry of Civil Affairs of Bosnia and Herzegovina, and was organised within the framework of Bosnia and Herzegovina's Chairmanship of the Council of Europe's Committee of Ministers. The event took place in the Parliament building and brought together members of the TeacherNet, SchoolNet and PolicyNet from seven beneficiaries in South East Europe, as well as regional and international experts and educationalists. The objectives of the conference were to highlight the stakeholders' achievements towards inclusive education and to outline and promote the regional policy recommendations upon which action plans were developed.
The 3-year project was implemented in seven beneficiaries of the South East Europe region – Albania, Bosnia and Herzegovina, Croatia, Montenegro, Serbia, "the former Yugoslav Republic of Macedonia" and Kosovo*. The project aimed to enhance social inclusion and cohesion in the region by promoting the concept of inclusive education as a reform principle promoting diversity, in line with the beneficiaries' commitments to Council of Europe standards and EU accession.
A good school is an inclusive school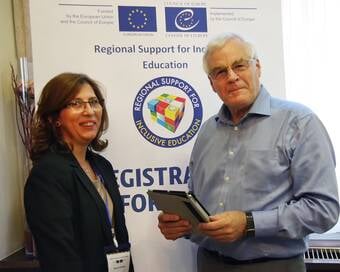 Improved communication and greater co-operation in the South East Europe region is essential for identifying appropriate tools and mechanisms needed for promoting truly inclusive education. At least that is the shared impression of Snežana Vuković, head of the department for strategy and...
'Schools should adjust to children and not children to schools'. This is the clear message from the EU member states, according to participants from South East Europe speaking about their first study trip to the Grand Region. "This study trip brought knowledge, and knowledge makes us understand the world", said Azra Kardović, from the Montenegrin Primary school "Mustafa Pećanin" in Rožaje.