The road to smart youth work
By Edgar Schlümmer
05/06/2018
Young people are innovation-minded and the most receptive to changes. It is important to recognise that young people are at the forefront of this digitising world always full of new IT solutions. To create a better footing for young people to achieve their potential and make decisions that affect their lives, as well as to support their active participation in society and their ability to cope in the job market, youth work has an important role to play.
Because of changes in society and the development of technology, the methods for youth work in Estonia and elsewhere in the world have to meet new challenges and the needs of young people, as well as offer, through contemporary solutions and suitable channels, new and attractive opportunities and alternatives to those offered solely for commercial and entertainment-oriented purposes. It is crucial not only to adapt to the changes or to move at the same speed, but also to try to be half a step ahead. There is no doubt – youth work should be SMART.
The Estonian smart concept in general means being innovative and not only responsive but also proactive in overcoming challenges. It is about trying new methods, involving new target groups, etc., and of course, to a great extent, it means the use of technology. Being smart is not only a fancy trend but a pragmatic choice, because in a Europe that is lacking qualified people and in particular young people we need to solve difficult problems and reach underpopulated areas and districts with fewer resources. Various technological solutions allow youth workers to reach more young people more efficiently and productively, including taking into account the specifics of regions where many young people lack the opportunity to visit youth work institutions. For today's "digital natives", information technology is a suitable environment. They feel comfortable using devices which can offer opportunities and services in a fitting manner and "language" and do so based on the objectives of youth work.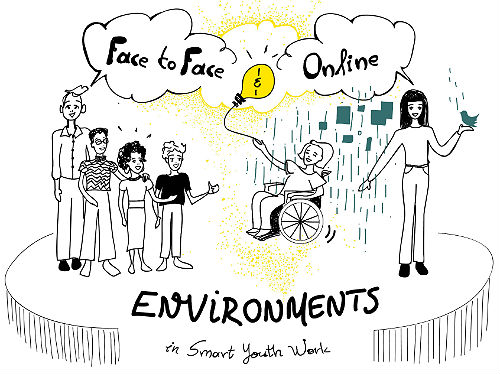 Smart youth work is part of the youth field, its activities are based on the principles and general objective of youth policy and youth work, and it supports achieving this objective. Smart youth work is not an activity or method in itself, nor does it replace existing practices. Instead, implementing smart youth work enables young people and youth workers to, based on existing experiences and seeking new connections and means, create innovative solutions (including digital solutions) for coping with both current problems and new challenges. Smart youth work activities are based on the needs of young people and youth workers, and take into account developments in society and technology, including globalisation, networking and e-solutions. They offer alternatives to traditional approaches in youth work as well as opportunities for experimenting, making mistakes and learning from experience. Smart youth work solutions are means for creating content or carrying out activities. The objective of smart solutions is to engage in youth work more efficiently and productively than before, to reach more young people, increase opportunities to develop youth creativity, self-initiative and co-operative activity, reduce the potential for the exclusion of youth, increase the engagement of young people and improve their readiness for the job market, and support their active participation in communities and decision-making.
As an advocate for innovation and digital development, in general and in the youth field in particular, the Estonian Presidency of the Council of the EU was focused on digital issues and the concept of smart youth work was introduced at the EU level. As a result of the Presidency, conclusions on smart youth work were adopted by the Council of Youth Ministers. Fortunately, the idea of smart youth work is founded on solid ground and relies on a sound political background (see the annex to the conclusions). One important pillar was, of course, the Declaration of the 2nd European Youth Work Convention adopted in 2015, which describes the increasing interest of young people in technology and digital media. Related objectives are the development of digital literacy, coping with risks on the internet and the need to develop the competency of youth workers, including their ability to make use of digital opportunities in carrying out high-quality youth work.
EU member states agreed that the use of technology is crucial for the development of youth work. According to this joint agreement, "smart youth work" is the innovative development of youth work, encompassing digital youth work practice as well as including a research, quality and policy component. Smart youth work builds upon the ethics, existing principles, knowledge, practices, methods and other assets of youth work and harnesses the full potential of technological developments in the digital society. Smart youth work is not a youth work method but can be included in any youth work setting (open youth work, youth information and counselling, youth clubs, detached youth work, etc.). Smart youth work has the same goals as youth work in general and using digital media and technology in youth work should always support these goals. Smart youth work can occur in face-to-face situations and in online environments, or in a combination of the two. Digital media and technology can be either a tool, an activity or the content of youth work.
The ministers concluded that, at the EU level, smart youth work means making use of and addressing digital media and technologies in order to:
enrich the opportunities of all young people for information, access to youth work and participation, as well as for non-formal and informal learning by exploiting new spaces and formats for youth work in meaningful ways;
support the motivation, capacity and competence building of youth workers and youth leaders to be able to develop and implement smart youth work;
create a better understanding of young people and youth work and support the quality of youth work and youth policy through the more efficient use of data-driven developments and technologies for analysing data.
From now on, the member states and the European Commission are invited to create conditions for smart youth work, where and as appropriate, including:
developing and implementing smart youth work in youth work and youth policy goals, strategic and financial instruments;
mapping and addressing the digital gap and inequalities to access the technological developments from the viewpoint of young people, especially those with fewer opportunities, youth workers and youth leaders and other stakeholders supporting youth;
supporting the development of competences relevant for smart youth work by and with young people, youth workers and youth leaders, as well as other stakeholders supporting young people;
exchanging examples of best practice in the use of digital media and technology.
As the ministers also agreed to continue working together to ensure that these conclusions are acted upon in the context of ongoing work on strategic perspectives for European co-operation in the youth field after 2018, it hopefully also adds new political and monetary resources for the general development of youth work and for empowering smart youth work therein.