Understanding the Covid-19 impact on youth
The Knowledge Hub on the Covid-19 impact on young people and the youth sector
by Irina Lonean
03/12/2021
The EU-Council of Europe youth partnership hosts a knowledge hub on Covid-19, established in 2020. The hub offers information on the impact of the pandemic and its effects, such as the socio-economic crisis or isolation. Its focus is on young people, youth work and other services for young people, organisations and policies targeting young people. It can be used by policy makers and researchers as a source of data, but also by decision makers, youth workers and managers as an inspiration for activities in response to Covid-19 consequences.
When I started planning for this article, I reached out to youth workers and managers of youth centres and asked directly how the Knowledge Hub is useful for them. But I discovered that it is not used to its full potential, because it is not yet well known. This article is written to present what youth workers, researchers, policy and decision makers can and need to do with the information we have on the Covid-19 impact on youth and the youth sector. Moreover, the article can inspire the youth work community to spread the word about the Knowledge Hub on the pandemic's impact on young people and the youth sector.
Why do we need to understand the Covid-19 impact?
In March 2020, Europe started experiencing something frightening and confusing: the Covid-19 pandemic and a long list of restrictive measures. Most countries entered months-long lockdown periods; face-to-face meetings and circulation was limited to the bare minimum or for essential activities. And most of us understood and agreed these were difficult but necessary decisions, designed to help people stay safe and healthy. However, we definitely need more than safety and health. We need to learn, to feel included and engaged, to develop and to participate, to work and to play. Moreover, one can be suffering without being sick with Covid-19. But access to healthcare became more difficult for people with various medical conditions because of Covid-19, while the lockdown and the pandemic itself increased the risk of anxiety, depression and other mental health issues.
What happened to all these needs and how did young people and youth workers cope with the new restrictive environment? How did governments at national and local level, as well as other society stakeholders organise a response, taking into account the effects of Covid-19 on young people's lives? We can answer these questions for ourselves, our families and our friends, but we are not able to answer them in relation to people we do not know personally. These are questions most social researchers with an interest in the youth sector have been asking themselves since March 2020. However, each researcher or research organisation approached the issue from their particular perspective, generating an impressive volume of information in a short period of time in the first half of 2020.
Why focus on the Covid-19 impact on young people and the youth sector?
Youth is generally defined as a very dynamic part of our lives, influenced by physical and psychosocial developmental phases, such as early and late adolescence, but also changing relationships with other young people and with adults. This dynamic is visible in the transitions through education levels, to employment, towards economic and financial independence, to establishing a family, and getting the right to vote. Youth policy is aiming to allow young people to navigate this dynamic, to integrate into society and to be actors of democracy, now and in the future.[1]
All these transitions in young people's lives have been impacted by Covid-19. Moreover, we understood early in 2020 that the pandemic would have a long-term influence, defining a new normality that young people will have to cope with. But how does this new normality look for young people in a city neighbourhood? What about young people in a village far from the city? Or what about a deaf young man or an LGBTQIA+ young woman?
Youth researchers and policy makers became interested in measuring the impact of the pandemic, in order to inform decisions on how to answer the new problems and needs of young people. In some countries, youth research was used to estimate how many young people could not continue their studies, work or voluntary activities during lookdown, what type of barriers they faced, where they lived, what other problems they faced. Research also provided information about how much youth workers and youth organisations have been affected by the lockdown and physical distancing regulations. Moreover, after the first decisions on lockdowns, online schooling and university classes, closure of businesses generating (temporary) unemployment, it became necessary to identify the best ways to deal with the crisis.
However, although present in all countries, youth policies and youth research are not the first priorities of governments, universities and research institutes. Therefore, in the first half of 2020 few institutions and organisations in Europe focused on the specific challenges the pandemic generated for the youth sector. Their example and research results are useful to the wider community of youth workers, leaders and researchers and sharing their findings, conclusions and recommendations became, therefore, an objective for the EU-Council of Europe youth partnership.
The Knowledge Hub answers the need for information
As an answer to the need for information for youth policy makers, the EU-Council of Europe youth partnership established an online knowledge hub. It takes advantage of researchers' high interest in the impact of the pandemic on society in general, and on the youth sector in particular. It takes into account the results of rapidly conducted studies focusing, in 2020, on the short-term impact of Covid-19 and the research projects, from 2021, aiming at understanding the long-term impact of the pandemic.
The Covid-19 Knowledge Hub hosts data from several sources. One particular source represents the surveys with members of the European Knowledge Centre for Youth Policy (EKCYP) and of the Pool of European Youth Researchers (PEYR). These two expert communities, connected with national governments, academia and civil society in all member states of the Council of Europe and Belarus are always asked to complete questionnaires when the youth partnership is looking for information at national, regional or local level. The survey aims at better understanding the impact of the Covid-19 pandemic on young people, and involves 37 persons from 28 countries.[2] Therefore, it was not planned as a representative large sample, but designed to collect replies from as many countries as possible from experts with a good knowledge of governmental policies and civil society initiatives.[3]
The Pool of European Youth Researchers (PEYR) consists of 35 researchers and experts from across Europe who have a diversity of expertise in different policy, practice and research areas connected to youth. They are selected by the EU-Council of Europe youth partnership. More information is available online at: https://pjp-eu.coe.int/en/web/youth-partnership/peyr.
The European Knowledge Centre for Youth Policy (EKCYP) is supported by a European-wide network of European Knowledge Centre correspondents nominated by the member states' ministries. More information is available online at: https://pjp-eu.coe.int/en/web/youth-partnership/ekcyp-correspondents.
They provided data on the impact of and response to the initial lockdown. They also offered information on the developments of the situation in different countries after the initial lockdown. The surveys referred to funding for youth policy and the youth sector in general, employment conditions for youth workers, youth work practice, youth organisations, and also participation and the well-being of young people.
The results of this study show that in most countries the response to Covid-19 and the communication about this response was not considering the specific needs of young people. Increasing financial pressure was put on youth workers and youth organisations, which lost some of their funding sources. Moreover, in most countries funding for the youth sector appeared to have remained relatively consistent, but did not adapt to the new needs generated by social and physical distancing. Therefore, the impact of the lockdown on the employment and working conditions of youth workers was significant, especially in countries with less professionalised youth work.[4]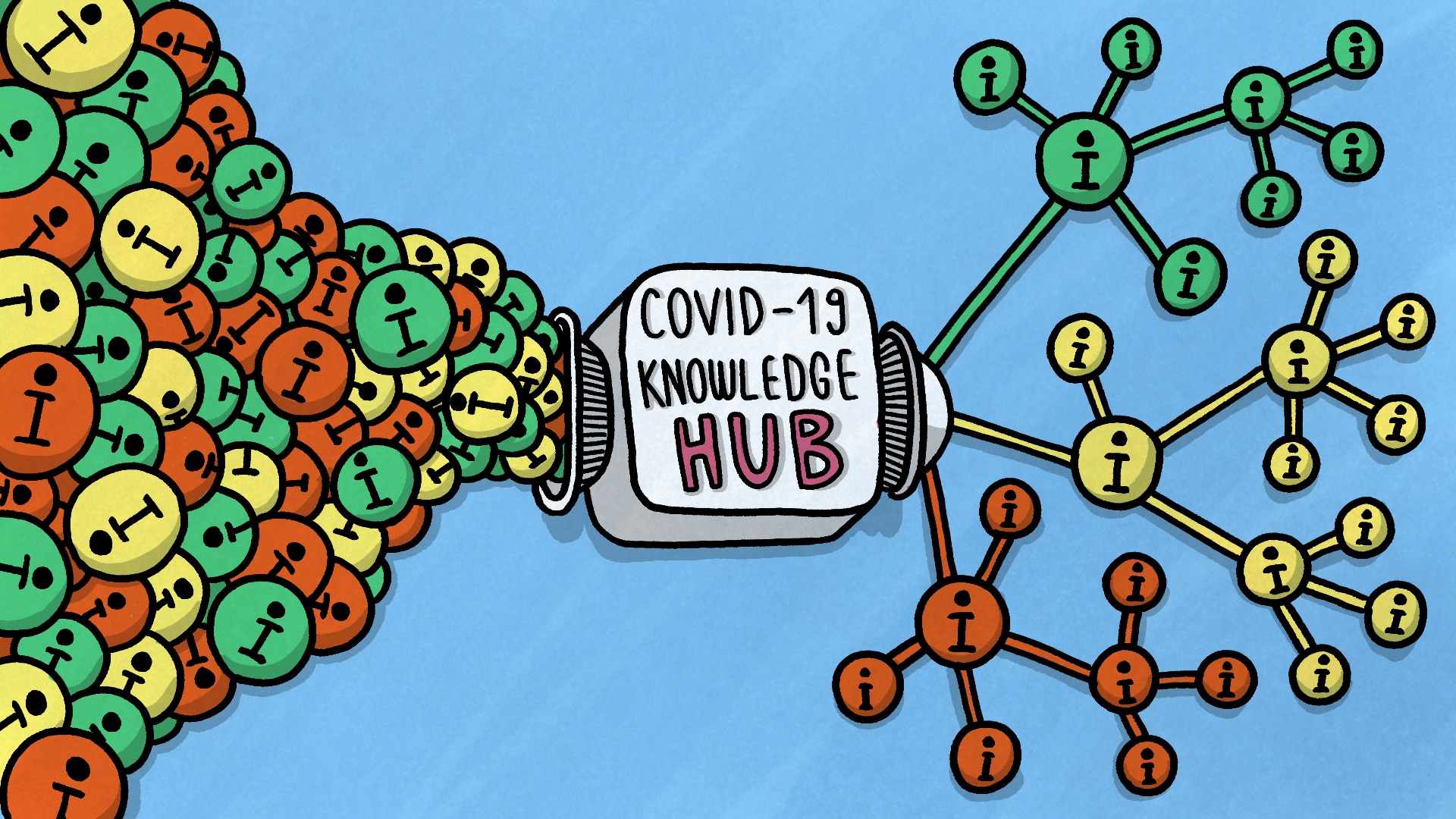 But the Knowledge Hub is not limited to the surveys with groups of researchers and policy makers communicating with the youth partnership. It provides access to a very diverse range of sources, from studies published by international organisations on education, employment and digitalisation, to reports from youth organisations on their transformed activities due to the need to ensure physical distancing. This means the youth workers managing international volunteers, or the ones working with a local youth council, can find useful information for their specific interests and needs.
Although national realities are different, the Knowledge Hub also shows that youth workers and youth organisations across Europe, and globally, face similar challenges. Therefore, international co-operation, staying connected and exchanging good practices remains as relevant as ever, if not more so, for youth work development in the new world affected by the pandemic.
But what is the Covid-19 impact on youth?
All these sources of information show a complex and difficult situation. The crisis has enhanced existing economic and social inequalities among the different generations and vulnerable groups. Among these groups, vulnerable and at-risk young people such as poor, marginalised, migrant, homeless and LGBTQIA+ young people have been more affected by the Covid-19 pandemic compared to other parts of the population.[5]
"School and university closures, lack of opportunities for learning mobility and the rise in unemployment have all been felt more strongly by young people than other age groups", shows one of the summary analyses available on the knowledge hub.[6]
Schools have been closed in most European countries, for different periods of time. This is likely to amplify inequalities in education among young people and to accentuate differences in gender roles with the tangible risk that decades of gains in gender equality could be lost in a very short time.[7]
Another very important impact was on mental health and the well-being of young people across Europe.[8]
A briefing published on the knowledge hub shows that "youth appear to experience high levels of stress, depression, and anxiety, and lower levels of life satisfaction, whereas some evidence also suggests that young people's relationships with parents might also be affected".[9]
Several studies from different countries around the world (for example Italy, Germany, Australia, Canada) documented increased mental health symptoms and decreased psychological well-being among youth during the first wave of the pandemic. This trend has been confirmed by the studies in 2021 showing that 64% of young people (18-34 years) are at risk of depression. This shows that the mental well-being of young people reached  its  lowest level in spring 2021.[10]
Especially affected are young women, compared to young men, but also LGBTQIA+ youth.[11]
"A key issue affecting several young people was unhappiness with being forced to move back to the family home because of a decline in economic circumstances that was often linked with a loss of independence."[12]
How did youth workers react to the crisis?
Covid-19 determined a forced and accelerated digitalisation of youth work. Collaboration, communication, decision making, volunteering, mentoring, outreach activities, service provision and fun activities have been reshaped once the first lockdown period was installed in each country, and they have been totally transformed for the future.
"Data reveals that before March 2020, most of the youth work was based on involving young people in face-to-face activities and youth organisations developed their practice to provide opportunities for young people to meet, do things together and exchange directly their views on the world. Digital youth work and digital communication with young people and within youth organisations have been until 2020 complementing and additional methods to the above-mentioned activities. The pandemic changed this 'order' completely because the lockdown, physical distancing rules and other public health regulations have rendered many of the traditional contexts and methods of youth work either impossible or impractical."[13]
Most youth centres have been closed, considered non-essential activities. Because of the swift change of working methods and environment, and the great difficulty in reaching young people – advised to stay home for their safety and health – youth workers and youth organisations experienced great challenges. They have been underfunded and lost human resources (both professionals and volunteers).[14]
Although some youth organisations (especially, but not only in the UK) reported reaching different young people than they would usually see at their centres and projects, most youth workers and organisations lost contact with some of the most vulnerable young people they used to meet.[15]
Despite these challenges, resources available on the Knowledge Hub show that youth workers and youth organisations continued their activities to empower and engage young people. Youth work was conducted in a meaningful way in response to the Covid-19 crisis and contributed to national efforts to mitigate the impact of the pandemic. Youth workers and youth organisations took initiatives to complement the activities of public bodies providing services to the most vulnerable and marginalised groups, including minorities and migrants. They also "took initiative in 'translating' to young people the new rules during the pandemic" and built digital platforms for youth voices to be heard by governments.[16]
How can we use the Knowledge Hub on the Covid-19 impact?
A large body of research has been developed during 2020 and 2021 showing global interest in understanding the pandemic and its consequences on society, including young people, among other groups. But the huge time pressure to respond to Covid-19 made the existing information less useful. Information overload, having too much information to process in order to take a truly informed decision hindered good policy and management choices. As a result, many decision makers, and also youth workers and youth organisations' leaders, missed the opportunity to learn from each other's struggles, failures and successes. It was even difficult to make a difference between failure and success in the new normality.
The Knowledge Hub is designed to organise data in a digestible manner, narrowing the focus on young people and providing a synthesis of information that is easy to read. The data are informing decision makers responsible for youth policies, youth researchers, and also practitioners in the youth sector.
By now, at the end of 2021, many of us recognise the pandemic effects in our field of work. For me, this field is youth policy; for the friends I've mentioned at the beginning of this article, the field is youth work. However, I think we do not yet fully understand the entire body of data and the hub clarifies where we should further concentrate our efforts. Briefs and synthesis reports published on the hub underline the most important evidence, spot existing gaps in our knowledge and suggest new research avenues for youth researchers.
We have compelling evidence that mental health and well-being are severely affected by physical distancing and other measures, limiting young people's autonomy from their families, as well as their capacity to be financially independent.[17] Youth work has the capacity to prevent mental health issues and to support youth well-being.[18] This means that youth work should be a priority sector when governments decide on the amount of financial support for essential services and activities. Unfortunately, in 2020 youth services have not been considered essential and many have been unavailable for young people during the lockdown and, in some cases, after the end of lockdown because of physical distancing regulations.
What can a youth worker or a youth policy maker do?
The information on the impact of Covid-19 on youth mental well-being means that youth workers should prioritise youth psychological well-being, taking into account that two thirds of young people in Europe are at risk of depression.[19] They should also design gender responsive activities, bearing in mind young women are more affected than young men overall by the pandemic consequences, including mental health issues.[20]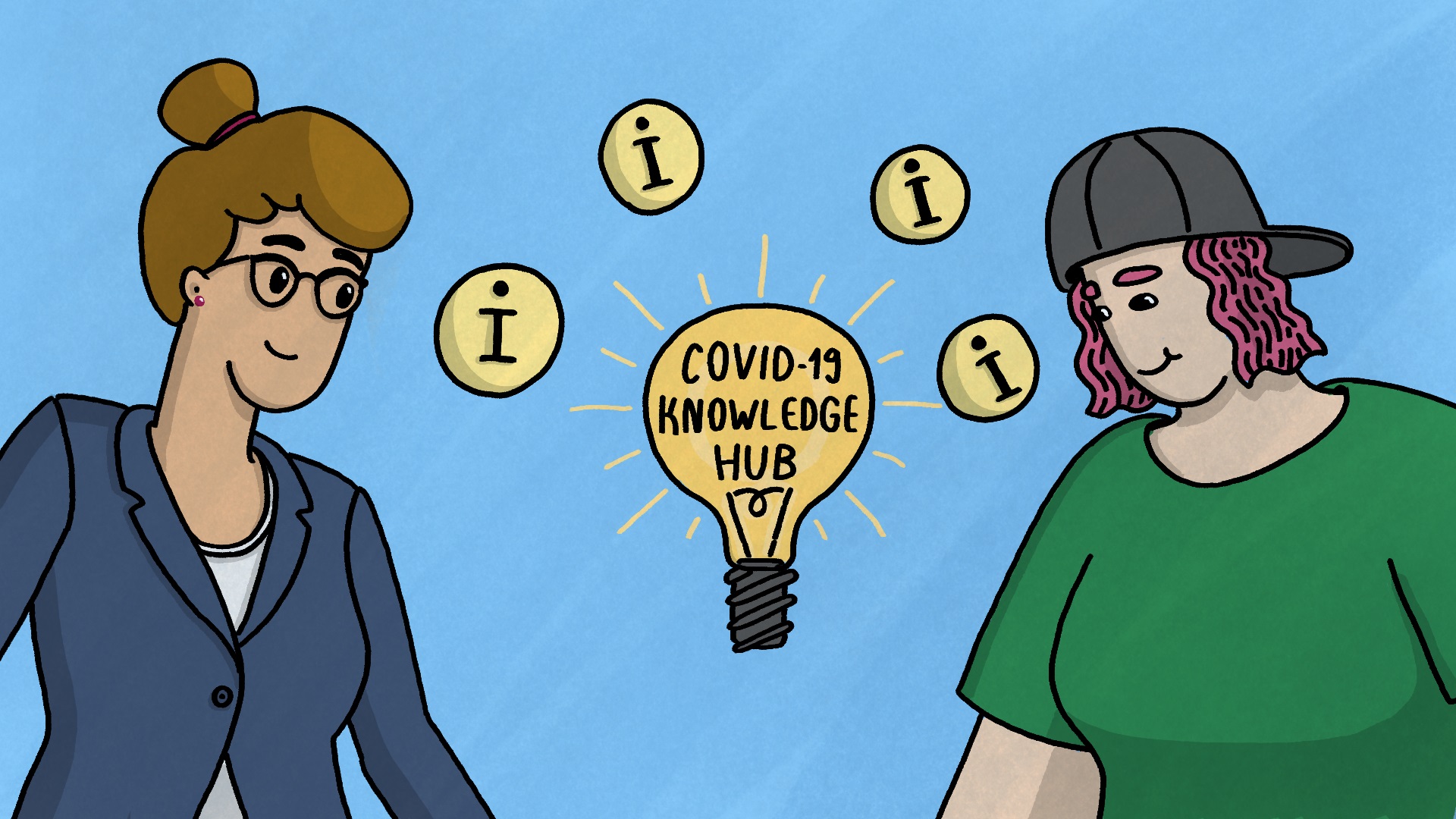 The Knowledge Hub offers a lot of information about what young people need in order to better cope with the transformed world after the outbreak of Covid-19. Youth workers can learn about the most-needed activities, for example counselling and services to prevent mental health issues. At the same time, decision makers can learn about the areas where investments are necessary to provide young people with access to services for their well-being.
The hub already provides a few practical ideas on what can be done, because the latest briefings present youth work initiatives that supported healthcare organisations, social workers and communication campaigns to better reach young people in 2020. Intergenerational solidarity initiatives in response to the pandemic are also presented and can encourage youth workers to implement new activities.
Writing this article, I also learned that the hub could become even more useful. Good practices and lessons learned from youth policies and youth activities implemented since 2020 will be further added to inspire practitioners and policy makers. On the other hand, the best sources of information about these practices are the youth workers themselves and they can provide evidence for the Knowledge Hub. An open and continuous dialogue between youth researchers and youth workers can be the key to unlocking the challenges that young people face in the pandemic and post-pandemic world.
---