Youth workers encourage the drugs debate in Ireland
Why and how 150+ youth workers in Ireland called for an end to prohibition
By Mark E. Taylor
13/12/2021
This is not an easy subject to deal with anywhere in the world. There is so much fear and misinformation surrounding drug use, the drug industry and the misery and violence that come with it. But what do you do as a youth worker if you feel that your community is being torn apart, and in particular the lives of young people are being ruined, and that current policies seem just to make the problems worse? Lockdowns during the pandemic have been horrible times for many, but they also gave people time to think and put their current situation under question. As Gerard Roe (one of the prime movers in the Youth workers against prohibition Ireland (YWAPI) movement) said in a recent online interview with Coyote: "Timing has been crucial. Covid-19 pressed pause, but the drugs trade went on. So we got six experienced youth workers around a table to discuss 'alternatives to the illegal drug trade for young people and their communities'. And that's how YWAPI was started."
If we take a look at the "Dimensions of well-being" article in this issue, it is not hard to see that all the "eight dimensions of wellness" cited can be affected massively by drugs and the drugs trade. These dimensions concentrate on the wellness of individuals, but if you add those individuals together then maybe it is possible to talk about the well-being of particular communities or even wider society.
Individuals not organisations
It is important to note, from the outset, that the youth workers involved are putting their personal, independent views into voluntary action here – they do not claim to be speaking on behalf of the organisations or services for whom they work. We are talking of a highly controversial issue here and it will take time for the different tensions to be worked through. What is clear is that none of the individuals involved would describe themselves (or want to be misunderstood) as being "soft on drugs".
Youth work and politics
Empowering young people through human rights education to become "active democratic citizens" has long been a central theme in youth work (look at Coyote #25 for an overview). And more recently there has been a drive within the Erasmus+ world to open the debate around the possible political dimensions of the field. What particularly caught our attention in Coyote is the fact that YWAPI is an initiative of youth workers themselves, attempting to change national policy and practice – in effect, taking a political role. The hope is that this article may help enrich and encourage discussions about a. political roles of youth workers in society and b. what different responses there might be to drug use and abuse.

Gerard Roe and his motivation

Gerard is a youth worker with over 15 years of experience, currently in inner city Dublin working with young people from 10 to 24 years of age offering them "pathways to explore their potential". Youngsters are very often caught in multiple problems such as disadvantage, violence, mental health issues, teenage pregnancy, gangs, social media pressures affecting self-esteem. Increasingly, these problems are compounded by the use and misuse of drugs and the criminals who exploit young people.

Personally, Gerard was hit hard by the effects of the flood of heroin into Ireland in the 1990s and lost both parents to addiction. He's seen the devastation caused by drugs both professionally and personally.

Young people and drugs in Ireland – in short
Currently, consumption of drugs by young people in Ireland is close to the averages recorded across European Union states. Another of the leading campaign movers and signatories, Eddie D'Arcy, told the Irish Times that the drugs trade has extended from Dublin and other cities into rural Ireland now, and drug debt and intimidation are also starting to affect middle-class families. He knows of many parents who have found themselves paying a child's drug debt under the threat of violence. "It's not a war we're going to ever win." Gerard talked of children as young as 8 being groomed by criminal gangs to be look-outs on the streets and 12-year olds already acting as dealers. Attracted by the easy money, they (and their young clients) are breaking the law. "We understand and see the damage a criminal conviction has on a young person's life opportunities – such drug convictions condemn them to a lifetime of social exclusion… We cannot police our way out of the problem", believes Gerard, "we need to get away from prohibition and move towards regulation, evidence-based drug treatment and education".

What the campaigners have done, and the future?
After the six youth workers had their first meeting, they decided what was needed was a campaign to open up discussions not only between youth workers and their organisations/services but also with the wider society.
This has meant:
collating what research already exists in Ireland about the issues;
consulting a growing number of colleagues from other countries (especially in the UK, Portugal, USA and even as far afield as Australia and New Zealand);
putting together an open letter on prohibition with the ambitious aim of getting 200 youth workers and other concerned people to sign it (at the time of writing there are over 150 signatories, with the vast majority being youth workers but also including two Irish senators and interested academics);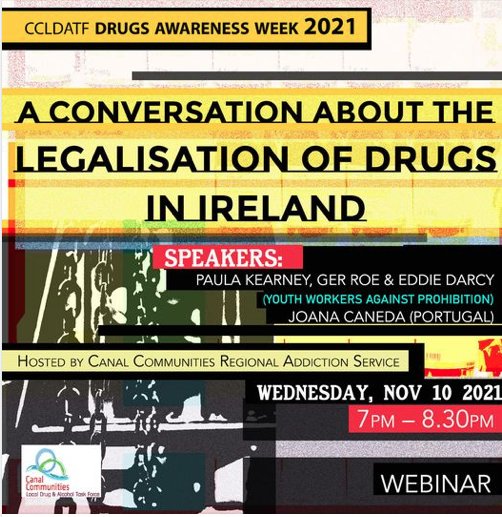 contacting and getting coverage from a wide range of media outlets (national and local TV, newspapers, radio stations, social media);
organising webinars with youth workers from across Ireland and also involving experts from other countries.
Plans for the future include:
increasing the number of signatories;
supporting the work of other organisations with similar aims;
contacting political parties and relevant parts of the government;
pushing for massive cross-sectoral co-operation with members of youth work, youth justice, "youth diversion programmes", schools and social services.
At the moment, remember, this work is all being done on a voluntary basis. This is not self-evident at all – youth workers already have enormous demands on their time and keeping such a movement alive requires courage, drive, hard work, networking and strong commitment.
That is pretty impressive for a movement which was started and continues acting during the pandemic. It will be interesting to see how things develop and to hear from young people how they see youth workers taking a stand in this way.
What do you think about the campaign
and the role of youth workers in it?
Many thanks to Gerard Roe for his time, energy and patience during the creation of this article!
Further reading
Youth workers against prohibition Ireland
Discussion around political dimensions of youth work: www.jugendfuereuropa.de/ueber-jfe/projekte/critical-youth-citizenship/
Coyote #25: Citizenship Education Revisited: https://pjp-eu.coe.int/en/web/coyote-magazine/issue-25
Drug use and policies in Europe
European Monitoring Centre for Drugs and Drug Addiction www.emcdda.europa.eu
Pompidou Group (Council of Europe International Cooperation Group on Drugs and Addictions) www.coe.int/en/web/pompidou/about
Reuters report on new German coalition plan to legalise cannabis www.reuters.com/markets/commodities/germanys-next-government-aims-legalise-recreational-cannabis-2021-11-24/
Transform Drug Policy Foundation https://transformdrugs.org
Situation in Portugal https://transformdrugs.org/assets/files/PDFs/Drug-decriminalisation-in-Portugal-setting-the-record-straight.pdf