It takes a village to raise your child well
A grateful father thanks teachers and youth workers during the pandemic
by Luís Amorim
15/12/2021
It was around mid-March 2020 that we were told to work and study from home in Brussels, Belgium as the Covid-19 pandemic started to take its toll. It felt like a compulsory "holiday": no more tiresome commuting in the early mornings (yay!), no special dress code (a sigh of relief all around), ample possibilities to raid the kitchen's cupboards for cookies and chocolate throughout the day (yummy…). But as the days became weeks and the weeks became months, the fun wore off and a lot of question marks started to crop up in our minds.
As the academic and social life of my daughter, on the cusp of turning 15 in July of 2020, retreated more and more into the virtual realm, my husband and I started to worry about its negative impact on Georgina's emotional well-being. Both of us became busy trying to find ways to provide her with opportunities to interact with her peers safely, going beyond the ever-so-present screens around the house, from computers to smartphones. Then, in August 2020, came a change of jobs for me and with it a move to Oeiras, Portugal for 12 months. Was this really the right time for our family to change country, school, home, and friends? How much would this year abroad impact Georgina's well-being? Wasn't a pandemic and its consequences stressful enough?
I heard from friends that many fellow parents were angry because of the pandemic and the lockdowns being imposed everywhere. But what I found around me were just a lot of parents feeling exhausted by the triple responsibility of working from home, taking care of their kids and keeping up with their regular domestic chores, from cleaning to cooking.
This was particularly the case for parents with small children, who not only struggled to explain to them that being home didn't mean that mum or dad were now free to play all day but had also to find creative and meaningful ways to keep their children entertained while trying to get some work done. Personally, I was not so much angry as more truly concerned about all the things that my teenage daughter was missing out on, such as socialising and engaging with the world around us, at an age when relations with peers are so crucial for stimulating the social skills – for example empathy, debating ideas, managing emotions – that underpin much of our capacity to lead autonomous and fulfilling lives as adults. The confinement brought on by the pandemic made me realise that even a trip to the mall with a group of friends was full of worth!
I understood the need for strict lockdowns at a time when the illness was far from being fully grasped and countless lives were being ravaged by it, and vaccination was still incipient. So, angry never really crossed my mind. I felt mainly disoriented and apprehensive.
You might be tempted to think that being the parents of a sociable, outgoing teenager might have made us feel more optimistic about the lockdown and the constraints it imposed on Georgina's interaction with her friends, but exactly because of that we were acutely aware of the fact that such interactions were central to her well-being. So, we had to be creative...
In Brussels, during the peak of the lockdown, we arranged for Georgina to see some of her closest school friends at a distance. They would come by the house but stay outside the gate of our garden, while Georgina would speak to them from inside the house. Sometimes, always wearing face masks, they would speak on opposite sides of the gate, hands and arms mimicking virtual hugs and kisses.
As we followed the ebb and flow of infections and applicable restrictions, we put our garden in Brussels to good use, and were able, on a couple of occasions, to host small groups of Georgina's friends for socially distant conversations and ball games on our lawn, weather permitting (we were lucky several times, despite Brussels' reputation for lousy weather).
A spot by the sea
When we moved to Oeiras, Portugal in August 2020, we met with a more relaxed lockdown in Lisbon and environs than the one we had left behind in Brussels and were told that school would start in September and pupils would be expected to attend it physically while wearing face masks. We all felt joyful about this because we knew it would give Georgina a chance to use her "charm" and make new friends, a core element of a successful integration in what was almost like a brand-new country for her (despite speaking the language fluently and having family in Portugal, Georgina had lived and studied all her life in Brussels).
Helped by the fact that for the first time in her life Georgina would be able to walk to school every morning, we started to notice how school was becoming gradually and once more a source of social nurturing (including its attending dramas, of course) and how this was bringing back to our daughter's eyes a spark that had been missing during those long months of exclusive virtual schooling in Brussels. Despite the masks, classrooms were again brimming with excitement (and complementary boredom), teenage sparring and friendships. A shop selling handmade crystal necklaces would soon become a favourite spot on the way home, and conversations with the woman owning it a source of inspiration, and irony too, sometimes.
Oeiras, by the way, is recognised by the Council of Europe as a member of the Intercultural cities network. Being a transnational and transracial family through adoption, with two dads, we knew this would be an important gauge for a successful integration. Our experience confirmed our best expectations: Oeiras and its people welcomed us with open arms (and we may even one day move there permanently). I believe a place with good intercultural credentials tends to be more resilient to multifaceted challenges, and resilience has remained a key requisite for us during this pandemic.
Badminton, a game changer
Sometime in November 2020, Georgina burst into our kitchen in Oeiras, shouting: "Guess what?! I've been asked by my gym teacher to join the school's badminton team!" We could hear the genuine excitement in Georgina's voice as she made this announcement. We all crave to win some "brownie points" in our life, like being noticed and appreciated, made visible to others, and invited to join "at the table". And we all deserve that too.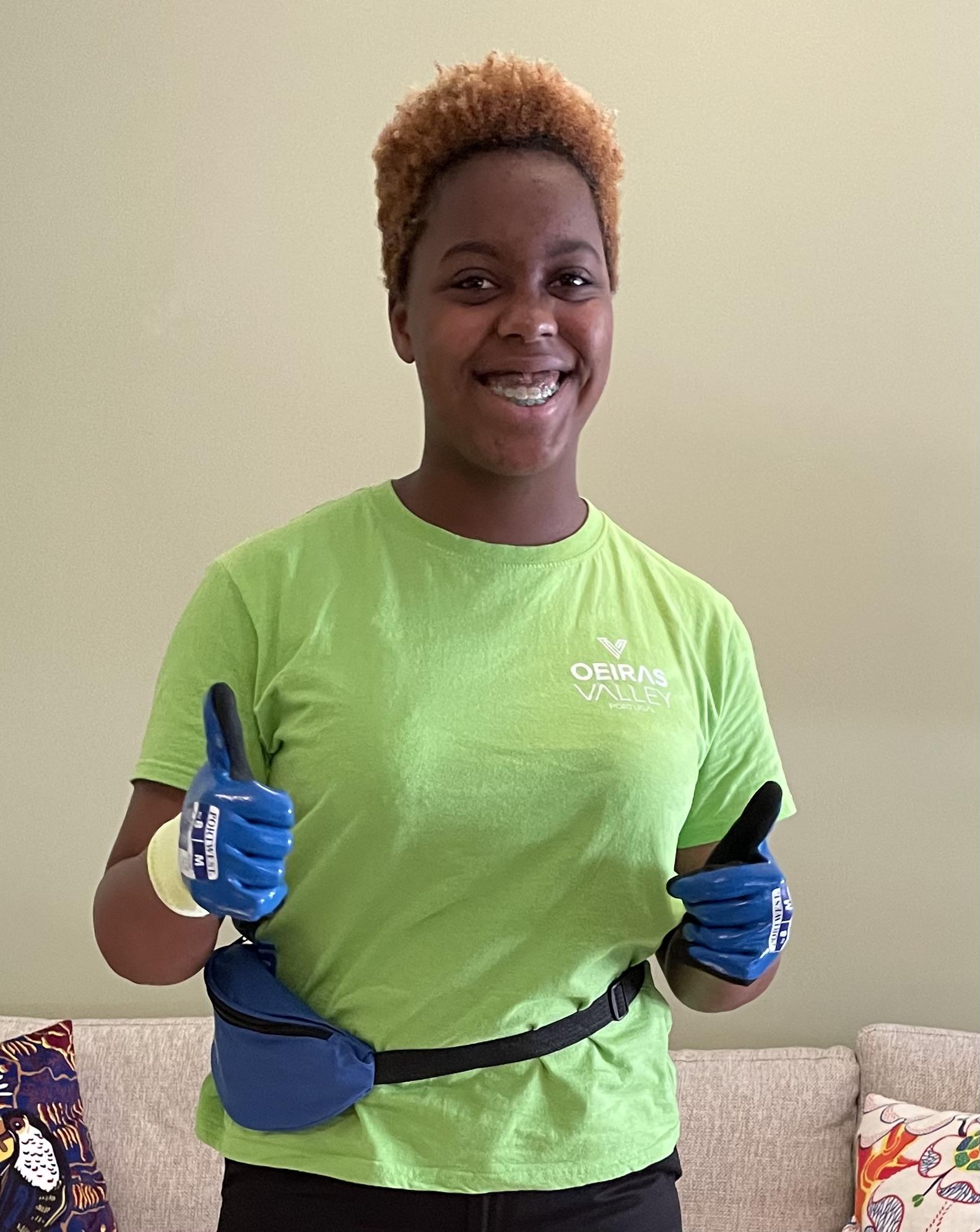 Badminton had the advantage of being a contactless sport, hence truly adapted to social distancing times. Maybe some of you reading this will roll your eyes and call it a cliché, but sports are indeed one of those activities that combine physical and mental health benefits in such a perfect way! This proved to be a game changer, since it allowed Georgina to have a safe, non-masked interaction with other schoolmates of different ages and levels of ability. In fact, this was another aspect of the programme that got our attention.
The teacher had brought together pupils of different ages and with different talents, fully aware that this was not just about creating a competitive school team, but also about building a space where younger kids could learn from older ones, and older ones could hone their social skills further, by sharing their know-how with the younger ones.
We learned that the teacher was doing this outside her normal school schedule. It wasn't the first time my husband and I had had the occasion to admire teachers for all the extra things they do in support of school communities, but here was another great example of pure dedication. But also, an example of how, despite the pandemic, it was possible to find solutions that allowed kids to play sports and interact with one another in a safe environment, capable of stimulating their physical and mental well-being by exploring existing resources. Here was another smart teacher with a sense of mission (like most teachers I know, by the way).
Get your brooms and march!
Having a dad who started his professional life as an international youth worker – first with Intercultura/AFS Portugal and later with the European Youth Forum – comes with some benefits (and some inherent pressures too, my daughter would probably add…). One knows from experience that non-formal education – that is, organised activities with both social and educational content but outside an academic context – is a great complement to educational activities in a school environment.
So, when I learned that the municipality of Oeiras had been organising for some two decades a programme called Jovens em Movimento (Youth on the Move), I immediately discussed with Georgina the prospect of joining their "summer holidays campaign", which starts at age 15 (Georgina turned 16 in July 2021). A partnership between the youth and environment departments, Jovens em Movimento is aimed at raising young people's environmental awareness, while inciting them to take an active role in keeping their neighbourhood clean (streets, gardens and beaches).
Georgina adhered quickly to the idea. The fact that the municipality pays a reasonable stipend to participating youth was part of the appeal too, no doubt. To this was added the bonus of one being able to choose to work just in the morning and close to our apartment. Being in a group with other teenagers and a few young adults was also attractive. Here was another opportunity to socialise and make friends. And in Georgina's case this also proved to be an eye-opening experience, and on different fronts.
Cleaning shifts started at 8:00 a.m. at the cemetery of Oeiras, up on a hill some 10 minutes on foot from our street. Entering the cemetery was a first for Georgina and for many of her fellow street-sweepers (talk about having a new experience!).
They all got a training course on recycling before hitting the streets of our neighbourhood with shovels and brooms, rubber gloves, face masks and trash buckets on wheels (a very useful course, by the way, since we now have an expert at home teaching us, the "elders", what to do with our trash in most precise ways!).
Expanding personal horizons and other life narratives
My former role as an international youth worker put me in touch with many people from different walks of life and opened my eyes to new realities, ways of thinking and, importantly, other ways of feeling and doing. So, I wasn't surprised when Georgina came home one day expressing puzzlement when learning that one of her team members, aged 20, had dropped out of school a couple of years before without a diploma and that this was his first gainful activity since then. "What will his future be like? I never met anyone like him before". There was no judgment in her voice, just the realisation, for the first time, concretely and not in the abstract, of another life narrative. He would go on to join the yearlong street cleaning programme provided by the municipality.
Georgina's team was led by a young woman in her early twenties. She was very tough and fully engaged in the work, Georgina told me. She also provided Georgina and other team members with a new point of reference. Here was someone whose role they could have later in life, someone to look up to (or not), a young person slightly older, with a college degree, in a position of responsibility. With a job description that made her into a youth worker of sorts, the team leader was helping those younger than her by modelling behaviour, managing expectations, and widening their outlook as regards their future options: "Do you wish to become team leader too? Then this is what it takes".
One thing is certain, Georgina, as she put it herself, will never again look at street cleaners dismissively. It's not just a question of respect for the dignity of all work, but also the realisation, developed by this successful programme, that caring for your neighbourhood, its streets, its gardens and its beaches is also part of being a good citizen.
Grateful to teachers and to youth workers
That this past year was far from being "a piece of cake" is an understatement, no matter how happy we have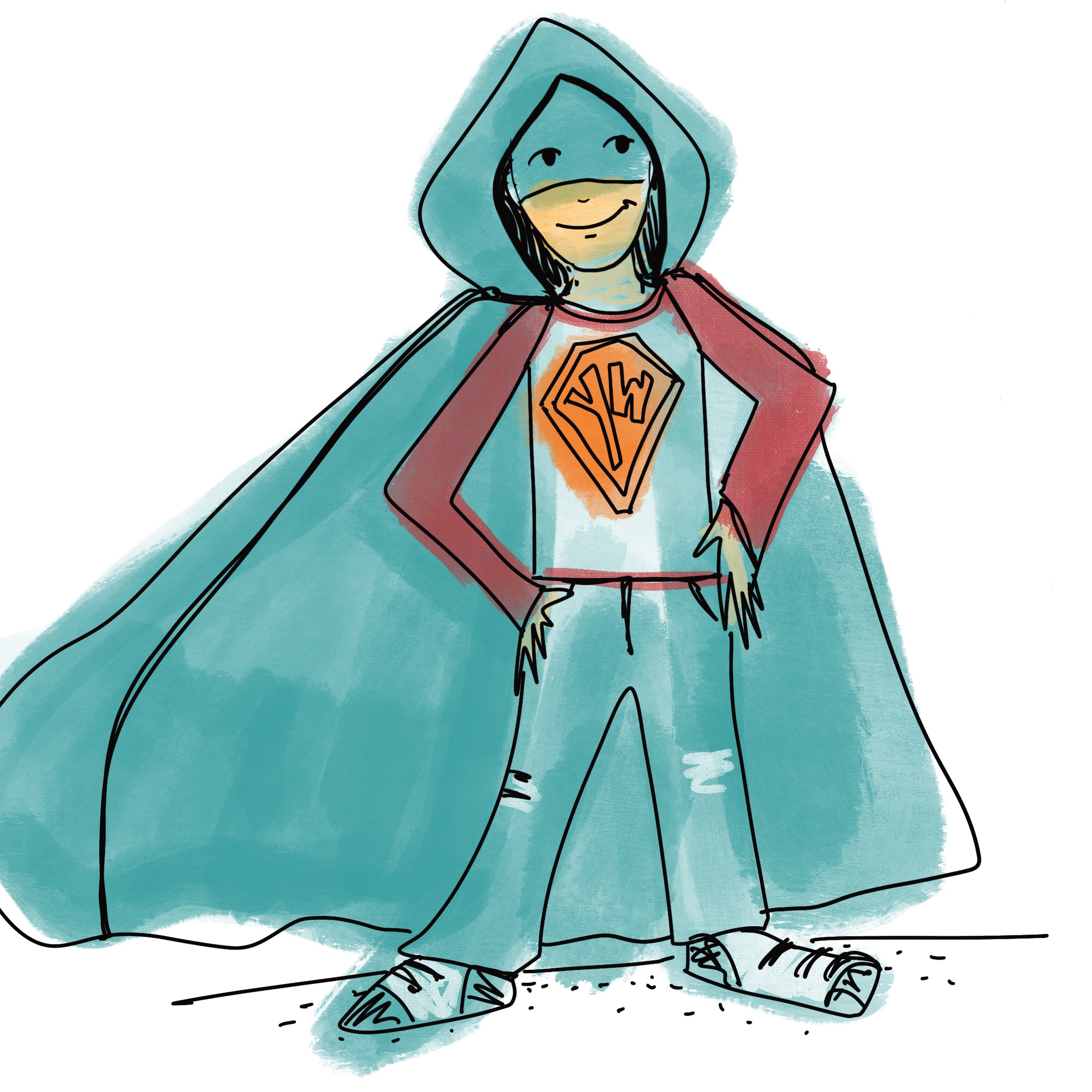 been in our spot by the sea. However, it also allowed us to develop a greater sense of appreciation for those who keep things moving along while the pandemic rages all around us, in this case, teachers and youth workers.
Teachers and youth workers who went out of their way to create safe spaces through sports and community work to promote mens sana in corpore sano (a healthy mind in a healthy body) for young people. Our daughter was one of the beneficiaries, and we are grateful parents for that. It does take a village to raise your child well, and teachers and youth workers are some of those precious fellow-villagers we parents rely on too. I never take them for granted, but the pandemic showed me their value in more concrete ways.
Battling against the coronavirus and dealing with the downsides of the Covid-19 pandemic would have been so much harder if done alone. It would have probably transformed us into one of those angry parents I heard about. Georgina, our happy teen, despite "the weirdness of this past year", concurs.
I guess it's fair to say that non-formal education, once more, saved the day.