Bué Fixe
The life and adventures of a young youth organisation
by Mónica Salas Corrigan
04/12/2019
Dear readers, let's now take a trip in time and space. We will transport ourselves to the warm islands of São Tomé and Príncipe. Green leaves of palm trees rustle in the Gulf of Guinea on the western coast of Mother Africa. Beaches of crystal clear waters of the immense Atlantic bathe the shores of this archipelago that, 16 years ago, saw the birth of Bué Fixe.
The baby, who came into this world in the form of a magazine in the summer of 2003 as a result of the United Nations Open Days, had from the beginning a noble mission: to inform, raise awareness and educate young people. Thanks to the encouragement and motivation of the creature's godmother, Ana Filgueiras (World Bank consultant), the fight against HIV/AIDS became the personal crusade that would mark the rest of its life. Thus, in September of that same year, Bué Fixe (which means "very cool"!) pronounced its first words. At the São Tomé Portuguese Cultural Centre, the magazine was launched, and it promised to go very far.
At only two years old, the little adventurer decided to leave for Portugal, led by enthusiastic young people committed to the cause, who had ambitions to grow, help and improve. Bué Fixe continued to be distributed and its voice was spread in this new country, which welcomed it with open arms.
In 2007, already four years old, Bué Fixe began to broaden horizons by participating in international events in France and Spain. These experiences strengthened the ties and provided this group of young people with new capabilities. New cultures, landscapes and sensations. Young people from all corners, with similar barriers and common challenges. Bué Fixe's spirit matured as it shared and learned from those around it.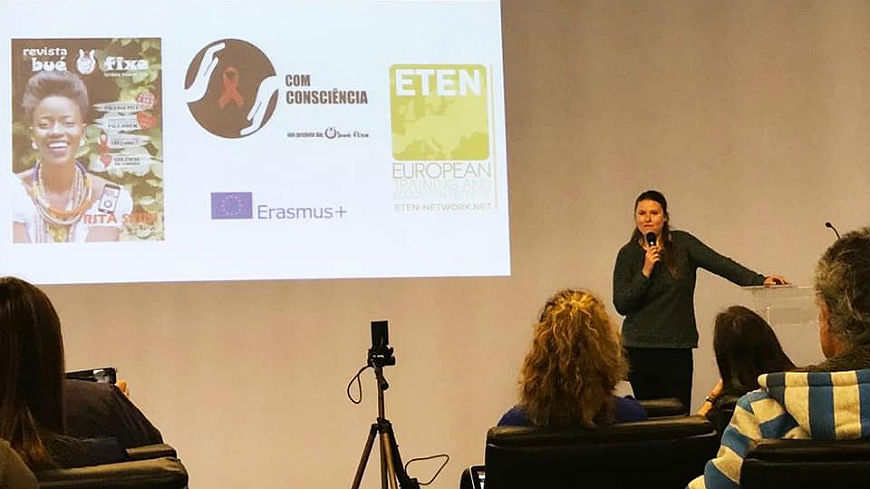 The inspiration was so strong that it was time for action. The project Media and Communication among young Luso-Africans, created by Bué Fixe, promoted, during the following two years, sexual health among the youth, as well as interculturality between these two communities using methodologies such as peer education. And because the child could not get to sleep,it also decided that it had to go beyond the magazine, so a radio station was created to give more volume to its message. Radio Jovem Bué Fixe was tuned on RDP Africa's Linha Africana programme. Intervention projects in the area of ​​sexual health and the promotion of social rights multiplied, especially in the most disadvantaged areas of Greater Lisbon. "Young Media, our response to HIV/AIDS" or "Media in promoting social rights" were projects implemented at this active stage, giving non-formal education a new space in the Portuguese educational panorama.
On 13 August 2013, just 10 years after seeing the light, Bué Fixe was legally recognised as a youth association. Pride and eagerness to grow marked the celebration of this anniversary and external acknowledgments didn't take long to come. In December of the same year, Bué Fixe's father, Dynka Amorim (founder and president-elect at the organisation's first General Assembly), received the Young Social Entrepreneur and Mobility Award in the area of ​​HIV/AIDS for the AIDS and Mobility project.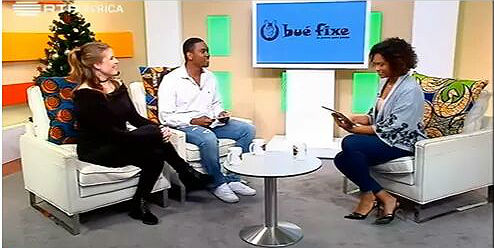 In the following years, Bué Fixe expanded itself in the media. The new image could be seen online through the website (in Portuguese) and social networks. Bué Fixe adapted to current times, made friends and joined networks with the same objectives: National Federation of Youth Associations, Social Network of the Parish Council, National Register of the Portuguese Youth Institute, Forum National Society for HIV/AIDS, Support Programme for the Amadora Associative Movement, as well as others.
At the age of 12, Bué Fixe already had a YouTube TV channel and an entry in RTP Africa's BemVindos Programme, the United Nations recognition as an example of good practice for immigrants in the Youth Report, which was officially launched by the then Secretary-General Ban Ki-moon, and a large number of activities in action, both locally and internationally.
Quinta da Lage's (a social neighbourhood of Amadora) former kindergarten was established as the new home of Bué Fixe, enabling the existence of a physical space to develop and implement activities. And it's been opening the door to young people of all origins offering a place of trust, to develop new ideas and share experiences. Here we grow the seeds from which projects and initiatives will sprout, ranging from fighting hate speech to offering youth opportunities (Oportunidades Bué Fixe), in order to promote employment, training, internships, exchanges, workshops, conferences, seminars and other programmes and initiatives of interest to young people.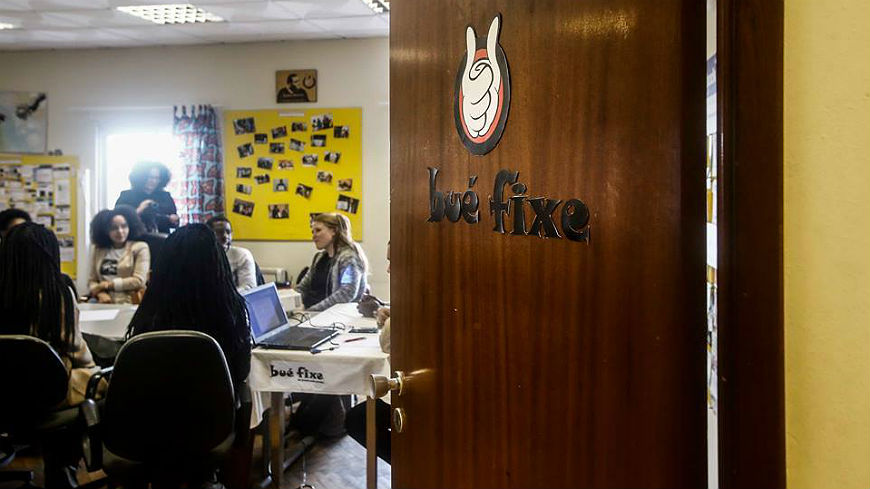 As a 16-year-old, Bué Fixe is very happy and proud of the work done and the impact on youth. Always motivated by the applause received from abroad, such as the recent recognition for the community project Be Aware (Com Consciência) in the area of ​​HIV/AIDS. This project was born from the Enter! programme and it aims to promote the Recommendations on Access to Health, and take non-formal education into the schools of Amadora. Since 2017 we have been sensitising young people to the importance of HIV prevention and empowering them to be creators and broadcasters of multimedia educational content that we disseminate through our media channels. This enables them to become sensitising agents through non-formal education methodologies, promoting active participation, inclusion and equality between peers. We develop activities such as the creation of audiovisual materials and educational sessions, youth sensitisation sessions, and so on.
| | |
| --- | --- |
| | |
Also, the Psychosocial Support Office of Bué Fixe is open from Monday to Friday and it's free for children and youngsters of the neighbourhood between 6 and 30 years old. By creating a space for psychosocial support, we intend to act in the context of promoting guardianship, prevention and encouragement of the discovery of individual resources and personal qualities of each individual, to form a healthy, integrated and serene identity.
Bué Fixe is currently growing and now the magazine is being distributed every two months in printed and digital version, giving the opportunity to young media makers to be part of it. The target audience are young immigrants with origins in PALOP (African Countries with Portuguese as Official Language) residing in Portugal, and the main objective is to ensure that young readers can increase their knowledge and have safer attitudes and behaviours in relation to the risk of STI/HIV/AIDS. However, the magazine also addresses topics of interest to young people, such as health, entrepreneurship, art, school, youth initiatives, technology, volunteering, association, sports, interculturality, gender violence and racism, among others. It's important to mention that this magazine is also produced by young people with African origins, finding here a space to express themselves and disseminate their knowledge, opinions and creativity. This way, the magazine supports Bué Fixe's mission and strengthens its projects by giving them more visibility and directly reaching more than 500 youngsters per month just on its printed version.
While witnessing the success in life of the young people who have already passed through the association, Bué Fixe looks to the future with hope. Hope to see an egalitarian world, without differences of race, colour, gender, religion, class or any other kind of discrimination where everyone can freely exercise their rights. As Nelson Mandela said "Young people are capable, when aroused, of bringing down the towers of oppression and raising the banners of freedom."