Entering the Enter! Youth Week
by Véronique Bertolle
29/11/2019
I interviewed several young people during the Enter! Youth Week to try capturing what happened.
How did I choose them? Spiffy's flair probably.
More seriously, either because they spoke in plenary with burning questions, or because they wanted to speak in plenary but their questions remained unspoken, or because they came to us, Coyote team, after we had introduced Coyote magazine. In this case, they chose us.
I wanted to know why it was so important for them to participate in this event and gathered their impressions. Ready for the roller coaster? Vox Populi!
Amanda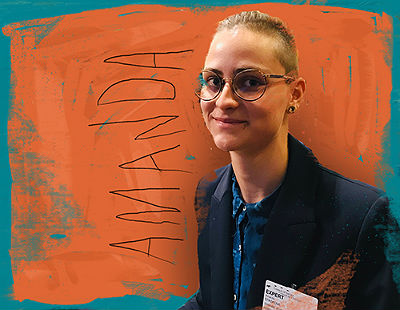 Slender figure, soft voice a little shaking, Amanda took the floor in the plenary on the second day affirming: "I am demotivated. Yesterday, the room was full of photographers taking pictures and journalists because three decision makers were here. Today nobody is here for us. I feel like we are puppeted here."
Why is that so? What happened? Let's hear about Amanda's explanation:
"I'm Amanda. I'm 22 years old. I come from Czech Republic. I'm a student in gastronomy, hotel and tourism. I love to travel, that's why when I heard from Eva (our leader) about the Enter! Youth Week I decided to join. I really like this kind of project where you can meet different people, different cultures, share impressions and needs. I enjoy this programme, I love the people here. The organisers are pretty cool and facilitators have my support, it must be so hard to organise such an event.
I met such great people here. We all agreed that all starts with education. That's the biggest problem in every country.
We want to make next year a big project like Enter! Youth Week by ourselves, something like this but more comfortable. We want to do it differently. As we are really young, we cannot sit all day like this: one speaker speaking a long time and then there is no time for our questions. That is why I got today a little angry. I'm sorry if I spoke bad in the plenary but I think that in a good way to be honest. That's the point, we shouldn't be afraid. So we should be honest and should say that something is not working there pretty well. But I also know that all of the people here are doing their best. I understand, it's not so easy to just change things like this. But the most important is to listen to people. We are here now, we are the most important, tomorrow everyone leaves. But OK, that's the point, that's about it: even if they don't listen to us, we will make something out of it. So I leave this place with positive feelings. We already called two ministries in Czech Republic, and they will support us. It's already happening."
Mustafa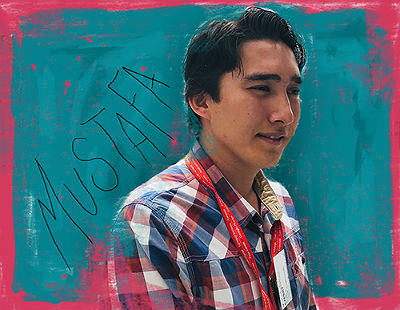 With the sad look of those who have seen too much, the flow of speech slowed down by the choice of precise words, Mustafa has come from a distance to carry his message:
"I'm representing Belgium over here right now in this event. I come from Pakistan. I lived 15 years in a city where we had ethnic cleansing. Cleansing. They wanted to finish it (us). Fifteen years of life watching this. I was thinking all my life can it be peace in my city? Is it possible or no? I decided to study and to work for my dreams: to see my city, without guns. As I dream, the paradise that has been spoken in the books, it's a world without guns. It is my message to the entire world, not specially Europe. Council of Europe is a good platform to speak because 45% of the countries are listening to you. I feel that here I have a voice. Here I have freedom of speech. In Pakistan, if you want to say something, you are not free, especially if you are coming from a minority. I come from Hazara community. It's an ethnic and religious minority. If peace returns I will go back.
I moved from Pakistan in 2015 sometime in the middle of the year and I reached Belgium on my birthday, the 21st of December. I travelled six months all around Europe "illegally" as they say. But I say nobody is illegal. The only illegal thing is a gun.
In 2010 there was a bomb in my city – 50 metres from me. I lost two of my best friends. We were born in the same hospital and grew up together.
I haven't seen such violence against human beings in Europe. I saw a bit of violence in Belgium in 2016 and I asked myself: 'Why did I come? I played with my life. Why did I spend my money to come to this place that people were calling paradise?' But you have to react like people here. People here go to meetings, to cabinet, to parliament. They do lobbying. To talk. So I'm ready to talk too. I just need contacts.
This is my first international platform where I'm speaking. I'm here and I'm speaking to people, telling them what was the reality that I lived and what will be the reality in 100 years. A beautiful future. I might not be able to talk to 300 participants of the Enter! Youth Week but I have already talked to 50 of them, spreading my message. I have time. Let's see what will happen.
If we want our world to survive, big countries can't sell guns for the sake of their GDP. In front of violence, you will see violence. So, politely, delicately, like a gentleman and a good person, I'm asking: stop producing arms."
Farah and Perceval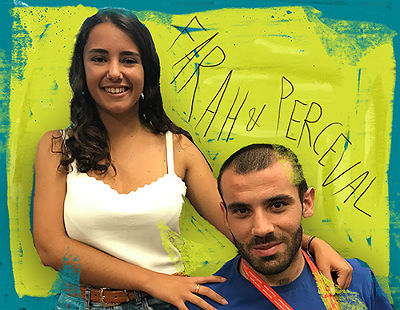 Determined look, little woman with big dreams, Farah, 18 years old has just finished high school. Immersed in this Enter! Youth Week context, she feels more European.
Perceval, 25 years old, youth worker who has already attended the European Youth Conference in Sibiu, Romania this year, is here to meet other young citizens in order to listen to them and form his own impression about Europe.
Both come from Valence, a city in the South of France, shaken in 2019 by high school demonstrations and where the movement of the "yellow jackets" was particularly virulent. Their impressions are black and white:
"We are both ambassadors of Romans International, an organisation that is promoting volunteer service abroad. To meet people from so many different horizons is priceless. Diversity in Europe should really be preserved like here. We should not erase our differences.
During this week, we had very few moments where we could actually have a word. We heard a lot of speeches from decision makers but it should have been the contrary, decision makers should have listened to us and we should have made the speeches.
We had the impression that some questions were not 'appropriate' and as a consequence, we self-censored ourselves. Some issues like disabilities, bullying, LGBTQI+ rights, feminism or climate change are new topics and they were not discussed enough or not discussed at all.
We heard so many times, 'We will give you the floor' but we don't want the floor, we want the power. And then, when we hear 'Take it!' it is really provocation. If we go to vote, our votes don't count and if we take to the streets, we have flash balls in front of us.
In Valence we had a lot of violence. We understand that the Enter! Recommendation should be better known but you cannot just ask us to sit and listen, and then to post on Facebook to make more visibility on the Recommendation. We felt instrumentalised. We don't want the Council of Europe to take care of us, we want to take care of society. That is the most frustrating.
We heard the whole week that 'A lot of things are in our hands' and that we have to take the power, but nothing is made for us to actually take it. We don't demand things, we want to help doing the change."
Laura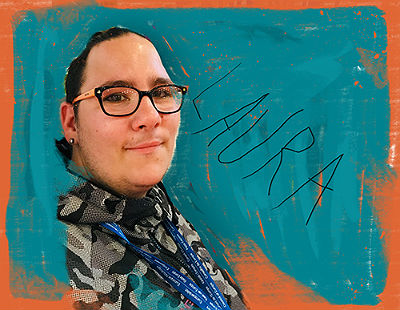 A round and sparkling face, an unshakable optimism and a big heart, Laura takes life to the fullest:
"I'm Laura. I'm 25 years old. I live in Strasbourg, France. I heard about the Enter! Youth Week through Youth Express Network and Parcours Le Monde, the two youth NGOs where I'm volunteering. This week I had the opportunity to speak about social rights with other young people from Europe. I realise that we are all equal but we have all the same difficulties, as young people. I met policy makers. Maybe they listened to us and heard our questions. Who knows?
What is new for me here is that in all countries of Europe, we are confronted with different situations, we are not at the same level of fulfilment of social rights.
In France, I think that we have quite a lot of social rights. Most of them are respected but we still need to work on it. Personally, I would like to raise awareness on the right to housing.
Why right to housing? Because we have a lot of people being homeless in France.
And because I know what I'm talking about. When I arrived in Strasbourg, a few years ago, my situation was not very dignified. Very quickly I was on the street, because of lack of finances and lack of family support. I was living on the street for almost six months. Now, thanks to the organisation l'Etage I have a flat, a decent place to stay and I live with dignity.
I'm happy and proud of myself. I'm proud of my story.
I will go now on EVS this summer for two weeks in Croatia, taking care of children. I will give back what I received."
Ryan, Guy, Jawed and Guyllain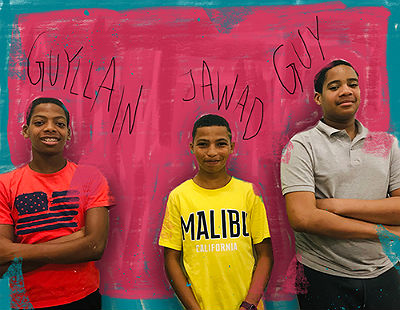 Inseparable, like the three musketeers (who were in fact four), the group of Urban School Vibration from Bordeaux, France impressed a lot during plenary sessions. Ryan, 18 years old, youth worker, is accompanying Guy, Jawed and Guyllain, 14 years old, during this extraordinary and unique Enter! Youth Week:
"We met people from different horizons, from all over the world. We shared experience with them. We are richer now. We had the chance to come here to Strasbourg to share our views and opinions to important people in Europe. We tried at least. It was the first time that we participated in such a project with politicians, journalists. People listened to us, we could express ourselves, even if we were the youngest. When talking in plenary, we were in a little bit of stress because we had not rehearsed before. We only read our text. It felt quite natural to speak in public.
We didn't know if we could do it.
We want to come back, redo Enter! We will come back every year."
Malcolm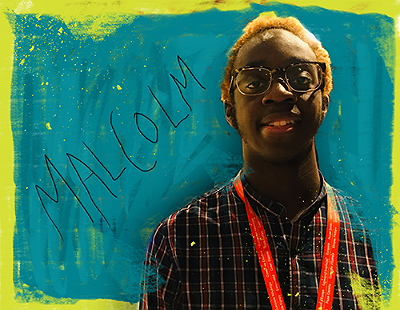 Curious about everything, a sweet smile on his lips, Malcolm is confident about the follow-up of this Enter! Youth Week:
"I'm Malcolm. I'm 19 years old and come from Luxembourg. I'm here thanks to 4motion organisation; we do non-formal education. We learn new things and develop competences through non-formal activities.
It's not my first time in this kind of event. I have already participated in the European Council in Puteaux, France four to five months ago.
When I heard that here there would be 300 participants I was scared. It was a big challenge for me.
During this Enter! Youth Week, I made friends, we discussed and shared about our life experiences.
In the workshops, we discussed about youth unemployment. One of the participants asked me: 'If you were a mayor, how would you solve this problem?' I realised that I never thought of this issue from this point of view.
It was a nice experience. Still I'm reflecting on how to motivate young people to be closer to politics. What to do to make young people interested? A Web TV, we tried in Luxembourg, and it didn't really work. I don't know what else to suggest.
Here I met motivated young people. Here are people coming who think a bit like me. We all have the same goal. It's normal that we find ourselves here, in the Council of Europe. But we are a minority who are interested in politics but I'm sure we will be more."
Mohammed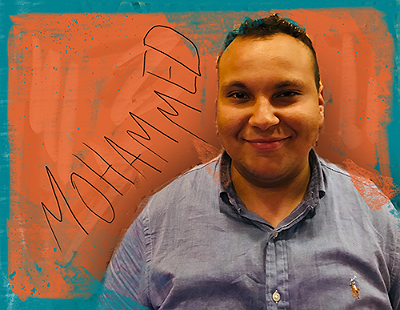 Fast speech rate, shining eyes of those living their convictions, Mohammed knows why he is here:
"I'm Mohammed, I'm 23 years old, born and raised in Den Haag in the Netherlands, the city with all international courts.
I study public administration but I'm actually interested by far more things than public administration and I try to be active in society. I try to get involved with everything I think is interesting. I'm a youth activist. And that's how I end up here. I was for two years the chair of a student association, a multicultural association. I was also involved in a Working Group of the European Commission about radicalisation of young people. Last year, I was a participant in the Med University in Tunis. That's how I know the Council of Europe.
This week was busy and interesting. If you come to such a place, you need to keep your focus because it can be overwhelming. For me that's also the nicest part: to meet people and talk about politics.
That's what we are doing here with the participants selected by the Council of Europe: we speak about policies that are working or not working in our realities. We can see how the nice words or intentions that are written on paper work in real life. So for me it's not only to come here and criticise but also to listen to other people's challenges.
For example, I was in a group yesterday with a few young people from Guadalupe. It's a totally different context than mine but we can still see that we have the same issues. For me the challenges really look alike.
I chose the workshop on youth participation: an interesting but also the vaguest topic. What is it youth participation? I wanted to see how such a vague word could be brought into concrete context with good examples of what it means to have youth participation.
I will take home the idea that in your own bubble, you can always feel that you have these challenges that are only a problem to you but if you can in this kind of context (Enter! Youth Week), you can see that there are many people dealing with this issue.
If you are here, you can literally form groups and work together, give examples that look alike and learn from each other how to solve problems. I'm optimistic, I feel this is part of the solution: talking about it!"
Thank you!
Special thanks and appreciation to the interviewees but also to all gifted participants and facilitators who put their heart and energy into this Enter! Youth Week. This Coyote #29 is also meant to diffuse your hard work and outcomes to the ones who couldn't be there.
I had the privilege to attend all plenary sessions and some workshops that took place in smaller groups. I also had the opportunity to speak with facilitators running these activities, as well as speaking with a wide range of participants. I actively listened with all my senses, ears, eyes, heart and mind to gain a full appreciation of this Enter! Youth Week. Listening is more than hearing "stories" with your ears. It is paying attention to the emotions the "story" raises within you, and listening to what remains unspoken, especially when it comes to the topic of access to social rights.