What we brought and what we take away
Canadian perspective on the Enter! Youth Week
by Maïssa Saint-Joy
20/04/2020
What brought us to the ENTER! all the way from Canada
The Canadian delegation was made up of representatives (six) from the Youth Council of Montreal North and the community organisation Les Fourchettes de l'Espoir (in English the name would mean Forks of Hope). I personally came to represent Les Fourchettes de l'Espoir, which provides support and accompaniment to the poorest of Montreal North by promoting their integration into the job market while providing them with access to varied and quality food. Les Fourchettes works with all ages. However, I work there more specifically with young Montrealers aged 14 and 15. Each summer, we receive around 60 of these young people and we accompany them in the discovery of their socio-professional path within a programme called Ma Première Expérience de Travail (in English, my first work experience). At the Enter! Youth Week, I was accompanied by two former participants of this programme Dorothy Armand-Lima and Perrye-Delphine Séraphin.
Firstly, this question was asked to us SEVERAL TIMES and it amused us! It reassured us to know that Canada has indeed had observer status with the Committee of Ministers of the Council of Europe since 1996 and that it has had a few opportunities to co-operate on doping and cybercrime cases, for example. We were the only observer state present at Enter! Youth Week. As our country adheres to and promotes the principles of democracy, fundamental freedoms and human rights, we become a partner of choice for the Council of Europe, which is trying to advance these causes within Europe and elsewhere. So, our presence at the youth week was above all to promote these values ​​and disseminate and improve the implementation of the week's recommendations.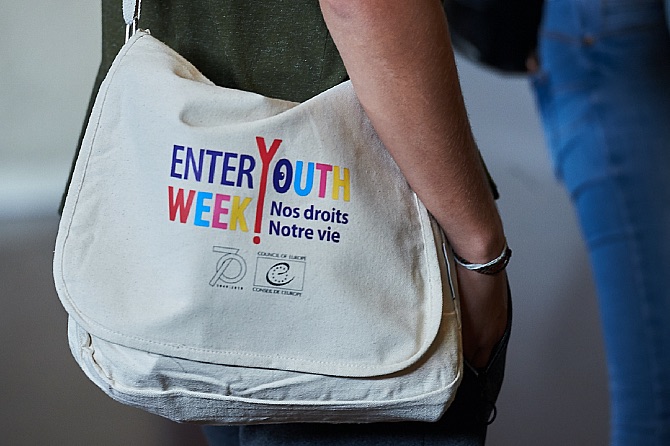 Although Canada is not part of Europe, we agree that the recommendations could also apply to the reality of young Montrealers living in disadvantaged neighbourhoods. By reading various documents concerning the recommendations, we realised that our young people could experience the same obstacles to full access to their social rights.
Thousands of young Canadians live in conditions of deprivation1. This is the case of the young people from the neighbourhood we came to represent, Montreal North. A district where cultural diversity and youth reign. In fact, 18% of the population is between 0 and 14 years old, placing it in fifth place among the youngest boroughs in Montreal. In addition, almost 43% of the population is a visible minority. Unfortunately, the northern residents of Montreal aged 25 and over are the most numerous in the metropolitan area with no diploma (1 in 4 people) and with a low activity and employment rate. If some people feel disillusioned and overwhelmed by the youth and the "millennials", I think that it is the latter who make the district shine and which gives it hope for a better future.
We therefore felt concerned by the theme of the Enter! week, seeing it as an opportunity to learn the best practices from Europe in terms of youth intervention in a precarious socio-economic context and to share our own practices. A cultural mixture that was enriching.
Importance of non-formal education by Europe
We were pleasantly surprised to see that the Council of Europe continues to want to develop initiatives aimed at improving the quality of community or not-for-profit social services for young people. We have understood that community organisations in Canada and in Europe represent safe spaces that promote young people's access to their social rights. When formal spaces, such as schools or government structures, may have gaps in the quality of services, organisations can successfully overcome the difficulties. The week clearly demonstrated that the work of community organisations can make all the difference in the lives of young people, especially those who are immigrants.
We believe that the well-being of the socio-economically precarious Canadian and Quebec youth could certainly benefit from such an event.
It is a real advantage to have an institution of the magnitude of the Council of Europe investing itself humanly and financially, and as regularly, in non-formal education. Nevertheless, the youth week has shown us that it is not only a question of giving funds but of looking into the quality of services, developing and deploying best practices so that the greatest number of people enjoy it. The existence and formula of the event allows the Council of Europe to collect the priority needs of youth workers and the youth itself. Based on these needs, the Council of Europe aims to reassess the implementation of recommendations by member states in terms of access to social rights among young people. Thus, the youth week is the epitome of the horizontal or collaborative approach possible between community organisations and political bodies. By building on the needs of the community, we make sure that the money invested does not get lost in negligent or paradoxical practices.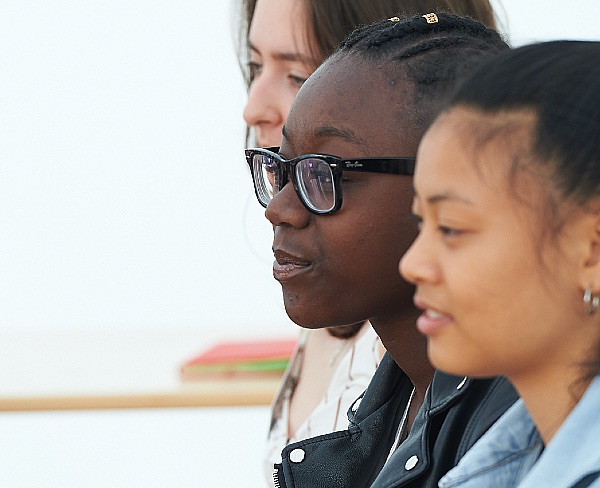 The neighbourhood that we came to represent benefits from a large number of youth organisations, and for good reason. Its population is very young and non-formal education is a variable that can offset socio-economic precariousness. As mentioned above, Montreal North is a district where the rate of professional inactivity is high, thus contributing to the poverty of its inhabitants. The existence of programmes aimed at young people such as Ma Première Expérience de Travail (my first work experience) can contribute to improving the living conditions of future adults in the neighbourhood by allowing them to discover a professional passion that hooks them into school. However, as a resident and a youth worker, I often question myself about the quality of services offered to these young people. Does a high number of community organisations rhyme with quality services? An event such as the youth week, even within a borough in Quebec, would ensure that the mandates of these different organisations do meet the needs of the main stakeholders, the youth and the youth workers. And, that the services offered can be inspired by best practices. The youth week is an inspirational collaborative model that could be implemented in Canada. In this sense, I particularly appreciated the recommendation emanating from the week on developing online training for workers on social rights in order to supervise their practices. In fact, a meeting between all the Canadian participants and the borough hall is planned in the near future. We will therefore have the opportunity to present the idea of such an event.
Empowering young people
In conclusion, we retain that the youth week sent a strong message to young people: we want to hear from you and give you the means to act on the issues that you think are the highest priorities. Young people must be able to have equal access to places of decision making, such as in political parties, in the boards of directors of organisations, etc. For example, in Quebec, youth council exists where young people can advise the mayor on the issues related to them. Otherwise, the lack of representativeness within these circles can give the youth the impression that they are closed to them and they have no place in them.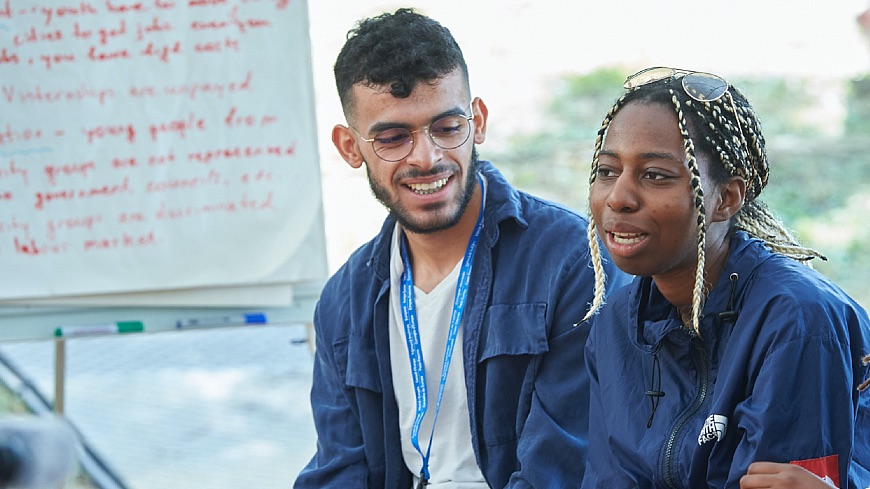 During the week we discussed technological education among young people. Social media applications are massively used by them and they contain a ton of unverified information. In little work groups, we have thought about ways to counter this era of forgery among this population. It's a mission that is close to my heart since I do scientific research in knowledge transfer, an area that seeks to bridge the gap between scientists and users of science and the general public. I hope to be able to carry out an initiative inviting young people from Montreal North to demystify fake news or questionable information in their social networks in a discussion group. Overall, our participation at the youth week was rewarding for us and our European colleagues. We hope that other disadvantaged neighbours from Canada will have the chance to live this experience.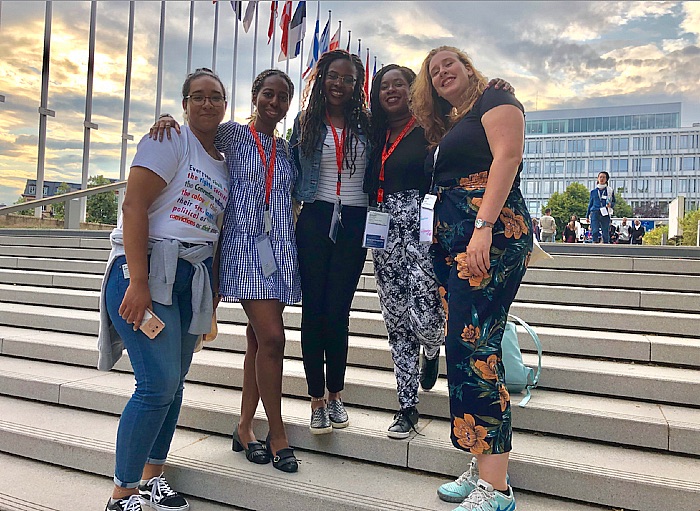 ---
1 All statistics (in French) available at: http://ville.montreal.qc.ca/pls/portal/docs/PAGE/MTL_STATS_FR/MEDIA/DOCUMENTS/CLASSEMENTSOCIODEMO2011.PDF.