Sharing Knowledge, Handling Controversy in schools of Greece, North Macedonia and Bulgaria (SKHC)

Implementing organisations
ANTIGONE – Information and Documentation Centre on Racism, Ecology, Peace and Non-Violence, Greece – Leading partner
Amalipe Center for Interethnic Dialogue and Tolerance, Bulgaria – Implementing partner
Journalists for Human Rights, North Macedonia – Implementing partner
Resource/publication to be used
Managing controversy. Developing a Strategy for Handling Controversy and Teaching Controversial Issues in Schools
Overall objective
Develop a peaceful and inclusive school environment within the three partnership countries (Bulgaria, Greece, North Macedonia), with the use of human rights education (HRE) and specifically with the use of the Council of Europe handling controversy training tool "Managing controversy. Developing a Strategy for Handling Controversy and Teaching Controversial Issues in Schools".
Specific objectives
Empower the local teaching community and educational stakeholders to address controversy in schools and put into practice nonformal education on human rights.
Raise local school communities' awareness of the relevance of human rights education to manage controversial issues.
Outputs/results
The "Managing Controversy" training tool was translated into Macedonian and Bulgarian. It was printed and disseminated in the broad educational communities of Greece, North Macedonia and Bulgaria.
One 8-hour training curriculum based on "Managing Controversy" toolkit will be jointly developed by the partnership organisations' educational experts. This common curriculum will be designed taking into consideration the three countries' local contexts, policies, controversies, existing good practices, expectations and needs.
Twenty-four 8-hour online training workshops for the teaching community was organised in six different regions of the three partner countries (8 in each partner country).
One new educational toolkit was produced in four languages (Bulgarian, English, Greek and Macedonian). It includes the 8-hour training curriculum together with feedback collection by the training workshops implemented in the three countries (6 regions).
Information on the project activities and the content was disseminated on the partners' websites and social media accounts, as well as via articles or interviews.
One Final Online Event took place for networking and dissemination of results.

New educational toolkit
New educational toolkit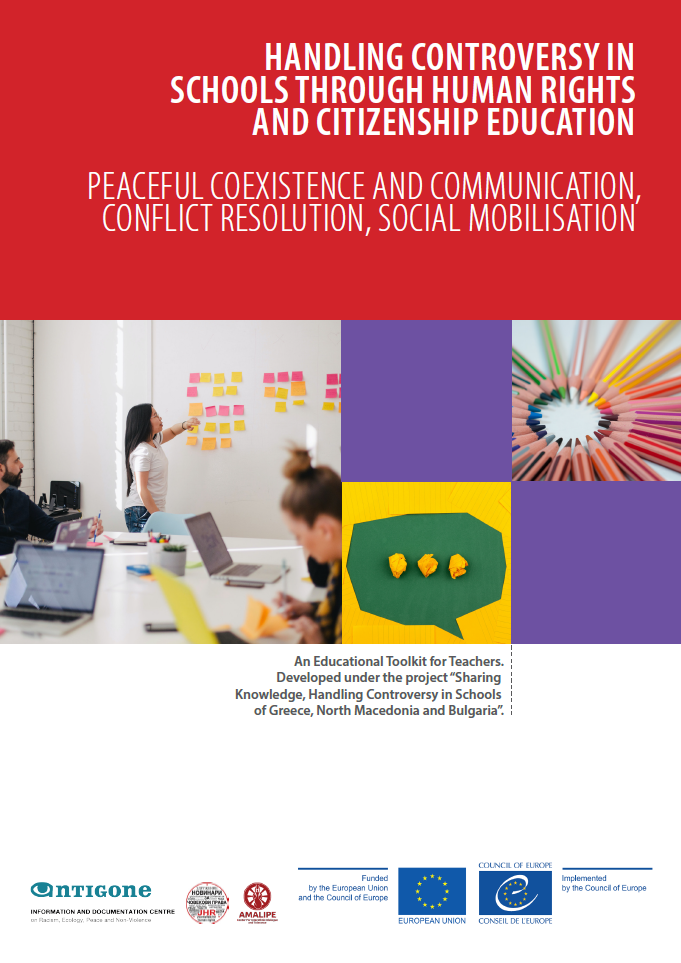 Handling Controversy in schools through human rights and citizenship education -
Peaceful coexistence and communication, conflict resolution, social mobilisation
An Educational Toolkit for Teachers. Developed under the project "Sharing Knowledge, Handling Controversy in Schools of Greece, North Macedonia and Bulgaria"
Download in Bulgarian, English, Greek and Macedonian

Translations
Translations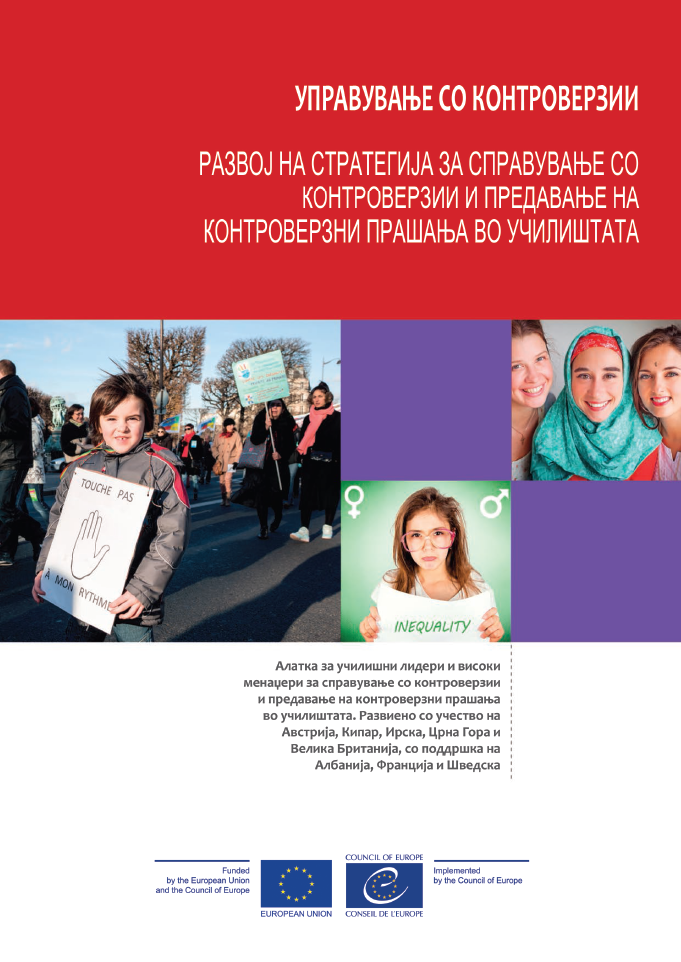 Managing controversy – Developing a strategy for handling controversy and teaching controversial issues in schools
This self-reflection tool for school leaders and senior managers is designed to support reflection on the way controversy is handled in schools.
Download in Bulgarian, Macedonian and other languages