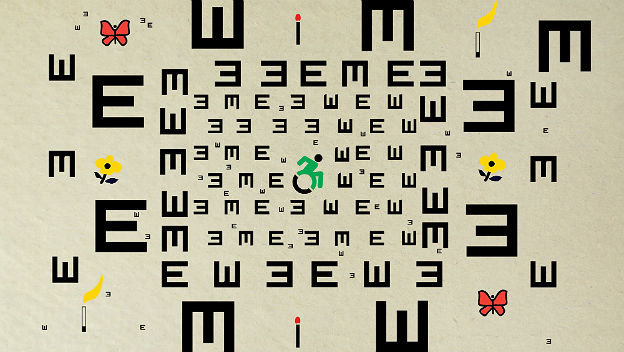 @ Illustration by Marlies Pöschl
Human rights education and disability simulation exercises – not a match made in heaven
by Zara Todd
09/10/2017
This article looks at the challenges of exploring disability in human rights education, why we should avoid simulating impairments and what alternative methods are available. Throughout this article I will view disability through the social model of disability.
I am a youth worker, trainer and human rights educator. I am also a disabled person. Human rights education gives people the knowledge and skills to advocate for their rights and the rights of others. Human rights and therefore human rights education is about achieving basic equality where who you are, where you're born and how much money you have does not affect your rights entitlement.
Part of human rights education for me is about widening people's horizons and perspectives about rights and why we have them. To do this we often require participants to put themselves in others' shoes; these types of activities are often called simulations.
Simulation activities exist to explore challenges and in most circumstances they work because they highlight the barriers and injustice people face. Unfortunately somehow when it comes to disability we use simulation to explore identity rather than rights and barriers.
Before I begin I feel it is necessary to confess I have in my youth used simulation activities (although not in HRE) and it is partly through using them that I have seen their flaws first-hand.
Nine reasons why simulation of disability doesn't work in HRE
1. Disability is too complex
Disability and disablement is complex – it is not explained purely by impairment or the equipment and adaptions we use to enable us to live our lives. Disability is understood by disability rights activists like myself to be a combination of impairments, environmental barriers and attitudes which particularly over time cause us to be disadvantaged, discriminated against and oppressed.
For example, limited access to the job market isn't just because of limited accessible office space, but also employers' negative attitude and the limited accessibility of the education system, making it difficult to achieve the knowledge and skills to compete.
In addition, many people with disabilities have multiple impairments, so putting a blindfold on someone or sitting them in a wheelchair for 15 minutes will never produce my experience of wheelchair use with involuntary movements, fatigue and sometimes pain.
While doing human rights education I have met many trainers who think knowing the names of people's conditions will help them and their participants understand disability. While it may give some hints, it doesn't support inclusion, as it highlights differences and ignores the fact that all participants have needs which should be acknowledged. We should be asking all participants what they need in order to feel included and able to take part.
2. Experts by experience?
If I had a pound for every time I have been told: "I know how it feels, I tried pushing a wheelchair once", or something similar, I would be a rich woman. As disabled people we already face a lot of obstacles asserting our right to have an opinion without people feeling they are experts in access after such a limited time. A little bit of knowledge can be a dangerous thing, especially when it doesn't separate the person from the barriers they experience.
As human rights educators we should be empowering young people to advocate for and realise their human rights. To do this it's crucial we explore what rights people have, what barriers there are to realising their human rights and how we can remove those barriers. Focusing on simulating impairments can lead to the idea that people need fixing or that somehow they are responsible.
3. Where are the human rights?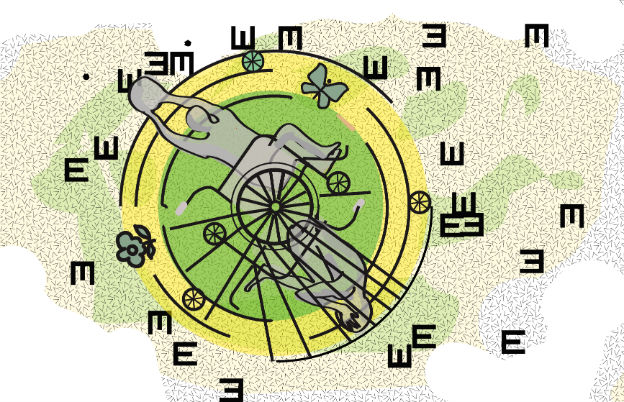 © Illustration by Marlies Pöschl
Simulation exercises around disability move us away from human rights. What rights are explored by sitting in a wheelchair, wearing noise-cancelling headphones or a blindfold? None – human rights apply to everyone. Therefore, shouldn't any discussion or activity about rights start with rights and then look at how marginalised groups' access to right x or right y is affected?
4. Liberation not trapped
One of my biggest problems with simulation exercises actually comes from the times I've used them. Too often the response from my participants when reflecting on their experience is how limiting and frustrating a wheelchair is. What they fail to grasp is that for me my wheelchair isn't a limiter, it is my liberation. My chair enables me to live life, to travel, to work, and to socialise – without it I would be stuck in bed.
Even with debriefing it is difficult to challenge the comparison between the non-disabled life and living with an impairment – it is rarely a favourable one. Does this mean I am not equal, or that I shouldn't exist? No, it simply means I do things differently.
5. Lazy
This is the trainer in me: frankly I find simulation exercises lazy, but there is nothing wrong with taking the easy option sometimes. Most disability simulation exercises in human rights education don't debrief in a way which challenges participants' assumptions enough to be useful. This is in part because so few trainers have personal experience of disability but is also an indication that exploring disability needs concrete inputs and time.
A non-disabled friend of mine who participated in simulation activities alongside disabled people before we met once told me the thing that made them realise disabled people were not aliens was not the simulation exercises but catching a fellow participant who happened to use a wheelchair trying to find somewhere to have a sneaky cigarette. If what we are trying to achieve with human rights training is equality, then surely what we want to be doing is exploring commonalities and exploring barriers and how we remove them rather than empathising disabled people's otherness.
6. Sympathy not empathy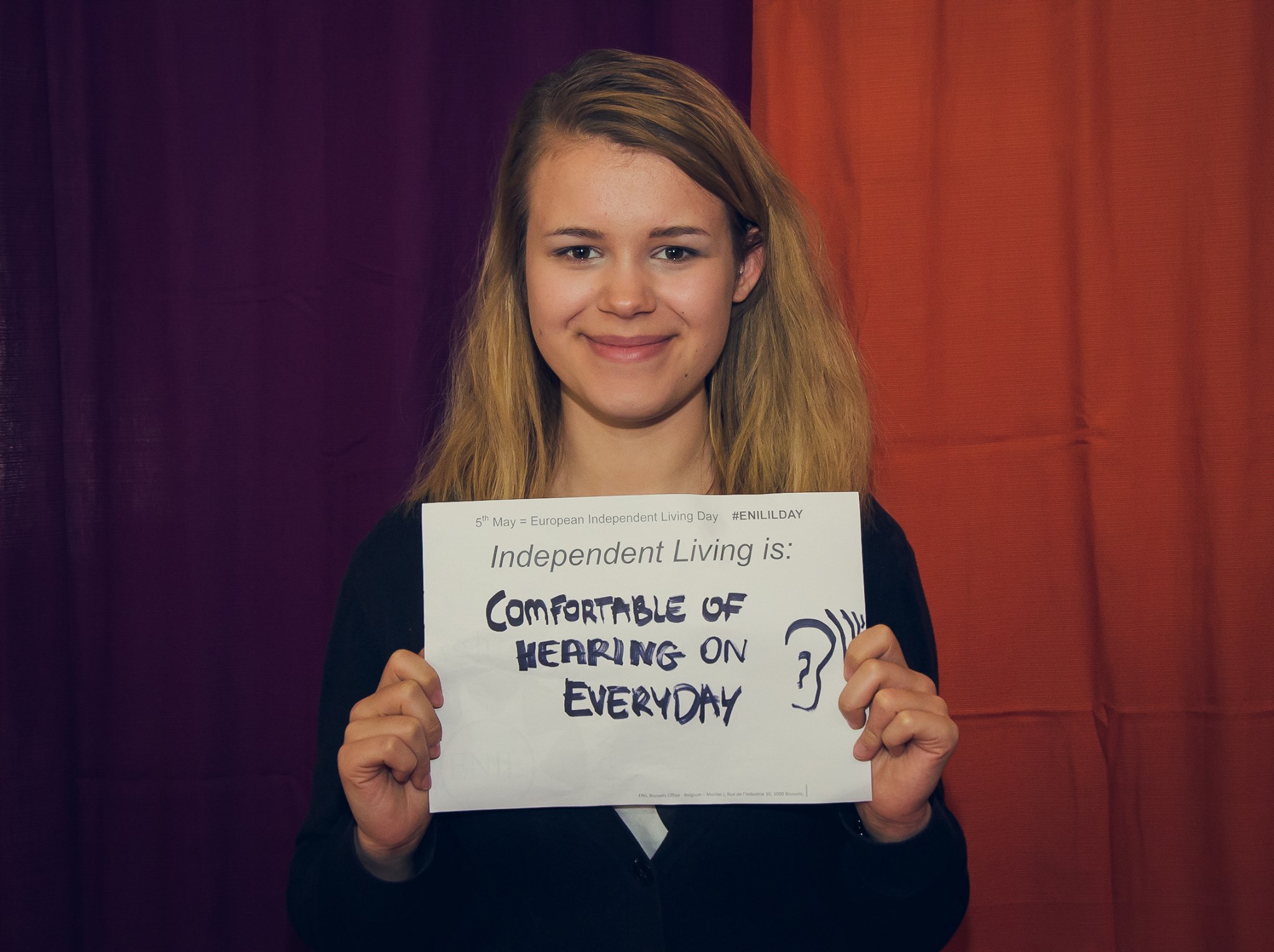 © Independent Living from Karolina Czaban from Poland
is to be able to hear comfortably every day!
There's a reason the disability movement in Europe has the slogan "Rights not charity": the majority of disabled people don't want pity or sympathy; these are responses which have led to us being institutionalised and marginalised.
Recent academic research into using activities which simulate blindness found using simulation was more likely to create short-term sympathy than long-term attitude change.
7. Problematised the impairment
Despite what society tells me, my impairments are not the problem or why I get discriminated against, yet if we are placing an emphasis on stimulation exercises you are kind of saying my impairment is the thing that needs to be understood rather than the barriers I experience or my human rights.
8. What about impairment you can't simulate?
What about impairments that can't be explored by wearing a blindfold or trying out a wheelchair? Do they not matter? My experience is that people with hidden impairments are often the most discriminated against. Simulation exercises reinforce the hierarchy of impairment, which is an unwritten and often unconscious ranking process where people compare impairments to decide who is worst or better off.
I have a high and a low impairment on the "hierarchy" and I have spent most of my life having my dyslexia dismissed as unimportant compared to my mobility impairment, but I can tell you they both affect my life, just in different ways. It would be very difficult to simulate my dyslexia and to be honest I don't know what it would achieve, but the emphasis on certain impairments certainly doesn't help me, nor does it help anyone understand my rights better.
9. Generalisation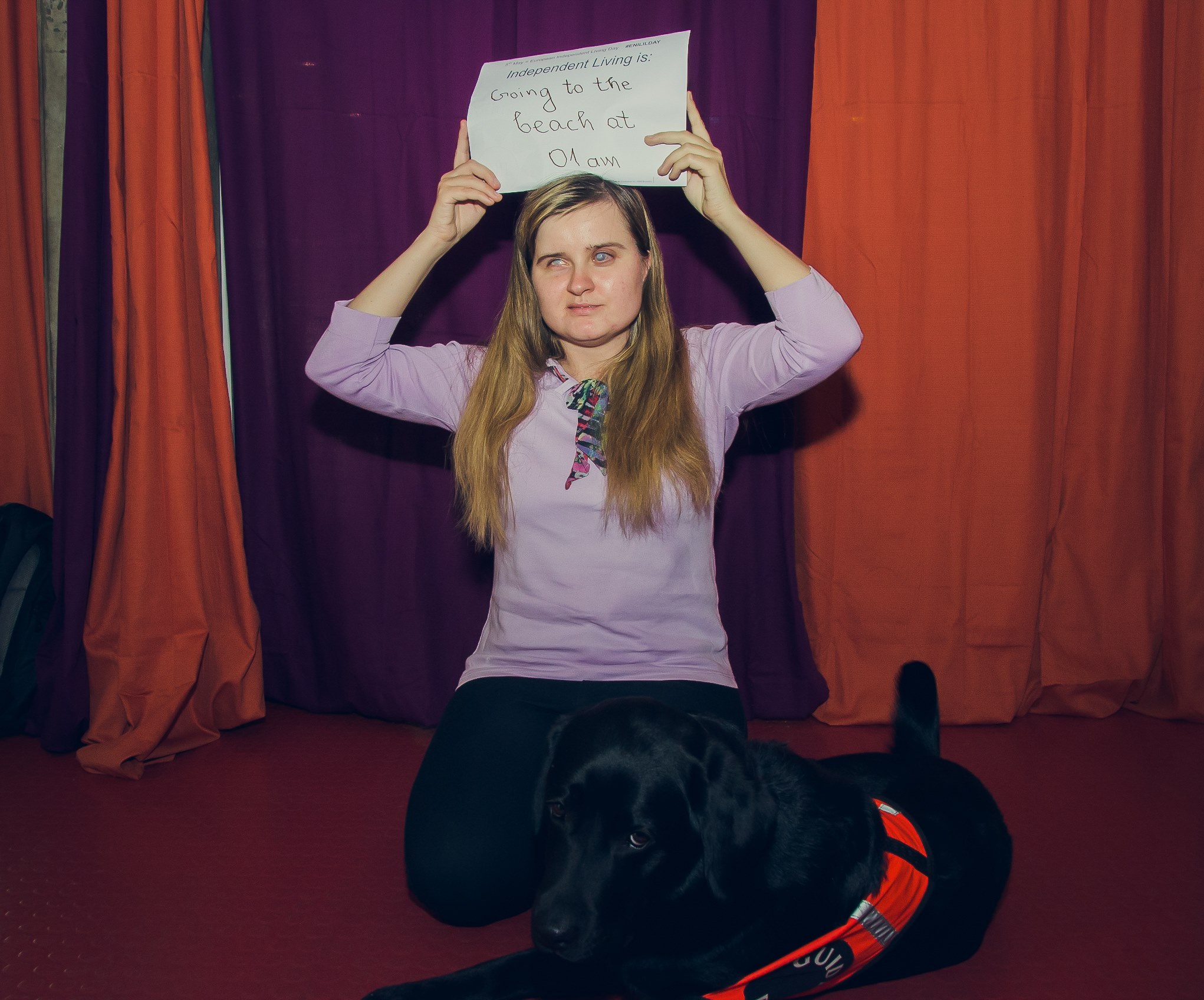 © Aleksandra Surla from Slovenia interprets Independent Living
as "going to the beach at 01am" — with Aleksandra Surla
Disabled people are not a homogenous group, we are diverse, and even when we have the same impairment it doesn't mean it affects us in the same way or that we even have the same access needs. Yes, there may be crossover but a simulation isn't going to help you navigate that. We should be discouraging the idea that if you know what one impairment might mean you magically understand all impairments.
Equally, one disabled person can't represent all disabled people in the same way that one woman cannot be representative of all women. Even if simulation enabled you to understand my disability, you still wouldn't understand how my rights were affected as we are all more complicated human beings than that: gender, geography, wealth, ethnicity and many other factors affect our knowledge and access to rights.
What can we do instead of simulation?
I know that disability can be an intimidating topic for trainers and it certainly shouldn't be ignored, so as a disabled person who is a trainer I offer five alternatives that I have found work better than simulation ever could.
1. Living libraries – living libraries are great, because rather than a poor imitation you get access to real human beings and the set-up and delivery promotes respect and equality. It's also great because as a trainer you are not expected to know all the answers or be an expert on the topic. Helpfully, the Council of Europe has a really useful page on their website about living libraries and has created a guide to organising living libraries called Don't judge a book by its cover.
2. Case studies – use case studies and videos of real people to explore barriers and rights violations. Real life can be much more challenging than what our imaginations can come up with. To find case studies go to disabled people's organisations (which are run by disabled people rather than charities) like ENIL who will frame people's experiences in a human rights-based perspective.
3. Use videos – if you can't get disabled people in the room or don't have much time videos can be a great way to explore disability. ENIL youth have created a few short videos on multiple discrimination with the help of the Council of Europe called Think Different, Think Equal.
End the Cycle have some great videos exploring disability and poverty in international development.
4. Socialise – the best disability equality tool I've ever found is not in the training room but outside it. Where possible, create space for people to just communicate with each other. Many negative assumptions come from lack of time spent with the group. Obviously if you want to use this approach you need to think about how you make your training mixed ability and inclusive.
5. Adapt other activities – Compass and Compasito both have activities that could be easily adapted to look at disability, for example Path to Equality-land could easily be changed to focus on disability equality rather than gender. Just remember to debrief well.
Do you have comments on the article?
Use the Feedback form to give your comments and/or visit our Facebook page!



Partnership between the European Commission and the Council of Europe in the field of youth
c/o Council of Europe / Directorate of Democratic Citizenship and Participation Youth Department / F-67075 Strasbourg Cedex, France
c/o Council of Europe / Brussels office / Avenue des Nerviens 85 / B-1040 Brussels / Belgium