Glimpses of the European Training Strategy
by Gisele Evrard Markovic
26/06/2019
As a crucial contribution to understanding the bigger picture about the youth work training field in Europe, Gisele kindly agreed to answer our questions about the European Training Strategy.
Please explain briefly the core of the ETS – what is it for?
Since its very beginning under the YOUTH programme (2000-2006), the European Training Strategy (ETS) supports the further development of quality youth work in Europe through capacity building of youth workers. The ETS is closely linked to Youthpass and the European recognition agenda. Although embedded in the framework of the Erasmus+: Youth in Action programme and closely connected to the European Solidarity Corps programme, the ETS strives to go beyond and to connect with the field of [European/international] youth work in general.
As such, the ETS tackles:
the micro level (individual development);
the meso level (organisational development); and
the macro level (development of the systemic frameworks).
The ETS addresses a very wide group of stakeholders – youth workers, trainers, researchers, policy makers, National Agencies, organisations, platforms, partner institutions – and intends to operate in a systemic way. The ETS is therefore a strategy for all those actively involved in youth work development, with a focus on the European level although tools developed under the ETS are being used at national or local level as well.
Nowadays, the ETS links youth policy developments in youth work with the capacity building of youth workers. To do so, it focuses on building on practice and theory, on creating more synergies between different stakeholders, on enhancing further the co-operation between different stakeholders and different sectors, and on supporting innovation.
The strategy is articulated around a series of processes, and features and measures, divided into several areas: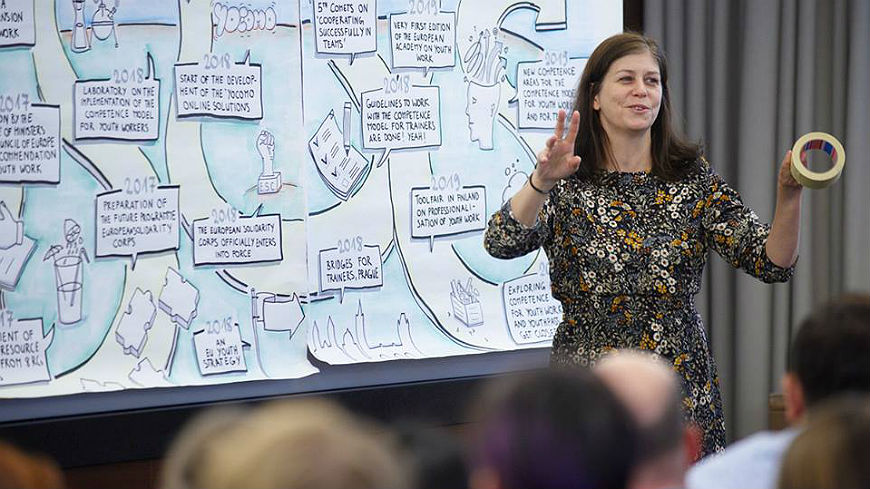 What are the main goals of training, as reflected in the ETS? How do you measure the impact?
"Support quality capacity building" partially means to accompany and – where needed – to guide those who are responsible for training trainers and youth workers. In the framework of the ETS, training puts a lot of emphasis on a holistic approach to competence development and on the learning process, particularly on self-directed learning.
As such, the ETS is "only" a framework, a strategy. To live, to grow, and to ensure connections to the reality of the youth field at European level and at national/regional level, it needs people. Hence, it provides space for peer learning, for co-operation, for consultations, for designing projects and activities that are at the same time true to the "spirit" of the strategy (and especially of its training tools such as the two competence models), and that can also reflect the needs and trends in our work today.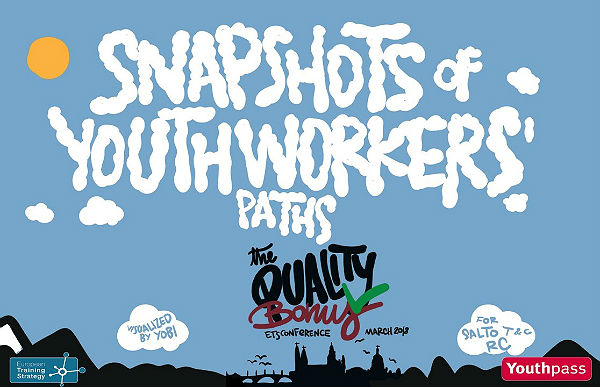 Many processes are only a few years old and it is still early to talk about impact as such. Nonetheless, it is fair to say that the ETS contributed to organising the youth field, for instance in terms of focus on competence development, or in terms of supporting putting back to the agenda specific dimensions of youth work. Of course, we could talk in terms of number (number of activities, number of participants, number of projects initiated by practitioners and based on the ETS through, for instance, Key Action 2 projects such as "the Appraisal" of the International Youth Work Trainers Guild, or the initiative "Trainers Library"), but this would only be a very partial view on the effect – and impact – of the strategy. In addition to the work of the RAY Network, which can inform us on the influence of the ETS, we are initiating a monitoring process of the use of the two ETS competence models, which might lead to a bigger impact study in the future, though we are not there yet. This requires more time, material and practice.
How do you define, in your work, quality in training?
Within the ETS, and particularly through its two competence models and the activities connected to them, "quality" has different dimensions and elements. It relates, for instance, to ensuring that principles of non-formal learning (NFL) such as learner-centredness, transparency, confidentiality, democratic values, or ownership of the learning process, amongst others and as described by Hendrik Otten and Helmut Fennes in Quality in non-formal education and training in the field of European youth work (2008), are consciously considered and applied. Such principles – and beyond – are what allows the field and practitioners to have a starting point, references that support exploring the question of quality looking at their own principles, approaches and practices.
When connected to training, "quality" means for SALTO T&C RC to define potential common approaches towards demonstrating the value, seriousness and impact of youth work and non-formal education activities by illustrating the dimensions, aspects, criteria, indicators and the learning outcomes of training activities – an exercise that enables peer review as well as perhaps an external assessment.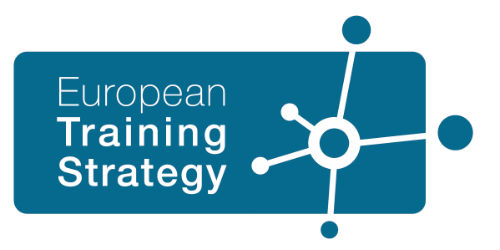 But "quality" also means to provide a framework flexible enough for the stakeholders to still shape the strategy, contribute to it, and support its further development. SALTO T&C RC does not wish to have a top-down approach, even though it of course follows a European agenda and tries to make connections between actors and processes, initiating when and where needed. SALTO T&C RC strives to keep a close connection with the field, with a lot of respect for the quality work already done. Indeed, there is (or there should be!) a consensus that educators and practitioners working in the European/international youth field already deliver high-quality educational programmes and projects, and this deserves recognition. From that perspective, quality therefore also means to stand for and support the contributions of youth work to the society, develop capacity-building schemes, and strengthen resource availability and support mechanisms for training. This includes being accountable for what is being done, and to be able to review the work done, together.
What is the place and value of working with competences in your work, particularly in relation to trainer competences?
No matter where and in which specific field, when connected to the question on quality, maintaining and increasing it requires personal and professional competences to implement European and international educational projects. This is where the ETS comes in the picture, not only through practical tools such as the ETS competence models, but in providing space to explore, support, further develop and adjust training needs to a constantly changing reality in the field.
"Competences" are at the core of the ETS. Both competence models – the Competence Model for Trainers Working at International Level and the Competence Model for Youth Workers to Work Internationally – are tools that put the biggest emphasis on competences, since they are fully articulated around them. Created as a support rather than a "must have list", the models invite both trainers and youth workers to consciously position themselves and adjust the contents to their needs and realities. In these models, the term "competences" refers to a system of values, attitudes and beliefs, and skills and knowledge that can be applied in practice to manage various complex situations and tasks successfully. Confidence, motivation and well-being are important prerequisites for someone wishing to apply developed competences.
Both competence models give an enormous value to dimensions that are not always directly tackled in training, such as emotions, empathy, inner-readiness, intuition, "magic", and values such as integrity, for instance. Of course the models did not invent anything; they rather got inspired and tried to gather what – for SALTO T&C RC and those involved in the elaboration of the models – matters, and is seen as crucial in today's training approaches and offers, in and for the field. Hence, these dimensions are what one could call some of the pillars of both models, beyond a more "traditional" approach of exploring attitudes, skills and knowledge. Competences and the work around it in the ETS means to put "attitudes" as preconditions for skills and knowledge to realise themselves, to "make sense", to develop and "become possible", and that can be observed through behavioural indicators.
To be able to work around competences and competence development within the ETS, a series of training courses for trainers and youth workers were developed. Courses like the Trainer Skills Workshops, COMETS, or From Knowing to Being are fully articulated around the competence model for trainers, so is the overall YOCOMO pilot experience (2018-2020), though around the model for youth workers. Other courses such as the Training of Trainers are also structured around the competence model for trainers, but approach it in a more holistic way and embeds it into a wider scope. That also applies to the courses particularly dedicated to the Key Action 1 of the Erasmus+: Youth in Action programme.
From all the training activities included in the ETS, could you tell us more about one which is really representative of the principles, values and objectives you want to reach?
In fact, all the above represents already very much the way we approach training in the ETS. There are other elements that we pay particular attention to, besides the principles of NFL already mentioned earlier in this interview and that are anyway very much connected (based on the Total Quality Management approach to training trainers). Those are Ethics, Integrity, Trust, Training (process, contents and methodology), Full involvement and participation of the learner, Quality culture and approach, Recognition, Communication (including partnerships).
If we combine those principles with the ones of NFL and especially with the spirit of both ETS competence models, it is hard to differentiate which course is the most representative of our principles, values and objectives. In a way, it is a good sign because it means that we probably succeed in mainstreaming our approach throughout our training offers. Nonetheless, there are perhaps two or three courses that are a bit closer to the dimensions that we particularly cherish (intuition, a holistic and systemic approach of the person, attitudes as precondition, etc.): COMETS (that has also its own set of guiding principles, looking at inner-readiness, awareness, integrity, acknowledgment, and explicit choices, amongst other things); From Knowing to Being; and YOCOMO. Nonetheless, the Training of Trainers is per se the course that gives the biggest space to self-directed learning and to reflection, and the fact that it is a long-term training course offers a wonderful opportunity to explore these aspects to their maximum.
This being said, there was not yet the time to measure the impact of these courses (and other offers within the ETS); it is rather difficult to say whether objectives were reached (that SALTO T&C RC prefers to call intentions, precisely because it tackles transformation and that others (participants) need to assess whether this is happening or not).
How do you see the role of trainers in the youth field? Do you see trainers more as providers of training or as a community of practice involved, like other communities, in the shaping of the youth field?
It is not totally a matter of "either – or". In some situations, trainers can be "just" providers (and implementers) of training activities, but it is fair and just to rather acknowledge them more generally as a community of practice. In the European youth field, the efforts, the level of dedication and the initiatives emanating from the community of trainers has enormously increased in the past years (not undermining how present it was already before that). Maybe trainers did not necessarily need structures like SALTO T&C RC to initiate anything (even though SALTO T&C RC contributes to providing the necessary space and a certain framework for this to happen, through events as the biennial Bridges for Trainers), but what is sure is that they needed a community to make these developments possible.
As much as youth workers, trainers – or at least the community of trainers active at European level – are also trends makers. They undergo peer learning processes, offer space for consultations, for co-operation, they initiate ways to approach training, they develop their own tools though connecting them with other existing ones, and all this of course influences the way the youth field shapes itself. Be it because of the quality of their work, because of their capacity to network, because of a certain "role model" effect… or most probably a combination of everything.
From the perspective of ETS, trainers play a very important role in co-designing and implementing SALTO T&C RC's training offers, and contribute to the development of the strategy, to its contents and of its tools. That is what a community of practice does.
From your perspective, what do you see today as the main topics we should be discussing more about in training in the youth field?
When it comes to the ETS, Education and Training of Youth Workers (how it happens, how it is understood, what are the trends and the forthcoming developments, etc.) is definitively a very important topic on the agenda for the coming years. "Quality" is the core of it, although the connection with the policy level is also a very important dimension of the work to come. Connection with the EU Youth Strategy and the Youth Work Agenda (of both institutions) will play a key role in the way ETS will need to shape our forthcoming offers, initiatives and processes.
Of course, recognition remains also something that needs to collectively be developed and focused on within ETS. The arrival of a programme such as the European Solidarity Corps requires further tools and mechanisms to support better structuring the reflection on one's learning process and outcomes. Connected to the ETS, new processes such as the revised Key Competence Framework and the ETS Competence Model for Youth Workers to Work Internationally also directly influence and connect with Youthpass, its structures and its approach.
Though it would be a bit limiting to have an exhaustive list of "important topics" to pay attention to in the near future, SALTO T&C RC can definitely say that the "civic" or "political" role of youth work is gaining space and momentum, which is very much needed in current times of changes and transformation! With its competence area "being civically engaged" (which will also be added to the Competence Model for Youth Workers), the ETS Competence Model for Trainers bounced on previous initiatives designed to explore that dimension in [European] youth work, and this somewhat contributed to putting the debate back on the front page. The role of youth work ought to remain at the core of our reflection (and there are many ways to address this) for its transformative purpose and capability depend very much of the space given to this "civic" conception. This will require adequate spaces, mechanisms and tools, which will then require policy-related backup, and the engagement of the field.
You can find more information about the ETS here: www.salto-youth.net/rc/training-and-cooperation/trainingstrategy/