Edito
by Mark E. Taylor
07/04/2020
Hello readers!
Coyote is 20 years old – how about that?! More about that at the end…
Here we go back to our roots! The covenant - as it was called when the Partnership for youth was set up - concentrated on training and curriculum development and the magazine should be a means of communication for all those interested in youth training to share and learn.
When the editorial team met at the beginning of summer we did a little mapping exercise: who or what has a stake in European youth(work) training?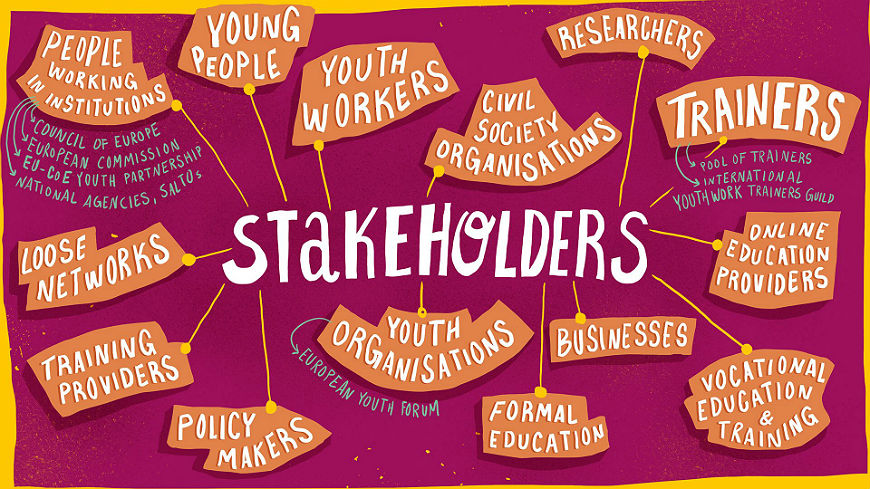 This edition is a bit of an experiment for us – we added articles at different points throughout 2019 and one now in 2020.
So you will find:
a really personal opinion piece about the role(s) of training today;
some glimpses of the aims and mechanisms of the European Training Strategy;
a challenge to trainers to get themselves informed about the different education and career paths people take in different countries to become "youth workers";
an invitation to trainers to experiment with different forms of self-assessment and feedback in order to improve their competence development;
how training is seen and implemented by the Council of Europe's Youth Department:
a stimulating piece about whether training meets the current needs of young people;
some examples of how the youth field can learn from other sectors;
a call to leave enough space for participants to complete experiential learning cycles;
some thought-provoking questions for trainers to consider;
resources to help you to investigate the field of training further;
and a suggestion to look at the skeletons of camels in a different way!
And one new crucial article, which was worth waiting for:
a questioning look at the necessary roles of trainers and training providers if we want to really contribute to sustainability.
If you're interested to find out more about Coyote's history, then have a look through the archive – a phenomenal amount of work by the Youth Partnership team to scan the old paper versions and upload them too! And we are happy that you can also find editions 1 – 4 in French! Oui, on était bilingue à l'époque!
Many thanks for all contributions and, of course, heartfelt thanks to the members of the Coyote editorial team:
Marinela Šumanjski (co-editor)

László Milutinovits

Natalia Chardymova
Mara Georgescu
Viktoria Karpatszki
to our great illustrators:
Ana Soraia Mendes
Matia Losego
Mireille van Bremen
Vanda Kovacs
and to our web designer:
May the Spirit of Spiffy go with you!