Training and "sustainability"
What role do trainers and training providers have on our burning planet?!
by Lucie Schubert
08/04/2020
Sustainability.
It is an easy idea. Yet it is also a very complicated one.
You could hear recently such claims such as...
Green is the new black.
There is no planet B.
Fridays for Future, Extension Rebellion, strikes, SDGs… shake it all, and turn around…
There is no doubt, that something is happening, right now, right here and whether we want it or not, we are standing in the middle of it.
And we always stand there with the option to make choices:
to walk away, to close our eyes, to get engaged, to do our personal best, to freak out.
To fight for systemic change.
To run or to stay still.
And whatever we will do, we will create an impact with our acting or not acting.
And whatever we will do, it will not be only green or orange, right or wrong.
So maybe it is good to relax a little bit, acknowledge what you are doing well already. Don't feel desperate that some of the actions are irreversible.
Blame and paralysis are blocking the ability to act.
It is very simple to fall into something described as "eco-anxiety" and many young people and many activists in youth work might be facing this challenge lately.
So there is no good use of an extra youth worker or trainer suffering with the same condition.
This article should lead to opening up some reflection on how we – trainers and youth workers – are doing and provide some tips as well, and ideas about how to keep sustainability at the centre of our work and don't feel it as yet another burden.
There is no doubt it is later than late – we should do something...
I believe there is no need to go further into the evidence, that something is going on with the growing public discourse about climate crisis and sustainability. Even if that were just an exaggerated level of panic and media massage going on, combined with the cautious steps of politicians to take sides or – rather rarely – action... even then, working with young people who feel affected by it or those who work with those who feel affected brings us to the point, such as...
OK, what should I do?
What can I do?
What do I feel responsible for?
What kind of role am I playing here, and who can play with me?
We have the responsibility and power to act
Now, this sounds like a strong statement with which you might not be willing to identify.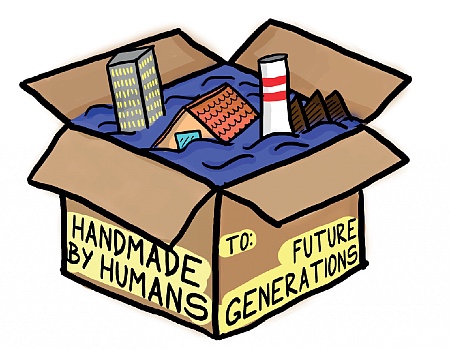 However, It might be good to look at the layers which lead to the statement.
In other words, where does this responsibility come from?
In most cases, it would be a combination of personal level and institutional level.
You as a trainer or training provider in the field of youth work and non-formal education most likely work based on certain values, or a set of beliefs. Reflecting on them, you have this gut, essential feeling of what is right and wrong. Plus, very often as well, many questions.
You don't have to be an activist to act. There are multiple ways to be part of the solution. In fact, I would say it is best to show to our participants that there are many different ways and roles to take on.
Wanting to or not we often act as role models
For sure, one has been there; participants asking about your job, how difficult it is to become a trainer and live from that, how many countries you travel to in a year… there is a certain aura of coolness around training being your job. :-)
There comes the responsibility, because in fact, hands on heart, we often don't live very sustainable lives, do we?
There is a price you pay for doing the job we do. Being away from your own bed, trying hard to maintain a certain diet, flying way too much… how can you then dare to preach about sustainability, right?
The first step is always acknowledgement, I am there, I am part of it.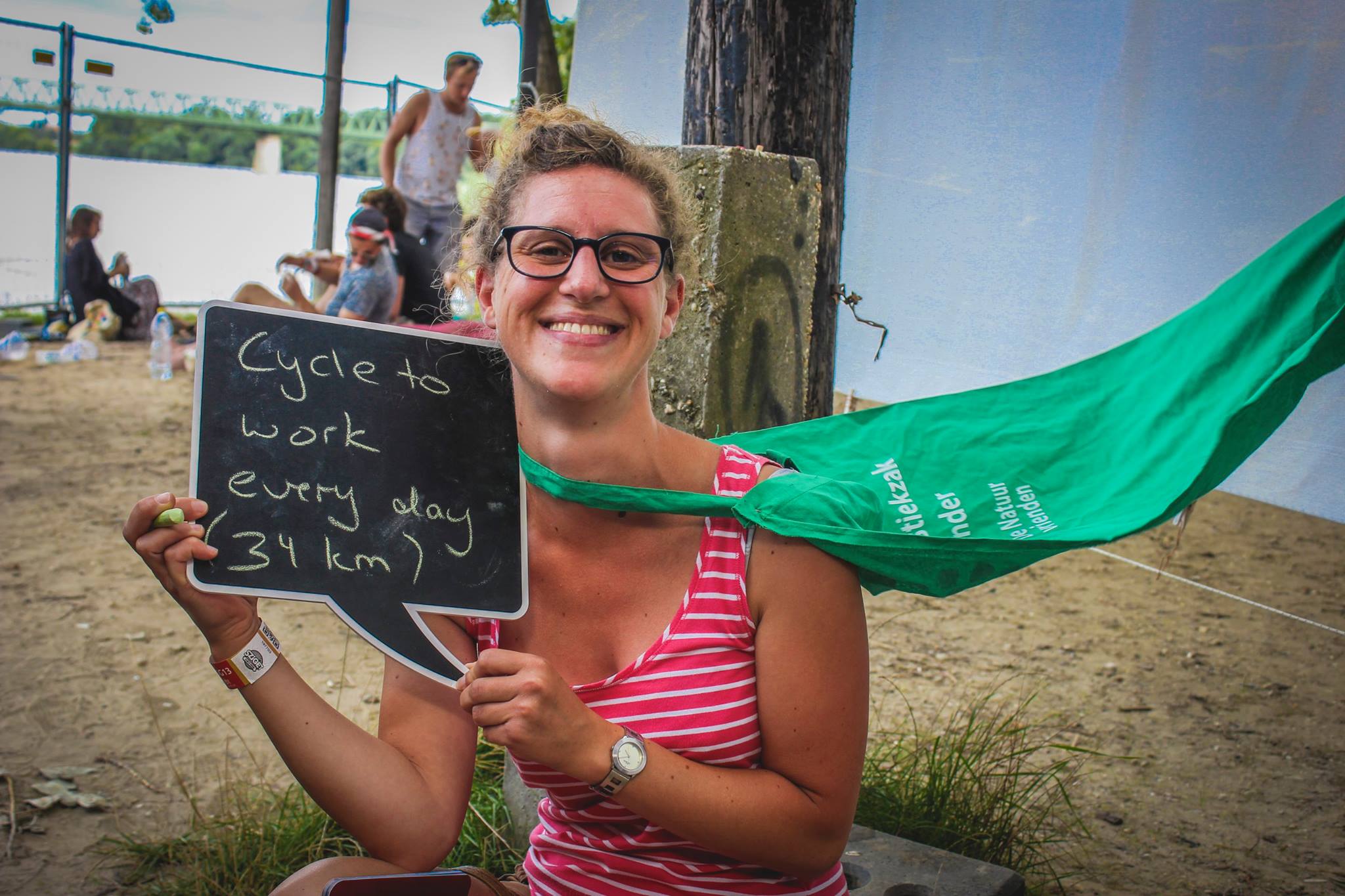 I can make choices, try harder in some moments, but in general, my work has both good and bad impacts. Youth work, youth training and mobility will never be zero waste, and it is alright. There are many more values we are working on at the same time. But we can be conscious about some of the decisions we take as we strive to deliver the best for our participants.
"I will be 100% sustainable and zero waste", said/did nobody, ever!
From observation many trainers and youth workers naturally have the need to nurture and harvest. We even use these words in our training; we even name sessions this way...
I could see through the years how many of us get more grounded, and in the meantime of travelling the world "to sit with people in circles" (said trainer Paul Kloosterman in 2013), we are working on our gardens, planting, building local initiatives such as community gardens.
I find it wonderful and a great asset and mindset to act towards the (environmental) responsibility we all have.
Often you will be representing an institution or organisation, which carries a larger responsibility. Responsibility from which ACTION can be demanded.
Sustainable issues, saving our planet and responsibility towards the environment definitely became one of the highlight focuses of social responsibility.
What I have learnt through working on this topic with institutions, companies and individuals is, there is always individual, personal responsibility in the first place. The courage we need in order to stand for socially responsible topics. If there is no-one with courage present, the change will hardly happen even if some policy or general decision is put in place.
One of the options available to us all is this: You can "get responsible" at your own personal level – go off grid, produce zero waste and set oneself up right and sustainable. But naturally we function in society. We are social animals and therefore starting from an individual level you can build up towards the societal. Which in the end is always the more challenging part; yet trainers and training providers can play a great role in that.
Here comes the invitation to check the CSR (corporate social responsibility) principles, environmental/sustainable policy of your organisation or the training provider for which you are working!
Is there one?
Have you ever read it?
Who is responsible for acting upon it?
Challenge the practical delivery of it. Corporations and institutions are in the power position; they have the power to act and influence. In fact they should be the flagship of sustainability.
Because they will as well have the biggest impact.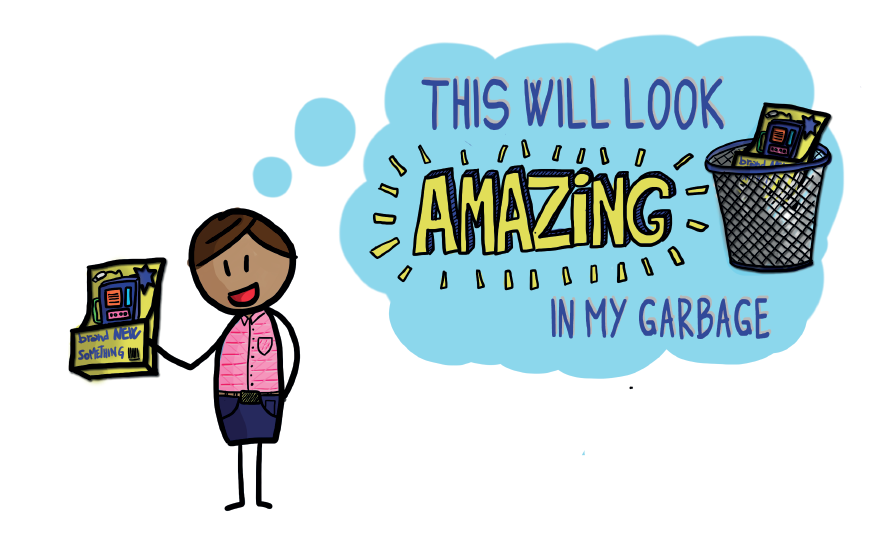 Act as facilitator in the process, that is what you do anyway, no?
The least one can do is what we do anywhere else: open boxes, open dialogue between stakeholders, ask for the needs… and facilitate the process of change, one step at a time, from training to training, from activity to activity, from project to project.
There will be mistakes on the way, and again, it is OK.
Just shout "how fascinating" and strive for the next level.
I can tell stories about how difficult it is to choose the right disposable dish for a festival, what to do when you do all possible steps to have all the trash separate and then it gets contaminated and all ends up in landfill...
Will I give up next time? No!
It can only get better and I have collected knowledge and data to act better next time.
Our minimal responsibility is to take care that there is assessment done in activities we are involved in. And it is our role to facilitate the process, navigate different actors through "jobs to be done" and process acknowledgement that some things will not be ideal.
Less is more and small is beautiful – The European Youth Centre Budapest offers only vegetarian food on Meatless Mondays in its canteen. A small tangible act, run on the longer term.
Unique chance
If nothing else, we work with the future leaders, or often current leaders – young people, those who will shape our tomorrows. We can act as their present source of inspiration or support.
They have a growing interest in the environment, social justice and they care for their future.
They will manage themselves, but we will miss out on a great opportunity not being present there.
We can be the bridge to other stakeholders and generations. Collaborate on influencing the providers of training and other educational activities, so they better serve the needs.
There is a great challenge that some of the wonderful learning mobility opportunities will undergo a change: face-to-face training might be replaced by digital tools, virtual mobility. In order to protect the environment. These generations will pay for what previous generations have caused. And they need to be strong and ready to overcome this challenge.
At the same time, one should also consider growing energy consumption and thus growing carbon footprint as a result of (over)use of digital tools, cloud-based data storage and streaming services. So which direction is right then?
One of the tasks, therefore, is how to make physical meetings as sustainable as possible in order to keep them as an essential part of our work. Because even if they are impactful in terms of sustainability and environment, they are at the same time powerful in so many other ways.
The importance of working within nature
A lot of youth work from the beginning would basically be bringing people together and bringing people to nature, outdoors. Provide a healthy lifestyle balance. It is a foundation level of many youth work approaches.
And while we try to innovate heavily, sometimes the best we can do is get back to basics.
If you work within nature, it can become a source of learning and inspiration for you and for your participants alike – and you will also learn to behave more consciously towards it. It also entails a healthier lifestyle – we need to act sustainably towards ourselves, our participants, their well-being. Just this simple importance of breathing fresh ionized air, free from impurities, on a regular basis as a prevention of civilization's diseases!
There has been a lot of evidence-based research done to prove the benefits of wilderness therapy, nature-based therapy, using elements of rites of passage or wisdom of nature in educational programmes.
In the end we reach a win-win situation: some healthy practices are also more sustainable, so not only good for us but also eventually good for nature and the world.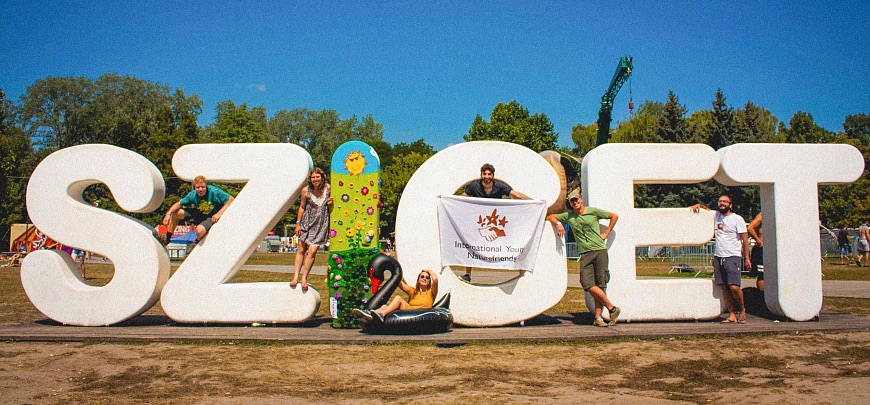 Sustainable stuff – engage with it all!
After coming up with the questions and dilemmas above, we can also offer quite a number of inspiring and successful practices – actions and routines that anyone working in a youth training field can consider, adapt and introduce. There are loads of examples out there which show that it is possible to make changes, inspire people pragmatically and help reflection processes. Let's have a look at some:
European Youth Event (EYE) – illustrating the green evolution/revolution in progress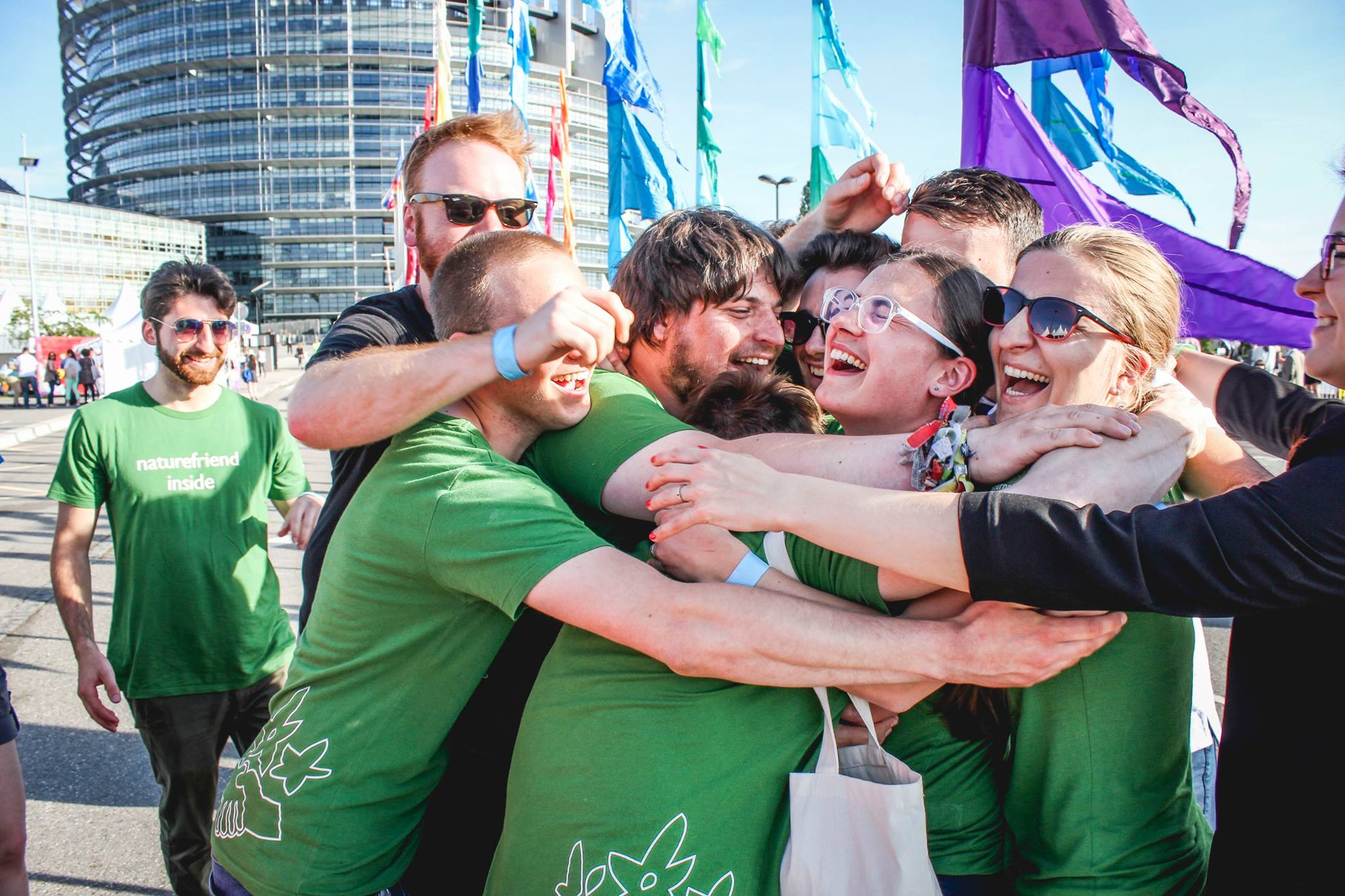 European Youth Events have been taking place since 2014. Every second year young people from all around Europe get invited to Strasbourg where the European Parliament opens its doors for them. It is a massive event, with thousands of young people being present at one time in one place. It is a powerful moment for youth politics and participation, solidarity and understanding as well.
Back in 2014 a large number of organisations and individuals, led by the European Youth Forum organising the YO! fest part of EYE, analysed valuable feedback and evaluations regarding the practical delivery of the event. The results of this experiment meant that for 2016 and 2018 we moved a good part forward with organisation. Many of the environmental considerations have been tackled, discussed and solutions implemented.
For EYE 2020 the organisers are in the process of obtaining ISO20121 certification – a voluntary international standard for sustainable event management. ISO works on any type and size of event, in diverse industries, and should lead to improvements in key sustainability issues such as venue selection, transport, recycling or reusing demolition waste, creating a sustainable food strategy and promoting healthy living. Implementation of the standard can reduce costs, carbon emissions and waste; lead to better management of the biodiversity of venues; and achieve a diverse and inclusive workforce.
To give some examples of the steps taken:
it was agreed that the space for individual presentation of organisations will be changed to HUBs – clustered around a shared theme, or cause they all work on. Instead of tonnes of promotional materials from the first edition of EYE, an interesting programme was offered in each of the HUBs, on which the assigned organisations have to collaborate;
there was co-ordination of travel arrangements and admission of participants run by the European Parliament (EP) officers in order to support sharing of rides, and filling up places in buses;
the original rather ugly plastic portable toilets have been exchanged for a cute village of ecological separation toilets;
International Young Naturefriends (IYNF) supported by YFJ drafted sustainable guidelines for participants, which have been then commented and approved by the official EP structures and sent to all participants coming over to EYE. These guidelines covered recommendations in several areas – transport and mobility, waste management, food production and food waste. Participants were recommended to think ahead how they plan their travels, to take reusable water bottles with them and challenge themselves regarding their diet at EYE.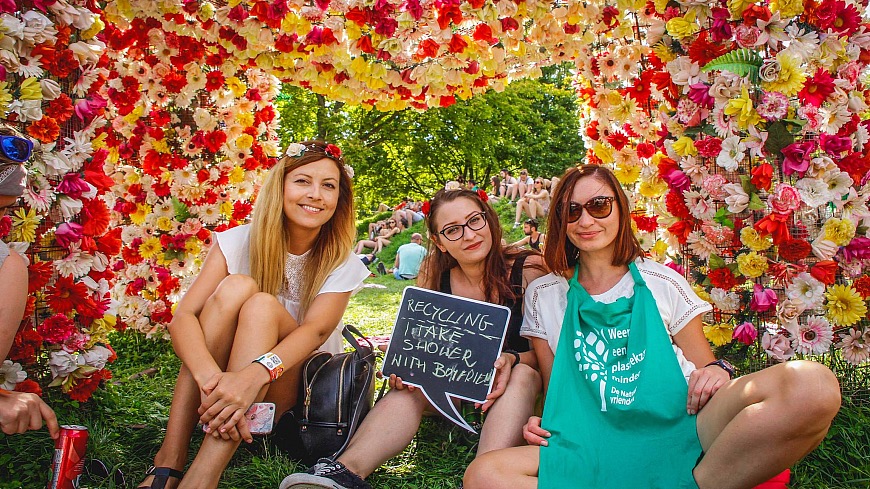 What did we learn?
What came to be essential was a strong motivation to do something about this issue, combined with the co-operation between all stakeholders, where everybody did their part well. None of the involved would have been able to manage on their own. Such co-operation deepened the impact of a relatively small initiative.
Similar guidelines had been implemented at the level of organisations or institutions, so there are good sources of inspiration out there. Among many, are the ones for applicants in European Youth Foundation supported projects:
Guidelines towards Environmental Sustainability for projects supported by the European Youth Foundation
Another good example is Guidelines on sustainability from Youth for Exchange and Understanding, where it is also possible to download their valuable handbook.
Will there be a "green" Erasmus?
The current Erasmus+ programme will come to an end this year, 2020. In line with one of the priorities of the new Commission are proposals that E+ should go through a kind of green facelift. What could this mean for international youth work?
There could be CO2 compensations (offsetting) included to travel costs sums and bonus travel days for those who decide to travel via more sustainable means of transport such as trains. Ongoing discussions are also centred on balancing some of the physical learning mobility with alternatives such as blended mobility or e-participatory-based learning or virtual exchanges. While it is clear that the number of supported international learning projects and mobilities will grow in the new programme period, it is not yet clear what kind of specific procedures will be implemented in order to make the whole programme less environmentally impactful.
A little bit more on offsetting
There are many options out there at national as well as international level to offset. Offsetting is in fact the last step in the process of planning any event/activity. You try to lower the general environmental impact of the activity.
Often the biggest consumption is in the area of travelling, usually followed by food provided, and then materials such as merchandise, stationery and the like.
After you assess all the areas and count the carbon consumption of the event, you can take one step to go carbon neutral – so-called offsetting – where you make a donation to a particular project; mostly they are offsetting by planting new trees. You can choose the project according to which part of the world you would like to support with forestation.
Positive developments can be observed, such as many travel providers already display offsetting options on their main menu when booking tickets. Other projects are covering the offsetting of events or individual consumption – you can decide to track your carbon footprint and offset for each year. There is a lot of discussion going on about how effective offsetting is, whether it doesn't work more like an environmental indulgence… It provides clear feedback on your activities and monetises it; it's as simple as that and it works very well. We often see value when the act of paying is involved.
An example of a CO2 calculator for flights: https://www.icao.int/environmental-protection/carbonoffset/pages/default.aspx
Working with Sustainable Development Goals (SDGs) and voluntary commitments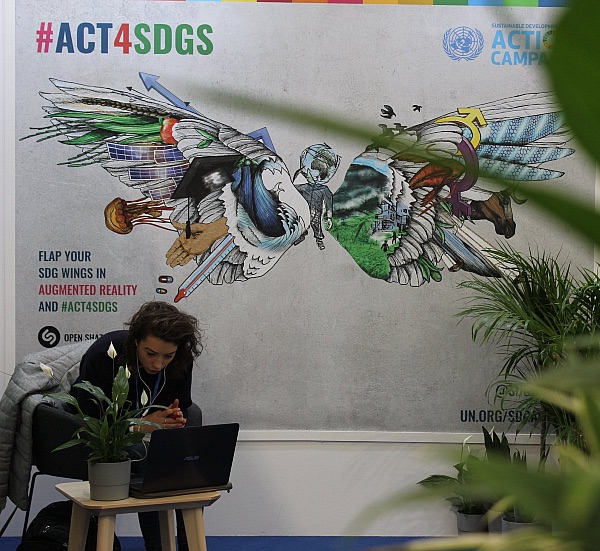 Developed and introduced by the United Nations, SDGs are very good points of orientation. They belong to the Agenda 2030 framework of the UN that provides a shared blueprint for peace and prosperity for people and the planet, now and into the future. There has been an amazing job done making the general public aware of the concept of SDGs.
They are easy to understand, general enough to cover diverse areas (not just the pure environmental sustainability part) and come with attractive easy-to-read infographics. It may sound silly to mention the importance of attractive visuals, but from the point of efficient communication it has an enormous importance. After all, the package is what sells. From school kids to big corporations, SDGs became a uniting point of discussion on sustainability and sustainable measures.
The national authorities manage to work with SDGs in diverse effective ways, such as initiating voluntary commitments, working with youth umbrella organisations, putting into practice new types of activities, such as the SDG Awards.
Finland has been recognised as the first country to pioneer voluntary commitments to support a development strategy at national level. In fact it was a direct answer to previously lacking actions and trying out a new approach on how to have some action and keep policy coherence.
An exciting invention was a unique concept of SDGs Awards which have been running since 2017 in the Czech Republic and followed by other countries. They are here to show how specific activities or strategies of different stakeholders can contribute to sustainability. They are a great example of so-called public–private partnerships in practice, since they are based on co-operation between NGOs and the public and private sectors.
One of the most recent and attractive materials, written in English, and available for free online is Climate revolution – an educational resource pack created by the National Youth Council of Ireland. It serves as inspiration on actions and methods as well as source of basic facts and figures in a digestible way, making it easy to work with and promote the SDGs.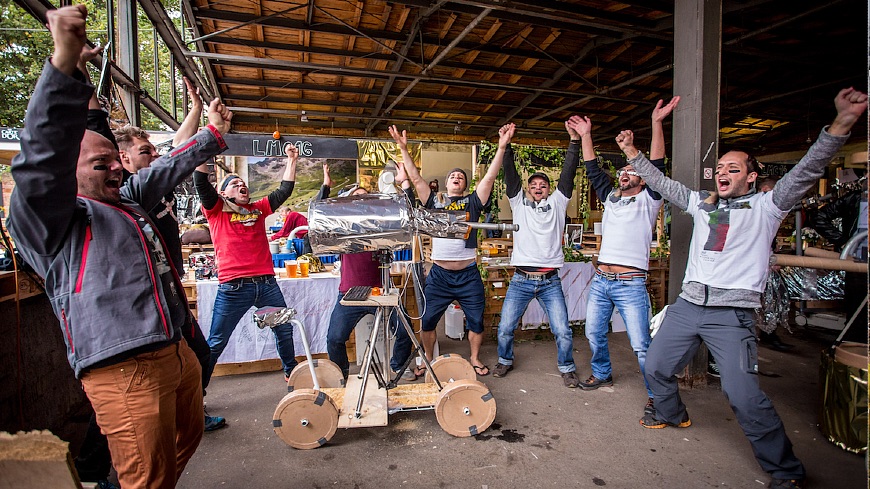 Resources and inspiration
Wanna make a sustainable change? Don't stay alone!
There are many possibilities for receiving support, inspiration or just peer feedback on your actions.
Below are a few examples:
Patagonia Action Works is an online tool supporting environmental activism by connecting people to local grass-roots organisations in the UK, across Europe and the US.
Sign up. Show up. Take action.
Ecomaps – being sustainable in everyday life is easier than you think! Discover the most sustainable places in your surroundings or help to add more. Ecomaps are great youth-led projects developed by International Young Naturefriends. Ecomaps serve as a point of orientation when travelling or being relocated, but on a daily basis as well.
T-kit 13 Sustainability and youth work – a valuable addition to the youth partnership's series of training manuals.
Green toolbox is a great comprehensive publication full of ideas, tools and suggestions on how to run more green activities on a daily basis, in your office, during events or on an individual level. Produced by International Young Naturefriends together with homo ecos and WSCF.
Conclusion
So, what is my hope with this article?
That you use everything to become more sustainable in your training activities and provision: other people; logic; senses; feelings; powers of analysis, reflection and action!
What is the panda doing when the forest is burning?
Yes, the panda is burning too…
It is complicated!
There is no one way to go!
Do your research! Be prepared to make mistakes! And learn from them!
"Blame storming" does not help!
Be kind to each other!