Comics competition


The competition
In 2013 the joint European Commission - Council of Europe Pilot Projects Scheme "Human Rights and Democracy in Action" launched a comic strip competition open to students of all ages up to secondary school leaving age.
The competition was promoted through the Council of Europe's many education and youth networks.
Students across Europe were given a chance to express their views of democracy and human rights, as experienced in their daily lives in school.
The judging and the winners
322 entries were received from member states across Europe, and a short list of 34 was prepared by a panel of specialists working in the field of education.
These 34 entries were published online and votes were invited from the public using the varied coordination and education networks of the Council of Europe.
38,338 votes were received with the top four entries receiving over 40% of the votes between them. This shows that the public agreed strongly with the perception of democracy and human rights in school as depicted by the children.
The top ten entries have been the inspiration behind the five video animations.
The animations
The filmed animations reflect children's perception of democracy and human rights in school and aim to translate in a humorous way some of the key principles of the Council of Europe Charter on Education for Democratic Citizenship and Human Rights Education. They are designed to raise awareness about issues such as diversity, participation, human dignity and democratic school governance and to support discussions in the classroom.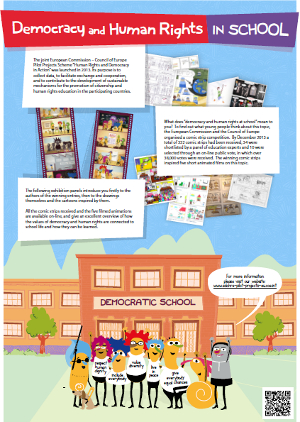 Contact
Contact
Council of Europe
Directorate General of Democracy (DGII)
Directorate of Democratic Citizenship and Participation
F-67075 Strasbourg Cedex
Fax: + 33 (0)3 88 41 27 88
Write us