On 20 April, the official kick-off meeting of the projects that have been awarded micro-grants in the context of the European Union/Council of Europe Joint Programme "Democratic and Inclusive School Culture in Operation (DISCO)" (now in its 6th cycle) was held online. The event was opened by Sarah Keating, Head of the Co-operation and Capacity Building Division of the Council of Europe. In her opening remarks, Ms Keating drew attention to the strength of the DISCO programme in encouraging co-operation between different actors in the education field from different countries and highlighted the role of the projects in defining future policies.
The 7 'single-country' projects and one multilateral project (see the full list below) presented their activities, the aim of their Actions, as well as the challenges and opportunities.
The projects, which cover 7 different countries, focus on three main themes:
Digital Citizenship Education
Teaching Controversial Issues
Service Learning
Handling these topics with their own experience and in their national contexts, they all contribute to the implementation of the CoE Charter on Education for Democratic Citizenship Education and Human Rights Education and the Paris Declaration Promoting citizenship and the common values of freedom, tolerance and non-discrimination through education with their common goal of building inclusive societies through education.
The meeting was recorded graphically by a professional artist, who helped the event to be dynamic and who summarised the main points.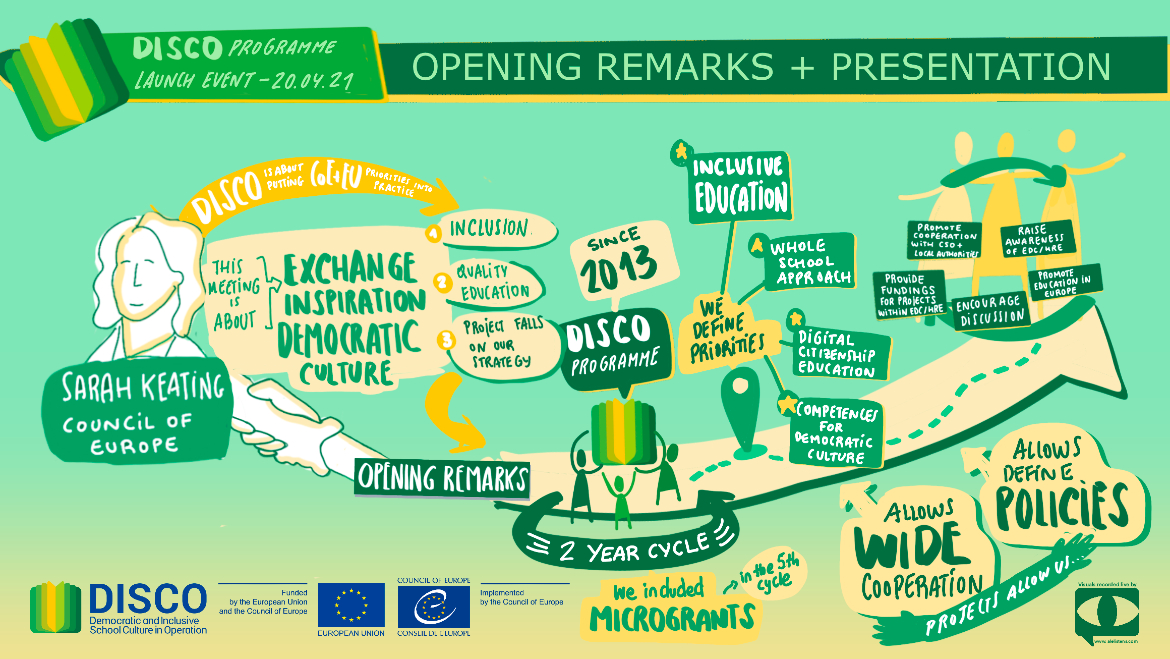 To see the rest of the canvas, please click here
The DISCO Programme launched in May 2013 under the name "Human Rights and Democracy in Action". It provides funding to organisations and institutions from the 50 States parties to the European Cultural Convention to cooperate on projects of common interest within the field of education for democratic citizenship and human rights education.
Sharing Knowledge, Handling Controversy in schools in Greece, North Macedonia and Bulgaria (SKHC)
Strengthening Digital Resilience in Georgia (Georgia)
Democratic Competences via Digital Channel (Italy)
School Curriculum and Teaching Controversial Issues – developing effective practices for teaching and learning approaches (North Macedonia)
Teachers for Education, Democracy and Human Rights (North Macedonia)
Combating Media Illiteracy: A digital Handbook (Romania)
Community Service Training – a whole school approach for social change (Romania)
With Heart: Building Sustainable SL (Volunteer) Projects (Ukraine)