Youth work innovation – deconstructed
by Monika Kėžaitė-Jakniūnienė
14/06/2021
I believe that some concepts have certain expectations embedded in them, thus creating paradoxes. For example, I remember several training courses and workshops on conflict management, where conflicts were rising and, paradoxically, were not managed.
It seems that innovation is one of those concepts – when you innovate there's an implication of newness (which, let's admit, always comes with a bit of magic, doesn't it?). And newness creates expectations. Apparently, this implication is valid even when one writes about innovation. And, boy, was I wrong. Well, for me it was a shortcut to writer's block. But then I looked in the mirror and my reflection reminded me that I am not a writer (so I'm not privileged to being blocked) – I am a facilitator with two decades of practice. So, let me invite you to a written session on innovation in youth work.
In this session we will explore the concept of innovation, how it is understood in the context of youth work, how it was approached in the 3rd European Youth Work Convention and how it is reflected in the final declaration.
Exploring innovation
So first, as usual, let's set the common ground – what is innovation? Even though it's a simple question, let's warm up. If I was facilitating a training session now, I would ask you to make a collage of innovation. What images would you choose to insert? How would you express the element of newness, as it's one of the essential elements in the basic understanding of innovation – a new method, idea or product. How new does an idea have to be to be called innovation? Innovation does not necessarily have to be groundbreaking or unprecedented (that's where we might confuse innovation with invention). Consistent small changes or adaptations that add positive value are innovations too. Also, the context of innovation needs to be added to the collage – some ideas could be innovative in one country, organisation or system, while in other contexts they might be old practices. I am sure there would be so many more interesting aspects presented in the group's collage – creativity, and experimentation must be there, for sure!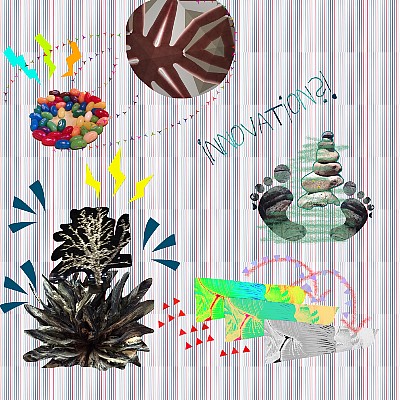 The second step of this task is to look at what we innovate in the context of youth work. What innovations do young people and youth workers need? As a facilitator I would give you a hint, that a basic understanding of innovation might not be enough to explore all the scope of innovations in youth work. As youth work is an integral part of societal development, we should explore the concept of social innovation.
Social innovation is characterised by a diversity of definitions and depends on the perspective you're looking at it from. A universal approach looks at social innovation for new solutions that simultaneously meet a social need (more effectively than existing solutions) and which lead to new or improved capabilities and relationships and better use of assets and resources.
We can see that social need is at the heart of social innovation. This is what distinguishes social innovation from innovation in business (which, in my humble opinion, mostly innovates on the basis of creating desire in our heads). Social innovation acts as a response to social problems.
It's now time for reflection in our session – think about what the young people you work with need. Everyone experienced in direct work with young people knows that needs are not so easily seen and grasped. Needs might hide under many layers – difficult behaviour, strong emotions, relationships and so on. They usually manifest as problems or challenges, and only if we dig deeper do we see that there's a need underneath. Youth workers, armed with non-judgmental and supportive relationships, have an incredible opportunity to be at the heart of innovation, as they have a chance to look closely and feel the needs of young people.
Share your insights with your colleagues – do they also see the needs of young people the same way that you do? Are you noticing a trend? Identifying trends in the problems that young people face and the needs beneath those problems is essential in thinking how they can be addressed. In that way, we can say that social innovation is a creative problem-solving approach, seeking to find solutions on how to improve the situation of young people in your community. By the way, this is also the place where innovation is closely linked to research, as it might help to understand young people's experiences. A research approach is extremely useful in exploring the trends and drawing more general conclusions on the situation of young people. That's how youth work innovation becomes evidence based.
The scope of innovation in youth work
In the next step of our session I would invite you to explore the scope of innovation in youth work. Having in mind our explored definitions, let's brainstorm what kind of innovations are possible in youth work. Most probably we would end up with such things like tools, methods, practices, organisations, processes, projects, relationships, system, co-operation, etc. Can we try to identify the different levels of these subjects with the intention of organising them into some sort of system?
Tools and methods could go into one drawer – these are the different approaches we use when working directly with young people, such as the use of different digital platforms, exercises, nature, etc.
Organisations – the way youth work structures (clubs, centres) are organised – what processes are there to ensure communication, involvement and leadership?
Projects – the variety of activities or different formats of activities in which we organise our work with young people.
Relationships – the way we approach and relate to young people and what kinds of relationships we try to foster among young people.
System/policies – how does youth work as a sector address the needs of young people and solve challenges? How much sharing of the trends is happening between different actors in the system? Is the system capable of cooperating with other sectors?
If we transfer these aspects into a triangle (just because so many good things can be explained using this shape), this brainstorm might even look like a model, showing that the greater the phenomenon is the more complex the innovation it requires and the deeper-rooted the aspects it addresses. Certainly, this model does not claim to be a scientific truth; take it as an inspiration to reflect how it resonates your own youth work perspective.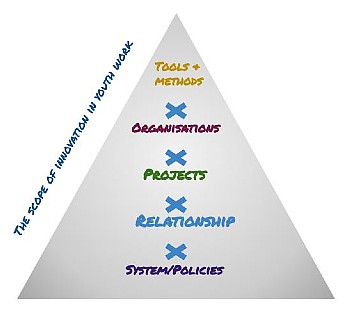 Let's take one example to illustrate the model. For example, digitalisation is one of the trends in youth work, significantly reinforced by the pandemic. Innovative ideas to address digitally native young people are needed at all levels – different tools and methods, such as applications and digital platforms; organisations and projects need to encompass the digital reality into their activities and inevitably it affects relationships with young people (do we dive into virtual reality together or does a youth worker need to restrict young people from it?). Last but not least, the entire system needs to be ready to approach digitalisation – by supporting exploration of the aforementioned aspects. Needless to say, systemic support for innovation is also financial support – for research, development of youth worker digital competences, creating overall methodologies, and many more aspects.
Innovation in the convention and final declaration
Let's have a glance at how innovation was addressed at the 3rd European Youth Work Convention. First of all, different levels of innovation were explored, but, naturally, most of the attention was devoted to analysing the trends in Europe. Just to mention a few of the interesting inputs:
The broader view of current societal changes was presented and discussed by Theo Dunfey, Veronika Stefan and Lars Norqvist, whose presentations are definitely worth watching if you want to see a broader context. Sonja Mitter, representing the European Academy on Youth Work, presented what is needed to stimulate and support innovation in youth work and what factors are supporting it. You can check it out at www.eayw.net and specifically www.eayw.net/resources/ on the topics of innovation, current trends and developments in youth work.
Digitalisation was obviously also addressed at many levels – from the tools to how it changes relationships with young people and how youth workers need digital competence development (follow Suvi Tuominen on this at www.verke.org/en/).
An interesting input by Naomi Thompson raised insights about radical youth work – "we need to invite youth workers to notice that in recent decades youth work has largely focused on prevention over protection of young people". She invites us to resist defining young people as a threat and shift from prevention to protection. This approach is clearly suggesting innovation at the relationship level and promotes an exciting discussion.
An interesting read was also presented in this session, which is a brilliant resource for those who want to explore innovation in youth work deeper – Innovation in youth work: thinking in practice.
Finally, how does the call for innovation reflect in the final declaration? Content-wise the declaration highlights several areas that call for innovative solutions – mental health of young people, digital competences/smart youth work, greener youth work. Besides that, there's a strong call for the "how" to work together in Europe in order to respond to emerging challenges – to innovate on the evidence-informed principles, moving toward a strategy-based youth work, to create spaces for co-operation and exchange, etc. If this "how" will be ensured, there's a hope that we will see sound, innovative ideas in the entire youth work sector before the 4th convention. That's how the sector can innovate at a systemic level – by bringing different actors together and sharing the different angles on what young people need and how best to address their challenges. Actually, the convention has already started walking the talk.
The final round
So, our session is coming to an end. As you know, the most popular question at the end of the experience is "How do you feel?". So, do you feel you have deconstructed innovation in youth work successfully? Have you deconstructed it in such a way that you don't know how to put the individual parts together? Facilitators like to say it's a good sign that there are questions left at the end of the training course...
Instead of doing the final round at the end of the session I would invite you to check one more brilliant resource that I've come across while preparing for this session – it's the e-handbook on Developing youth work innovation. It might be useful to explore if you are thinking about how to come up with innovative ideas with your young people.