"Non-formal learning and education"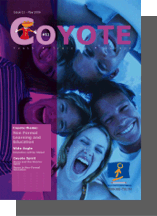 >> Issue 11, May 2006
Download the entire issue 11 in a single PDF File
We thought issue number 10 was the biggest, but it looks like number 11 will provide even more insights, experiences and discussion. This is perhaps not surprising as the theme for this issue is one so close to readers' hearts. Non-formal education and learning – and its recognition in society - is perhaps the common denominator for many of us. Our commitment to it goes alongside our commitment to the young people who participate and benefit from it.
Contents
Wide Angle
Coyote Theme – Non Formal Education and Learning
Updates
Coyote Spirit
Marker
Many thanks to all those that have contributed to this issue of Coyote.
Published by the Council of Europe and the European Commission, May 2006.
Reproduction of texts and pictures is authorised provided the source and author are quoted.
The views and opinions expressed do not necessarily express the official view of the European Commission or Council of Europe, their member states or the organisations co-operating with the institutions.
To receive further information about Partnership projects or to subscribe to Coyote, please contact the Partnership Secretariat.
You can also contact the editor with your comments, suggestions and ideas at the same address.