Symposium ''Focus on recognition of youth work and non-formal learning''

1-3 October 2012, Tirana (Albania)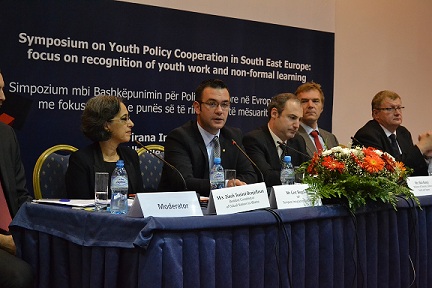 Building on its previous work in the region, the EU-CoE youth partnership organised its fourth in a row event in South East Europe from 1st till 3rd October 2012 in Tirana. The event was organised together with the Ministry of Tourism, Culture, Youth and Sports of Albania and a number of partners: SALTO Resource Centres for South East Europe, East Europe and Caucasus and Training and Cooperation, Austrian National Agency for Youth in Action Programme and UNFPA.
The theme of the event was the region of South East Europe and the status of youth policy in the region, with a special focus on the theme of recognition of non-formal learning and youth work. Over 70 participants from more 20 European countries could learn more on the situation of youth policy in the region from the presentation of a summary report, which was produced on the basis of national youth policy reviews in the region commissioned by the EU-CoE youth partnership in the period 2010-2012. Moving from this introduction into the general setting of regional youth policies, the event continued with a string of discussions on the impact of non formal learning and youth work and its various forms of recognition. The participants presented current situations in their countries at the Recognition Fair and some of the best practices in special workshops. Through a panel discussion and world café, some of the challenges and opportunities surrounding recognition issues were further tackled.
National teams from the countries of the region (as well as a special team composed of participants from East Europe and Caucasus) met separately during the event and discussed possible course of action in the field of recognition within their own national contexts. After three days of meetings, these national teams composed of policy-makers, researchers and youth field practitioners, came up with their own proposals and commitments for their further action in their countries.

List of presentations
List of presentations