Agents of change
Including advocates and people with lived experience of violence and abuse in the world of sport, who are actively contributing to improve safeguarding measures in sport and raising awareness about the issue.
Lerina BRIGHT
Executive Director, Mission 89, Switzerland
From Europe to the Middle East, North America to the Caribbean, I've worked in sports management and administration for national and international sport federations. I hold an M.A. in Sport Administration from the AISTS in Lausanne, Switzerland and a B.A. in International Studies & Economics from the University of Miami, Florida. Currently an Executive Director at Mission 89. Through research, education, and obligatory rules, we aim to reduce child trafficking in sports by keeping sports training academies accountable for the safety and well-being of the children they care for.
---
Main (personal/organisational) achievements in the field of safe sport
Instrumental in having the US State Department include Sport Trafficking in their 2020 US State Dept. Trafficking in Persons Report
With Observer status on the INTERPOL Human Trafficking Expert Group worked with the law enforcement agency on the Sport Trafficking Modus Operandi for mega-sport events
In 2018 Collaborated with the EU Sports Intergroup to host a high-level panel session on sport trafficking at the EU Parliament
Currently designing an Awareness Raising E-Learning Module for FIFA Agents
Currently working with the Commonwealth Parliamentary Association UK on a project to sensitise Commonwealth Parliamentarians ahead of the Birmingham 2022 Commonwealth Games
---
More information
Sylvain CROTEAU
Executive Director, Sport'Aide, Canada
Managing Director at Sport'Aide, having spent over 20 years as a communications and public affairs professional. Involved in amateur sport for many years and himself the parent of 3 young athletes, he also worked in professional sport, with the Quebec Nordiques (National Hockey League) for four seasons. As a representative of Sport'Aide, he meets the Quebec sports community and sits on various external working committees dealing with the safety and integrity of our young athletes. In connection with various collaborations developed over the years, he is regularly called upon to present the Sport'Aide model, i.e. our approach, our tools, our services and our awareness-raising activities useful to all stakeholders involved in the sports community, and concerned about healthy and safe environments.
---
Main (personal/organisational) achievements in the field of safe sport
Help, support and orientation line (free, available 24 hours and bilingual) offered to the entire Quebec sports community (athletes, coaches, parents, volunteers, administrators, officials, etc.)
Consulting and support program (educational, awareness and information tools and activities) offered to sports organizations. The most recent aspect of this component: the Cohaesia approach
The "Take Action! Act against bullying in sports "which notably won us the most recent" Together against intimidation "prize awarded by the Government of Quebec. Within this program, we launched 2 books (educational and fun for children 7-11 years old) "The Adventures of Cindy" presenting the different manifestations of bullying in sports, their consequences and possible solutions
We collaborated on the development and implementation of the new Integrity protection policy, rules and procedures
The development and adaptation of educational content presented on the SportBienêtre.ca virtual platform
April 2020, had it not been for COVID Sport'Aide would have hosted the Safe Sport International 2020 conference in Quebec; more than 400 participants from 38 countries
---
More information
Andrew EPHGRAVE
Senior Investigator, International Cricket Council, Dubai, United Arab Emirates
A Senior member of the ICC's Integrity Team, I have responsibility for ensuring protection of the sport globally. The Integrity team leads on Safeguarding, Anti-Corruption, Anti-Doping and Security. Safeguarding those who participate in our sport and events is key to allowing the safe and secure growth of the game.
One of the features of my work is to provide an initial assessment and investigation into matters under the scope of the ICC's Safeguarding measures. This can include participants who participate in our Under 19's events, a large proportion of those being Under 18.
I am developing a CPD programme with Edge Hill University, Lancashire, England, to deliver training to all members of the ICC Integrity Unit. This programme includes modules on recognising the risks and signs of abuse, reporting and managing the initial response, and investigating into safeguarding matters, among others.
I lead promotion and understanding of the participants awareness of and responsibilities around the ICC Safeguarding protocols.
---
Main (personal/organisational) achievements in the field of safe sport
To ensure the welfare of Protected Persons in line with ICC Safeguarding Regulations.
Establish a framework through which the ICC may address matters concerning harm, or the possibility of harm, in connection with ICC Events.
---
More information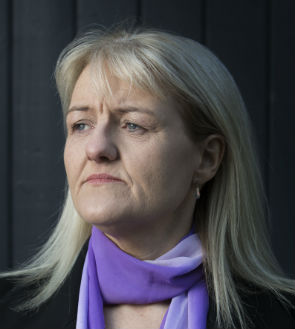 Karen LEACH
Safe Sport Advocate, Expert by lived experience, Leading voice against Sexual Abuse and Harassment in Sport across the world, Ireland
One of the leading Voices in International work against sexual abuse and harassment in sport across the world. Safe Sport Advocate; VOICE Ambassador (Voices for Truth and Dignity Combatting Sexual Violence in European Sport through the Voices of Those affected), Sport England Advisory Panel, International Safeguarding Consultant, Psychotherapist, Facilitator, Moderator. 2021 Winner of the Mental Health Media Awards - Mental Health Content Special Interest Award.
As a child, Karen was recognized as a talented swimmer with strong aspirations and a realistic chance of representing Ireland at the Olympic Games. Between the ages of 10 and 17, Karen spent endless hours in the swimming pool. During this time, Karen was routinely abused by her coach.
Karen is working to create a greater level of awareness to encourage safer spaces for everyone at risk in sport, working regularly with international organizations in an advisory role, Trainer, Consultant, Public Speaking capacities, facilitating various group work, moderating events across the world. Raising awareness on the impact of mental health of abuse in sport.
Karen is a psychotherapist and through this avenue she has been able to help and support others, including those who have suffered abuse, athletes worldwide contact Karen sharing their experiences in sport. Karen speaks out for people with lived experience, who have become safe sport advocates, on how they are being treated in the world of sport, to prevent them being abused and silenced all over again, sharing her own experiences on this issue.
---
Main (personal/organisational) achievements in the field of safe sport
Expert by lived experience and leading voice against Sexual Abuse & Harassment in sport across the world.
Specific Training focused on the voice of the child, young person, athlete, what it is like to find a voice to ask for help, the after effect of asking for help, how then treated by organisations.
Specific training and Consultations on what abuse is actual like to live through. Best practice to prevent, support guide, listen to the voices of children, young people, athletes who are meant to be safeguarded in sport, mental health issues related to sport & abuse.
Specific training & Consultations on language used, communication, treatment of children, young people, athletes and those who are speaking out as safe sport advocates. To understand the impact for those who do now speak out preventing further abuse taking place.
---
More information
Website