COVID-19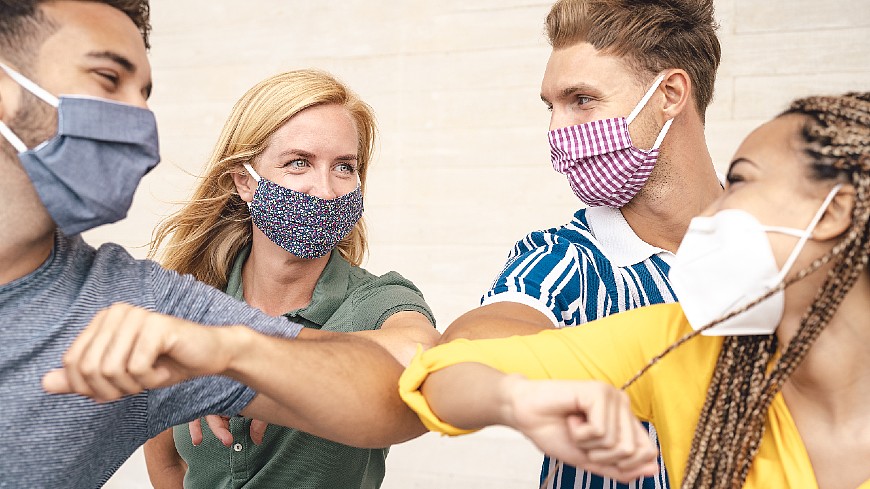 The covid-19 pandemic and related lockdown measures have produced significant interruptions in young people's lives, the impact of which is still to be analysed and understood in the future.

One youth research approach to developments in young people's lives is to look at transitions to adulthood and autonomy. For example, when growing up, young people transition to education, to employment, towards economic and financial independence, or to establishing their own family, to getting the right to vote...
Covid-19 has put into question all these transitions. While on the one hand, there is an attempt to identify the best ways to deal with the crisis, and document these practices, there is also an understanding that we are entering not a short period but a longer era of new normality that young people will have to cope with.
This new extended transition is also impacting the youth field actors, including policy-makers, practitioners, youth organisations and platforms for young people's participation but also youth researchers. While there is a clear emergence of the digital youth work and increasing use of digital tools in working with young people within both formal and non-formal education across Europe, there is also an understanding that there are needs of young people that have not been responded to, leaving many to face on their own issues related to social exclusion, discrimination and a redefinition of social and safety nets. There are also questions about changing relationships and behaviour, changing perspectives on connection to friends and community, impact on well-being and mental health, employment, participation, activism, youth organisations and many other areas of young people's lives.
EU-Council of Europe youth partnership explores the various effects of the pandemic on young people through our research networks and supports the partner institutions and other stakeholders in data collection and analysis of their findings.
On this page, we will highlight research and knowledge gathering initiatives that look at the two sides of the pandemic impact: challenges for the youth sector and positive initiatives.
Interested in providing findings, analyses, and impacts that COVID-19 has had on young people please complete the form >>
Some examples of good practice of youth policy and youth work responses >>
Resources on Covid-19 impact developed by the EU-Council of Europe youth partnership


Documents and publications
Documents and publications
Impact of COVID-19 on young people and on the youth sector: what have we done so far?
Perspectives on Youth serie
Youth services during the Covid-19 pandemic – a patchy net in need of investment, by Dunja Potočnik and Ruzanna Ivanian
Meta-analysis of research on the impact of Covid-19 on the youth sector (December 2021), by Alonso Escamilla, Irina Lonean, Rūta Brazienė, Sladjana Petkovic
Covid-19 Impact and Looking Forward. Report based on surveys carried out in spring and autumn 2021, by Ivana Boskovic and James O'Donovan
Towards a better understanding of COVID-19 impact on young people and on the youth sector in Eastern Europe and South Caucasus, by Maria-Carmen Pantea, Tamar Makharadze
Policy brief 2: Towards a better understanding of the impact of COVID-19 on the youth sector, by Ivana Boskovic and James O'Donovan
Briefing 5: COVID-19 impact on young people in rural areas not in employment, education or training, by Ruta Braziene
Briefing 4: Review of research on the impact of COVID-19 on the youth work, youth organisations and the digitalisation of services and activities for young people by Alonso Escamilla, Irina Lonean
Briefing 3: Review of research on the impact of COVID-19 on young people and their access to services by Rūta Brazienė, Sladjana Petkovic
Policy Brief 1 on cross-country survey 2021 by Ivana Boskovic and James O'Donovan
Towards a better understanding of the impact of Covid-19 on the youth sector. Full report. By James Donovan and Manfred Zentner
Towards a better understanding of the impact of Covid-19 on the youth sector. Summary analysis of the EKCYP survey. By James Donovan and Manfred Zentner
Meta analysis of research on the impact of Covid-19 on the youth sector. By Anna Lavizzari, Alonso Escamilla, Sandra Roe, Sladjana Petkovic
Covid-19 and Learning Mobility: A Desk Research Study. By Ewa Krzaklewska and Özgehan Şenyuva
The effects of COVID-19 on young people's mental health and psychological well-being. By Stefanos Mastrotheodoros
Briefing 2 - An introduction to research on the impact of Covid-19 on the youth sector. By Anna Lavizzari, Alonso Escamilla, Sandra Roe, Sladjana Petkovic
Effects of Covid-19 across youth work and youth activities. Summary of the survey launched by the CMJ working group on responses to Covid-19
Briefing 1: An Introduction to Research on the Impact of Covid-19 on the Youth Sector. By Anna Lavizzari, Alonso Escamilla, Sandra Roe, Sladjana Petkovic
Other useful resources on the Covid-impact organised by topics >>

Podcasts
Podcasts

Videos
Videos

Infographics
Infographics
×