Youth policy manual for Arab countries - How to develop a national youth strategy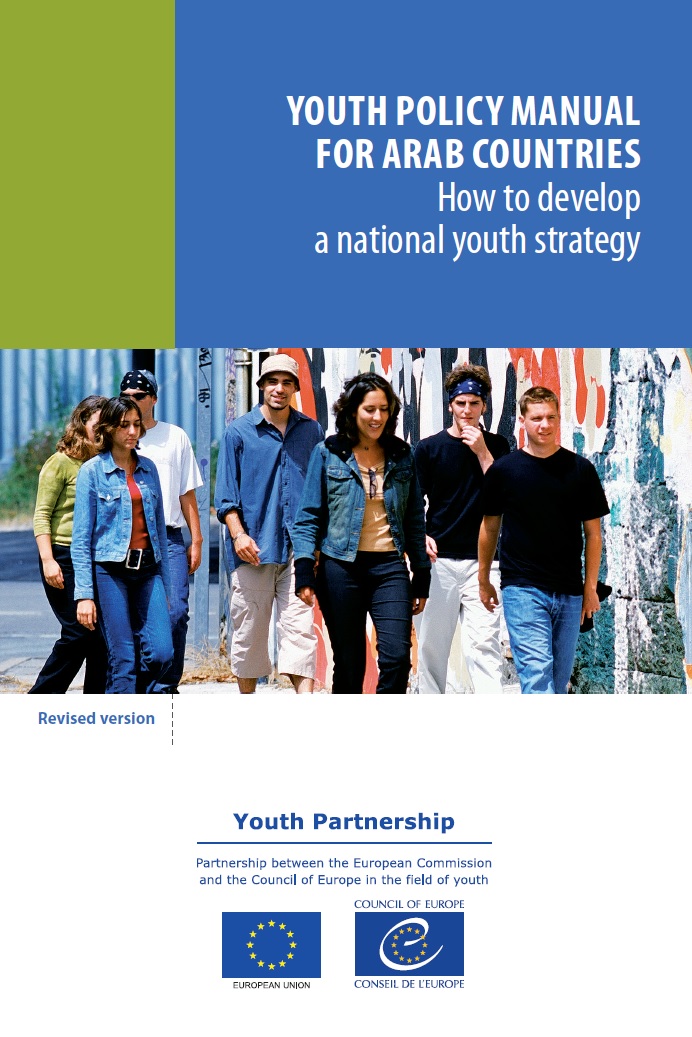 What is youth policy, and what major elements should a national youth policy strategy include? How can young people be consulted and otherwise involved in developing youth policy? How do institutions such as the European Union, the Council of Europe and the United Nations address youth policy, and how can this work be concretely linked to the efforts of a national government to develop a youth policy agenda? How is youth policy organized in specific countries of the MENA region?
These are some of the essential questions addressed in this publication. The Youth Policy Manual should be considered a source work, a tool and a helpful guide both for policy makers in the youth field and for non-governmental organisations and other stakeholder groups who advocate improved youth policy at the national level.
This manual proposes one possible model for how a national youth policy strategy can be developed. It is a revised version of the Youth Policy Manual (2009) and takes into account relevant specificities of the MENA region.
Council of Europe, 2015. ISBN 978-92-871-8162-6

كيفية تطوير ا Sستراتيجية وطنية لل ûشباب...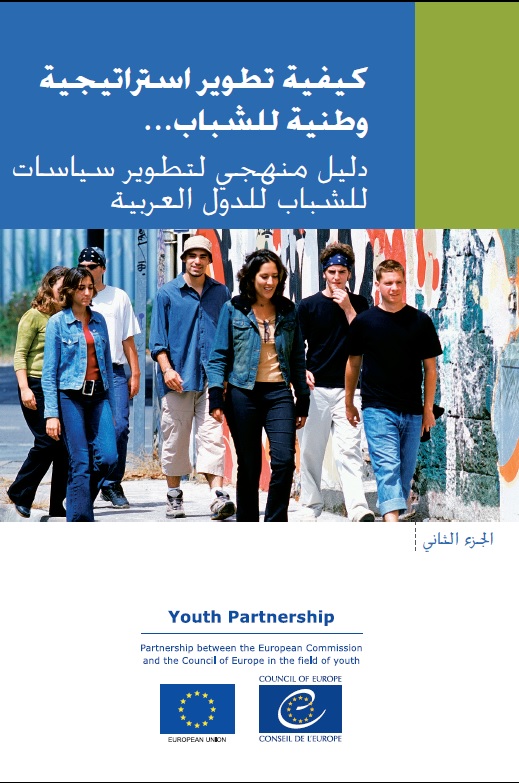 دليل منهجي لتطوير Sسيا Sسات لل ûشباب للدول العربية
ماهي Sسيا Sسات ال ûشباب، وما هي العنا Uصر الرئي ùسية التي يجب أ ن تت†ضمنها الا Sستراتيجية
الوطنية لل ûشباب؟ كيف يمكن أخذ ر أ ي ال ûشباب و إ Tشراكهم في عمليات تطوير ال ùسيا Sسات
الخا Uصة بهم؟ كيف تقوم م ؤ Sس ùسات، مثل الاتحاد ا لأوروبي ومجل ùس أوروبا وا لأمم المتحدة
بتناول Sسيا Sسات ال ûشباب، وكيف يمكن ربط ذلك مع جهود الحكومات الوطنية في تطوير
أجندة Sسيا Sسات ال ûشباب؟ هذه بع†ض ا لأ Sسئلة المحورية التي يتناولها هذا الدليل.
يمكن اعتبار دليل تطوير Sسيا Sسات لل ûشباب للدول العربية م üصدرا و أداة ودليل نافع
ل üصانعي ال ùسيا Sسات وللمنظمات غير الحكومية والمجموعات المعنية ا لأخرى التي تدعم
Uصنع Sسيا Sسات Tشباب مح ùسنة على الم ùستوى الوطني.
يطرح هذا الدليل نموذجا محتملا لكيفية تطوير ا Sستراتيجية وطنية لل ûشباب، مبنية على
م ûشاهدات الم ؤلف في بلدان جنوب Tشرق و Tشرق أوروبا، حيث أ Uصبح لدى هذه الدول خبرة
في تناول Sسيا Sسات ال ûشباب بطريقة أ فقية وعبر قطاعية، تم من خلالها إ Tشراك ال ûشباب
ب ûشكل فعال.

Council of Europe, 2015. ISBN 978-92-871-8094-0