Besides the other types of publications mentioned on this page, find other types of publications available on youth work, youth policy and youth research here.

Insights into youth policy governance
Youth policies are initiated and reviewed regularly at various levels, from local to national and international. People who work within this process, from policy makers to practitioners, researchers and young people, ask themselves how they can set up the best governance system for their context, who should manage youth policy, how communication can be ensured among the different stakeholders and how young people are involved.
Using over 15 years of gathering and analysing evidence in the European Knowledge Centre for Youth Policy (EKCYP), the EU-Council of Europe youth partnership presents its first Insights. This publication seeks to provide insights into youth policy governance with presentations of approaches in different countries and with guiding questions for reflection. It thus offers a picture of how youth policies are set up (the legal framework) and which public structures manage their implementation, as well as how young people are involved. The analysis is presented based on a multi-country review of contributions gathered in 2016 and 2017 from the EKCYP and the EU Youth Wiki. To frame the analysis across Europe, Insights also presents European-level policy imperatives and governance in the Council of Europe and the European Union, and the knowledge on this subject gathered through their partnership in the field of youth.
Download the pdf (0.5 Mb)

Youth research: the essentials
Research on youth is becoming increasingly recognised as an indispensable companion of effective, impactful policy and practice. To make it more accessible and better understood, this short text, written by members of the Pool of European Youth Researchers, co-ordinated by the EU-Council of Europe youth partnership, aspires to help the reader gain a better and immediate understanding of the purpose, scope and usefulness of research on youth. It also describes how various stakeholders in the youth field, and beyond, can make use of youth research. It does not intend to present the state of contemporary youth research, nor showcase youth research projects, but focuses on addressing specific questions such as: What is youth research? What are the theoretical influences of youth research? Why do we need youth research?
It is the authors' wish, through this publication, to make research on youth closer and more accessible to all actors in the youth field in Europe and beyond.
Download the pdf (4 Mb)

Handbook on quality in learning mobility
Learning mobility in the youth field is gaining both momentum and relevance in Europe, and the number of projects and beneficiaries is increasing every year. For this reason, maintaining the focus on quality is of the utmost importance. This handbook was written with the conviction that there is no intrinsic contradiction between quantity and quality in learning mobility activities. Rather, it is the authors' belief that they are two sides of the same coin, and that more attention to quality can be conducive to higher numbers of participants and activities, while increasing satisfaction among participants and organisers, as well as educational results.
This handbook is intended to support organisers of learning mobility projects in the youth field. It is the result of a four-year endeavour, consisting of the work and discussions of experts, young people, youth workers, researchers, policy makers and donors. It aims at providing immediate, clear and useful answers to questions on how to organise learning mobility projects with and for young people.
Intended as a set of tools, it is not meant to be read straight through from cover to cover, but to be kept within reach during all phases of a project, from design to evaluation, for quick and easy consultation. We hope you will find it useful, and that you will use it for the ultimate benefit of young people, before, during and after any learning mobility activity.
Download the pdf (1.5 Mb)

Step-by-step together
Support, Tips, Examples and Possibilities for youth work with young refugees
The situation of young refugees in European societies is an important topic for human rights, democracy, living together in diversity and social cohesion. Among different sectors working for and with young refugees, youth work offers a diversity of spaces and initiatives for young refugees to become a full part of their communities and to have a voice in all matters that concern them.
This publication offers practical tools for youth work on the inclusion and participation of young refugees at local level. It focuses on youth participation and inclusion as key dimensions to build inclusive societies and, at the same time, to create an enabling environment for young refugees to be fully fledged actors of their personal and community development. It tackles the following themes: intercultural learning; access to social rights; young women refugees; youth participation and mental health and trauma.
Download the Step-by-step together publication (1.6 Mb)

Youth work against violent radicalisation
Radicalisation leading to violence has become a growing issue of concern in Europe and its neighbouring regions. This emerging concern has highlighted the need to work with young people in order to address the root causes of extremism, but also promote living together and community cohesion. Youth work can play an important role in this respect. This study includes concepts that can be useful for youth work practitioners in understanding the phenomenon of radicalisation leading to violence. It includes 20 examples of youth work practices, grouped in five categories: peer education; online campaigns and digital media; co-operation with other stakeholders; providing opportunities; and education and training. It also analyses the needs and challenges youth work faces.
Youth work empowers young people to have a greater degree of autonomy, self-determination and control over their lives in order to enable them to represent their interests in a responsible way. Youth work also supports young people to deal with challenges they face and strengthens their resilience and critical thinking.
This study was prepared with input from the following partners: SALTO EuroMed, SALTO EECA, SALTO SEE, and the National Agencies of Erasmus+ Youth in Action of France, Germany, Italy, the Netherlands, Norway, Poland and the United Kingdom.
Download the pdf (1.5 Mb)
Youth policy essentials
How can policies enable young people to be active citizens? How can they support young people to be included in society and to realise their aspirations and potential? This overview of the main concepts, principles, and challenges of youth policy is meant to help answer these questions.
A word of caution: youth policy is complex. We invite the reader to consider their own context, which may be more complex and even more complicated! Much more has been written, discussed and debated on youth policy than is included in this document, so if your journey brought you here, we hope it will not stop here! We invite you to continue using the references included in these "essentials" and the website of the Partnership between the European Commission and the Council of Europe in the field of youth.
Download the pdf (6 Mb)

Getting there...
In 2011 the Partnership between the European Commission and the Council of Europe in the field of youth organised, in co-operation with Jugend für Europa and the SALTO Training and Cooperation Resource Centre, a symposium on recognition of youth work and non-formal learning. Participants of the symposium discussed the strategic working paper "Pathways 2.0 – towards recognition of non-formal learning/education and of youth work in Europe" and adopted a final statement which summarised the discussions in the symposium. They also elaborated on proposals for concrete follow-up activities and charged an expert group to transform these into a plan of action. All three documents – the Pathways 2.0 paper, the statement by the symposium's participants and the Plan of Action – are contained in this publication. It aims to create a decentralised process for the implementation of actions leading to a better social, political and formal recognition of youth work and of non-formal learning/education in the youth field.
Download the pdf

Intercultural dialogue guidelines
Guidelines for intercultural dialogue in non-formal learning / education activities
In 2009, a group of international organisations concerned with intercultural dialogue in non-formal learning jointly decided to carry on a feasibility study – initially under the coordination of the Youth Department of the Council of Europe and later through the partnership between the European Commission and the Council of Europe in the field of youth – in order to understand the approaches to intercultural dialogue that youth organisations were using in their non-formal learning activities in Europe and the Euro-Mediterranean region. The results of the study revealed many different uses of the terminology, a diversity of approaches, but very few assessments or comprehensive guidelines. Considering such outcomes, a group of experts – trainers, practitioners, researchers – was brought together to develop a tool that serves as guidelines for trainers and facilitators who organise intercultural learning activities.
Link to the webpage

Training: ATTE Series
Advanced Training for Trainers in Europe (ATTE) is a part-time programme for trainers active in training youth multipliers. ATTE was implemented successfully as a pilot course from November 2001 to October 2003, involving 30 trainers from 21 countries, it is innovative in its approach, methodology, structure, long-term perspective and intensity.
ATTE has been developed and organised within the Partnership Programme on European Youth Worker Training run by the European Commission and the Council of Europe. The Partnership Programme aims to contribute to quality in youth-worker training at European level, with an emphasis on integrating European Citizenship in youth work.
Volume 1 of this publication presents a full description of the ATTE training programme and its curriculum, and Volume 2 gives an external evaluation of the pilot course.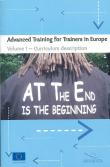 Advanced Training for Trainers in Europe. Volume 1 - Curriculum description (2005)
Author(s) : Miguel Angel García López (ed.)
ISBN : 92-871-5792-8

Donwload the pdf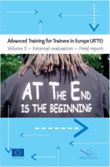 Advanced Training for Trainers in Europe. Volume 2 - External evaluation (2006)
Author(s) : Lynne Chisholm with Bryony Hoskins, Marianne Søgaard Sorensen, Lejf Moos, Ib Jensen
ISBN : 978-92-871-5797-3

Download the pdf

our publications
our publications