Mapping of barriers to social inclusion for young people in vulnerable situations
Overall, there are indications of the emergence of a 'class apart' of young people: largely characterized by precarious parental and institutional support, living in households with low work intensity, having a poor capacity to settle long term goals and experiencing high uncertainty. The new patterns of exclusion (discrimination, bullying, oppression of sexual diversity, racism and xenophobia) hinder their access to social rights and deepen their economic insecurity
(Pantea, Maria Carmen 2014: Summary report on the 2013/2014
EKCYP information templates on social inclusion p. 7)
Social inclusion, specifically of young people in vulnerable situations, is a challenging topic throughout Europe and its neighbouring regions, ever more so in the aftermath of the recent economic crisis. In line with the youth agendas of both, the Council of Europe and the European Commission, the EU-CoE youth partnership has the topic of social inclusion of young people as one of its key priorities for 2014-16. Based on the evidence brought by recent projects such as Enter! and the EC policy review 'Social inclusion of youth at the margins of society', the EU-CoE youth partnership aims at systematising and broadening the knowledge base about existing obstacles for young people in situations of disadvantage around Europe and to support policy and practice with concrete examples of practice showing how obstacles have been overcome in specific contexts.
For this purpose, an expert team has been commissioned with the task to map existing obstacles to social inclusion for young people in vulnerable situations and to identify good examples of policy and practice of supporting vulnerable young people to overcome the barriers.
Please find the Mapping report here

30 September - 02 October, Strasbourg 2014 (European Youth Centre)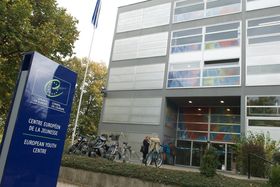 The forthcoming expert seminar gathers representatives of research, policy, and practice. It aims at sharing the provisional findings of the above-mentioned mapping and at complementing the first results with knowledge from policy and practice (youth work practice and relevant experiences from social services and NGOs). The draft documents from our selected experts will be consolidated after the seminar, considering its conclusions and recommendations. Debates at the seminar should be translated into recommendations for youth policy and youth work and follow-up action to increase the impact of the mapping of barriers should be discussed.