Best Practices Database

Back
17th edition of the Tale Festival of Rethel, "The 4 sons of Aymon": Legendary Tale
Alpine Region ,
Via Charlemagne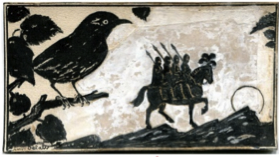 The 17th edition of the Tale Festival of Rethel: "The 4 sons of Aymon" took place on November 16th, 2018. The festival promoted tales and orality in the Grand Est region, both for fans and professionals. This year's festival highlighted the tale of the "4 sons of Aymon". You might not have heard of the "4 sons of Aymon" but you surely know about "the Three Musketeers", by Dumas. It is said that Dumas' novel was inspired by the tale that recounts the history of 4 sons, serving Mazarin who found refuge in Rethel during the revolt.
Tale Festival manager Philippe Vaillant narrated four episodes of the legend of the "4 Sons of Aymon". Noël Orsat, founding director presented two PowerPoints that explained the project of the Via Charlemagne. The first PowerPoint depicted images of the first Route: From Hamburg to Barcelona. The second one presented 10 moving pictures to explain the concept of the Via Charlemagne to the Council of Europe, which led to the certification of the Route.
This event allowed the local public as well as the local officials to discover their heritage, to dive into epic tales, and to comprehend the concept of the Via Charlemagne.