TALE

Training
Training
Trainers for Active Learning in Europe (TALE) - A long-term Training for Trainers, 2008-2010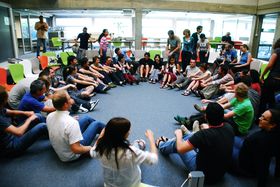 In 2007, the European Commission and the Council of Europe decided to develop a new generic Training Course for Trainers at advanced level. This Training for Trainers was an activity carried out by the EU-CoE youth partnership and was implemented together by the Council of Europe, the European Commission and its partners (NAs and SALTO networks), in co-operation with the European Youth Forum. This Training Course constituted the first step towards the creation of a co-ordinated approach of training trainers in Europe.
The name of this long-term Training Course was TALE ('Trainers for Active Learning in Europe').
The structure for developing and implementing the Training for Trainers was a two-fold one:
the Steering group (gathering representatives of the main stakeholders, including the European Youth Forum) was responsible for setting the strategic objectives of the Training Course, defining its framework and monitoring the implementation and evaluation of the course;
the Course team and the partnership secretariat were responsible for the educational and logistical implementation and evaluation of the course, based on the objectives defined by the Steering Group.
The EU-CoE youth partnership selected 30 practitioners in the field of youth worker training in Europe to participate in TALE.
The preparation and design phase of the Training Course started in 2008, while the implementation lasted from April 2009 to December 2010 (including preparation and follow-up). A final evaluation meeting took place in February 2011.
We are glad to share the curriculum of the course as well as the final external evaluation. For more information about the educational approach, the structure of the residential seminars, the online sessions, the online platform, training and learning projects or other features of the course, do not hesitate to contact the EU-CoE youth partnership at youth-partnership@partnership-eu.coe.int
Over the years, the Partnership has developed a widespread experience and played a pivotal role in the field of Training for Trainers, namely through the implementation and evaluation of A.T.T.E...