Learning mobility and non-formal learning in European contexts. Policies, approaches and examples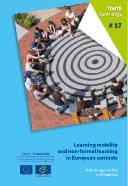 Günter J.Friesenhahn (ed-in-Chief), Hanjo Schild, Hans-Georg Wicke, Judit Balong.
Council of Europe, 2013. 978-92-871-7636-3
Mobility is considered to be important for the personal development and employability of young people, as well as for intercultural dialogue, participation and active citizenship. Learning mobility in the youth field focuses on non-formal learning as a relevant part of youth work, with links to informal learning as well as to formal education. Different stakeholders at European level, particularly the Council of Europe and the European Commission, but also individual member states, foster programmes and strategies to enhance the mobility of young people, and particularly the learning dimension in mobility schemes.
This book on learning mobility is a joint Council of Europe and European Commission publication, and provides texts of an academic, scientific, political and practical nature for all stakeholders in the youth field - youth leaders and youth workers, policy makers, researchers and so on. It should contribute to dialogue and co-operation between relevant players and to discussion on the further development and purpose of youth mobility schemes and their outcomes for young people.

Online articles (extra)
Online articles (extra)

Related activities
Related activities
The bodies involved in the European Platform on Learning Mobility in the Youth Field understand Europe as the region that includes the countries and actors represented in the Council of Europe and...