Daria Catalui

Youth is the strategic resource of a society by Daria Catalui
Context of Author
I now work in the field of Digital Education
Country
Romania
Summary
My name is Daria, I am the founder of 'Danube.EDU', an organization that started from the idea that 'youth is the strategic resource of a society' and that these same young people should be empowered. I am currently working at the European Network for Information Security in Education (ENISA) where I am working on 'Network and Information Security in Education'. My background includes working with both the European Commission and the Council of Europe on youth and educational policies, social entrepreneurship and community development initiatives. During the past years I have been working with and learning from skilled professionals, at Chelgate Consultancy, at the European Institute of Romania (IER), and at the National Agency for Community Programmes for Education and Professional Development in public administration. I am volunteering with the Romanian Youth Council and the European Youth Forum. My formal educational background is in Public Policy from the University of Bucharest, Romania where I qualified at BA and MA levels.
Story in Full
This story is about growing up as a youth worker then trainer and becoming a junior professional. I started my youth work experience in my small town called Oltenita, Romania and then in Bucharest during my university years. From this volunteering I gained a lot of practical experience and skills that have helped me develop and grow as a person and as a professional.
And how did I use all the volunteering experience? Well, I chose lobbying and advocacy as an area of expertise and started improving on it.
In the last years I have become involved in coordinating large scale advocacy campaigns on behalf of the Romanian Youth Council and the European Youth Forum these include the campaign for a healthy life style 'HELP – For a Life Without Tobacco' implemented between 2007 and 2010. Another example is the campaign for the inclusion of young people in regional policy making through the Danube River Strategy, a topic of great interest for my organisation Danube.EDU. The story continued with the UN youth delegate implementation in my country, here I was involved in being a part of the expert group for young people. The latest campaign I am involved in is the European Cyber Security Month on behalf of ENISA.
Formal vs non-formal education, how many times we debate which is best…? For me the recipe was a good combination of both. I managed to combine university studies with youth work by choosing academic work on the same topic. My B.A. thesis title was 'Lobby and Smart Nations. A Case Study on Youth' and my M.A. thesis was titled, 'Cooperation Network in the Danube-Black Sea Region' which led to the development of a pilot project 'Danube-Black Sea Youth Network'.
It is paramount to underline that the valuable youth work experience I had from my starting point in Oltenita empowered me and led my steps towards personal and professional development.
Over the years the 'secret' has been to let myself be driven by a powerful attitude towards bringing progress and putting the topic of 'youth' highest on the agenda for media, policy makers and the general audience. My motivation has always been progress. All of these things have helped me to know myself better and explore horizons without limits. Being empowered from a young age has helped me and hopefully will continue to define my path. Currently through Danube.EDU projects we empower others creating a continuous peer-to-peer story without end.
https://www.youtube.com/watch?v=YBflH3Jh6P4
Link
Image related to this story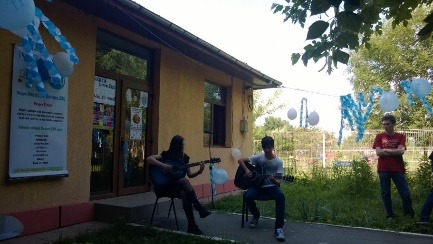 list of authors / sources
list of authors / sources