More than 100 participants from various national institutions and civil society learnt of the establishment of the External Oversight Mechanism (EOM) over the police work at three round tables, which took place in Skopje (6 February), Stip (7 February) and Bitola (8 February 2019). The round tables provided them with an opportunity to discuss operational and structural preconditions and practical arrangements that would ensure proper functioning of the new oversight mechanism.
The EOM proposal was developed by a working group, which identified the 'two-tier' Prosecutor Plus model as the most appropriate model for the country, with a view of strengthening the independent oversight of the police by establishing efficient external mechanism. With the adoption of the necessary legislative amendments in October 2018, a Specialised Unit on investigating and prosecuting all criminal acts perpetrated by Ministry of Internal Affairs employees with police authority and by the prison police has been already established within the Public Prosecutor's Office, while a Unit for Civil Oversight of the police, with participation of 3 civil society organisations' representatives, is currently being established within the Ombudsman's Office.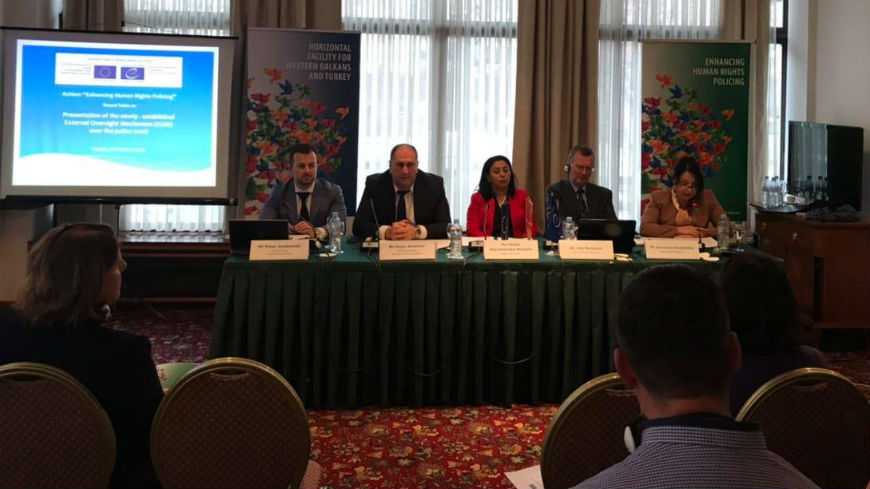 round tables gathered representatives from all relevant national stakeholders, namely representatives from the Basic and Higher Public Prosecutor's Offices in the country, the Ombudsman Office, Ministry of Internal Affairs, Ministry of Justice, judges from Basic and Appellate Courts, NGO representatives, as well as members of the academia and the international community.
The process of drafting the EOM proposal and, subsequently, the presentation of the newly-established EOM was carried out within the scope of the Action "Enhancing Human Rights Policing", co-funded by the European Union and the Council of Europe within the "Horizontal Facility for Western Balkans and Turkey" and implemented by the Council of Europe.