An international conference on transparency of beneficial ownership and related issues of misuse of legal entities and arrangements, organised by Council of Europe, was held in Tirana on 30 – 31 October 2018. The conference aimed at providing awareness raising, sharing of practices, discussing challenges and a road mapping for compliance with European and international standards. The event brought together more than 80 representatives coming from 20 jurisdictions to discuss issues related to required regulation and expected implementation of beneficial ownership.
The Conference was opened by Council of Europe Director General of Human Rights and Rule of Law, Christos Giakoumopoulos, the EU Ambassador to Albania, H.E. Luigi Soreca, and Minister of Justice of Albania, Ms Etilda Gjonaj. Discussions held during the conference will also serve as a platform for mapping out next steps in development and implementation of beneficial ownership solutions in South-East Europe and Eastern Partnership regions.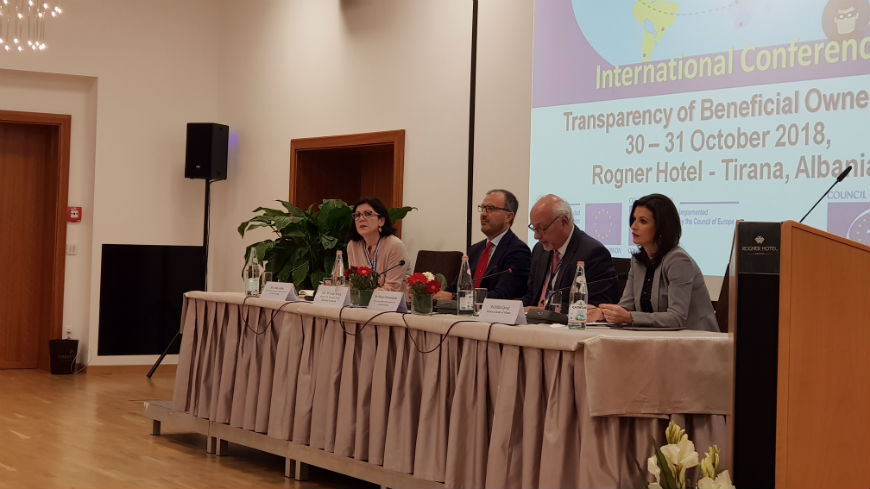 As part of Council of Europe's efforts aimed at strengthening capacities of anti-money laundering and countering the financing of terrorism, this international conference was organised within the framework of the Council of Europe's Programme on Countering Threats to the Rule of Law and three joint European Union/Council of Europe programmes[1]. Beneficiaries of the anti-corruption actions of the joint EU/CoE Horizontal Facility for Western Balkans and Turkey participated in this international conference.
More information available on the conference page.
[1] EU/CoE Horizontal Facility for Western Balkans and Turkey; EU/CoE Partnership for Good Governance (PGG); and EU/CoE Project against Economic Crime in Kosovo*(PECK II).
* This designation is without prejudice to positions on status, and is in line with UNSC 1244 and the ICJ Opinion on the Kosovo Declaration of Independence.