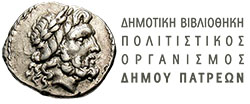 Patras is a harbor city inhabited by 200,000 people. About 22,000 migrants of different countries live in the city and its suburbs. It is inhabited by various types of population with different origins, languages, religions and cultures. Knowing all these groups of population is of vital importance for organizing a friendly living environment for all.
The citizens of Patras, by living in a harbor city, are used for foreigners being part of their community for a long time. Patras has always been the gate of Greece to the West and learnt that being a port is not just a part of a city's layout but it is mainly a way of communicating messages with all over the world. The city's modernity has emerged from the coexistence and encounter of different cultures and mindsets during its long lasting history
The city of Patras during its recent history is a result of a continuous mix of populations. In 1922, refugees from Asia found shelter in the city. After the first and second world wars, many Italians stayed in Patras, got married and had families. Until today, families of Italian origin are very active in the city and operate their own Catholic church. The English community has an active role in Patras as well. The University of Patras is regarded as one of the best in Greece and attracts many students from other countries especially from the Mediterranean area. More precisely, groups have formed such as of African Students, of Students from Cyprus etc. Furthermore, the University is a favorite place for the operation of Non-Governmental Organisations (NGOs) of students acting at the European level (e.g. BEST, AEGEE), linking various universities together and hosting missions of foreign students.
In addition, within the last 20 years, Patras is a living place for many people from the Balkans such as Albanians, Romanians, Bulgarians as well as people from the East such as Chinese and Indians. All of them have been incorporated in society and their children attend public schools.
Furthermore, there are about 2.500 Roma in the city. Efforts have been made to integrate them in urban social context and culture (counseling services, adult education programs, Health provision programs etc).
Many associations of migrants have been formed and participate in decision-making processes through "Patras Council for the Inclusion of Migrants-CIM".
There is a strong involvement of the city of Patras in "Intercultural Cities – ICC" managed by the Council of Europe. Patras has greatly benefited being an active ICC member, since 2008 and the core-city in Greece.