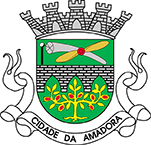 For several centuries, the region of Amadora was the summer resort of wealthy families in Lisbon. The healthiness of the place, the proximity to the capital, the communication facilities and the wide area available for urbanization underpin the development of buildings, which, in certain areas, still has underground dwellings.
The present territory of Amadora was born from the breakup of the former parish of Benfica, on 1885-1886 and, the core of the parish area became the place of Porcalhota. In 1907, local people asked King Carlos allowing the name change; the Kingdom Ministry gave the order, renaming the village of Amadora, on October 28, 1907. It became a parish in the Municipality of Oeiras on April 17, 1916, and was elevated to town on June 24, 1937. Created on September 11, 1979, the Municipality of Amadora extends over an area of 23.79 km2.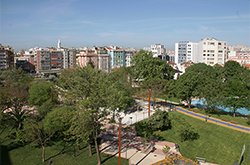 The Municipality of Amadora fits in Lisbon Metropolitan Area (LMA), making land borders with the Municipalities of Lisboa, Oeiras and Sintra. This city was the first to be created after the April 25, 1974. Currently, the Municipality is composed of 6 districts: Águas Livres, Alfragide, Encosta do Sol, Falagueira-Venda Nova, Mina de Água e Venteira. Among its symbols are the Águas Livers Aqueduct and the Airfields that were so important in the emergence of aviation in Portugal. Today, these Airfields are the home of the General Staff of the Portuguese Air Force (Alfragide). Photo: Amadora - View of the Central Park
According to final figures of Census 2011, Amadora has 175,136 inhabitants, making it the fourth most populous city in Portugal and the municipality with the highest population density in the country. Women represent 52% of foreign residents in the City. The average age of the resident foreign population in Amadora is 33 years - younger than the Portuguese population.
The population with foreign citizenship has increased 33% in a decade and represents 10% of Amadora population in 2011. Amadora is a multicultural city with great attractiveness for many citizens around the World. Brazilian community has the largest increase between 2001 and 2011 (from 7% to 22%). 60% of the foreign population living in the city is from PALOP (African Countries where Portuguese is the Official Language), 7% of the foreign population are from other European Union Countries, 5% are from other countries in Europe, 4% are from other countries outside Europe and another 4% are from other African countries not integrated in PALOPs.
4 March 2014
Amadora, Portugal
As part of the campaign "Do not Feed the Rumor!" launched by Amadora's City Council in September 2014, the city has set up a kite contest for all primary and secondary schools. The contest is held...
15-16 May 2014
Amadora, Portugal
On 15-16 May within the framework of the C4i Project the City of Amadora, Portugal, welcomed C4i project manager Gemma Pinyol and the project's campaigning and engagement consultant Daniel de...