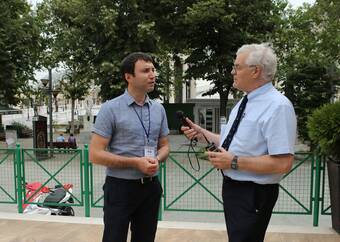 Ognen Spasovski (OS) is the Focal Point for the Policynet team in the "former Yugoslav Republic of Macedonia". He has recently been promoted to the post of associate professor, Department of Psychology, Ss Cyril & Methodius University of Skopje. He has been involved with inclusive education for the past 10 years.
He spoke to journalist David Addis (DA) at the end of the Skopje meeting about his views on inclusive education.
David Addis: What do you see as the role of the Focal Point?
Ognen Spasovski : The PolicyNet has an overarching role in connecting all the components of the project. It is very important for all the beneficiaries, but for the one I am representing it may be crucial, because of the inter-connection of all of the components – main stakeholders, policy makers, teachers, schools. Although we are all working closely with each other, we are working in parallel.
For example Universities are not cooperating with schools, except when they are forced to do so. Teachers are not cooperating well with school management, so we often have a school governance issue because principals and governors do not always on see eye-to-eye with the teachers and the students and their needs. My role as Focal Point on Policynet is to help connect these different groups.
DA: Is the concept of inclusive education well known in the "former Yugoslav Republic of Macedonia"?
OS: It is well known, but inclusive education is generally understood as education for children with disabilities – this is a huge mistake and I am fighting against this because this project provides additional support to all children who need it. So understanding inclusive education as predominantly education for children with disabilities is a huge mistake and we underestimate the needs of other children.
What is even more important is that we have teachers who may not be properly prepared to educate children with disabilities and who use this as an excuse for not recognising other children who have some additional needs. It is thus important to have a common understanding of what inclusive education means and that it is not just about children with disabilities.
DA: What for you is the value of a meeting like this one in Skopje where teachers and others come together?
OS: The greatest impact of this conference is that we brought together teachers from different beneficiaries. Because of the low economic living standards there's a kind of apathy in the school environment. So bringing teachers together, supported by important organisations like the Council of Europe and the European Union, means that the teachers start to feel more self-confident and realise that they are not alone. Through sharing experiences they can see that they are on the same lines as their colleagues. The great benefit of this conference and this project is the ability to share experiences and learn together of good examples and mistakes.
DA: You seem to be enthusiastic about inclusive education.
OS: Yes I am enthusiastic about this issue. Ideally when we improve inclusive education sufficiently we will not need to add the attribute "inclusive", because education should by its very nature be inclusive.