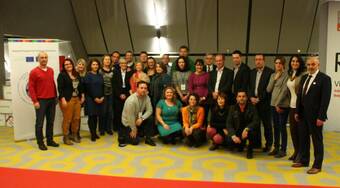 When seven school teams from the South East Europe (SEE) region went on a study visit to schools of The Greater Region* in March 2014, for what was intended to be a fairly straightforward learning experience, they seem to have sparked the beginning of a new inclusive education partnership that is now developing even further. At least that is the impression after a return visit of representatives from The Greater Region to the SEE region took place in Serbia, on 2-3 December 2014.
Representatives from the two regions met in Belgrade, Serbia to discuss a number of different inclusive education topics, including pedagogical approaches, methodologies, support mechanisms, organisation and management of the schools. The goal of the meeting was to enable participants from both regions to further exchange their experiences and to gain a deeper insight into a different educational culture than their own, focusing on inclusive education practices.
This particular peer exchange meeting in Serbia was the result purely of the expressed willingness of these schools to continue learning from each other and to develop new initiatives.
To learn more about current inclusive practices in Serbia, the participants from The Greater Region and the SEE region also visited three schools in Belgrade, in Novi Sad and in Djurdjevo.
Like the first meeting, this second meeting between school staff and teachers from the two regions ended with strong recommendations by the participants for further development of this co-operation through the development of the Inclusive School Network and by involving new schools. They also explored possibilities to broaden co-operation by the use of IT platforms and the use of European Union (EU) funds, so that they can continue their work on finding and improving models for creating truly inclusive school environments.
* The Greater Region is the area of Saarland, Lorraine, Luxembourg, Rhineland-Palatinate, Wallonia and the rest of the French Community of Belgium, and the German-speaking Community of Belgium.