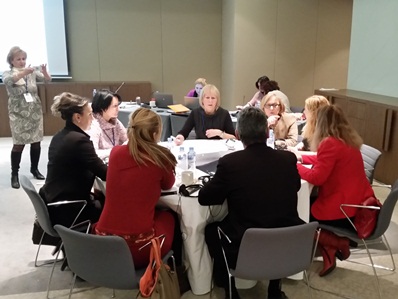 Some 15 teachers, parents and various school staff from the South East Europe region participated in a peer exchange meeting in Belgrade on 18-20 February 2015, to share experience and knowledge about inclusive education. The goal of this peer exchange was to raise awareness about how schools can become more inclusive if the different views of those involved are put into use, as well as to help the participants learn from each other about inclusive cultures, policies and practices.
The meeting also included a study visit to the Primary School "Aleksa Dejović" in Sevojno which has significant experience in inclusive education to various initiatives and projects, and to another satellite school some five kilometres away.
For most of the participants coming from one primary school from each of the seven jurisdictions covered by the Joint EU/CoE project "Regional Support for Inclusive Education", the visit to Serbia was a unique firsthand experience on how inclusion is being treated in the region and in these two schools specifically. During the meetings, they discussed the application of different models which have been proven as successful for the advancement of students and children that were excluded previously. Participants also discussed about legislation, school organisation, values and culture in their schools, teaching methodologies, didactic materials, mechanism for support of vulnerable children and pedagogical documentation.
"This peer exchange visit to Belgrade and Sevojno was a really inspiring, encouraging and educational experience. The possibility of learning and exchange of experiences are extremely valuable and easily applicable", teachers said after the meeting.
TV station Lav from Uzice, Serbia were present to film the visit, and you can watch their report here: TV station LAV report. In this link, participants from the peer exchange share about their impressions about the visit as well as their own inclusive practice.
To foster continuous exchange of experience and opinions, the Inclusive Education project created an IT-platform which can be used to strengthen the cooperation even further and to increase the dynamics in this communication between schools from the region on various inclusive education issues. The IT platform will be used by participants of the exchange to share didactic materials, scenarios of lessons, tips and advice for new approaches in working with children.