Development of priorities for development of Higher Education in Bosnia and Herzegovina
One of the declared goals for higher education in the BiH strategic development plan from 2008 to 2015 is the full accession of BiH to the European Higher Education Area (EHEA) and the European Research Area (ERA).
However, coordinated reforms in the sector face a number of challenges due to its strong fragmentation. One of these challenges is a lack of comprehensive information/analysis on the actual situation in the sector across the country.
It is in this context that Component 1 of the joint EU/CoE project foresees a sector-wide analysis of the situation of higher education and research in BiH. The analysis is to provide a basis for strategic planning at mid-term and beyond 2015.
In a next step, the project will support the competent authorities in defining priorities for the strategic development of higher education in BiH, based on the evidence and findings of the analysis.
With this approach the project pursues a range of goals:
It shall assist BiH authorities to harmonise the higher education landscape with the policies and objectives of the EHEA.
It will do so under the assumption that future development strategies will incorporate and implement the emerging priorities across BiH. The exercise itself will strengthen expertise and capacities within the country by involving domestic experts to a maximum.
It will provide good practice for future assessments and strategic planning in the sector and useful reference for international partners and future technical assistance in the country.
The analysis, once accomplished, should contain evidence-based judgements and recommendations. These should provide the basis for the elaboration of priorities for the development of higher education in BiH, in a process to be defined in the further course of the project with the competent authorities and stakeholder institutions in BiH.
The objective of the Component 1 of the joint EU/CoE project is to develop priorities for development of higher education in BiH, based on the analysis of situation in higher education in Bosnia and Herzegovina.
For that purpose the Project, upon decision of its Steering Board, established the Advisory Group to act as a mentor of the analysis. The Advisory Group is composed of all public universities and 3 private HEIs.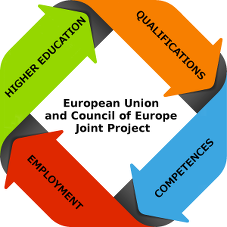 Strategic Development of Higher Education and qualifications standards in Bosnia and Herzegovina