Research seminar "Diversity - Human Rights - Participation"

Activities
Activities
Research Seminar : Diversity-Human Rights-Participation
European Youth Centre Strasbourg. 13-16 May 2006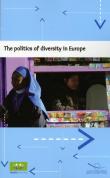 This research seminar took up the themes of the "All Different-All Equal" European Youth Campaign launched by the Council of Europe in co-operation with the European Commission in June 2006. It also followed on from the work begun with the seminar on Re-situating Culture which examined the limitations of the concept of culture, addressing in particular the issue of interculturalism and the way it is applied in European youth policy and practice. This seminar aimed to enlarge on the three pillars of the campaign and to examine the interrelationship of the three concepts: diversity, human rights and participation.
Diversity is linked to interculturalism and is key to the European Union's anti-discrimination agenda. Human Rights education has become a central focus of the Council of Europe's work in the area of citizenship education. Participation is at the heart of the European Commission White Paper on Youth.
In this light, the seminar had three main aims:
To analyse the conceptual 'baggage' behind concepts such as diversity and human rights;
To be constructively critical of how these concepts are applied in practice (in formal and non-formal education, youth work, diversity training, human rights education, anti-racism, social work etc.);
To facilitate a discussion on how a more egalitarian participation can be achieved through evidenced-based youth research.
Thursday 11 May 2006
Opening of the Seminar by Peter Lauritzen, Hanjo Schild and Karin Lopatta-Loibl
Introduction of participants
Introduction to the rationale of the seminar by Alana Lentin
Re-situating Culture/Situating Diversity by Gavan Titley
Interpreting Diversity
Friday 12 May 2006
The Fact of Diversity – Perceptions & Challenges
Human Rights: Foundations & Directions
Saturday 13 May 2006
Participation: Bypassing the barricades
Diversity & Human Rights in Practice

Related documents
Related documents
Seminar report by Alana Lentin.
This report discusses the role of the Council of Europe and European Commission in both the promotion of youth research and with regards to the theme of the seminar.
Publication by Gavan Titley and Alana Lentin. Council of Europe, 2008. ISBN 978-92-871-6171-0.