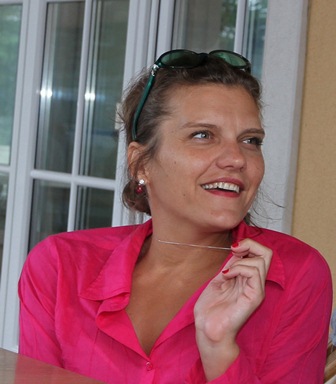 When Nataša Borović enters a new classroom, at first children see her disabilities, but after a moment or two they only see a teacher. They don't make any difference.
This strong message from pupils motivated Ms Nataša Borović to take part in the Joint EU/CoE Project "Regional Support for Inclusive Education". Her reasons are professional and personal. Nataša has a physical disability and uses crutches, and is a teacher at an elementary school "Blažo Joković Orlandić" in Bar, Montenegro. Presently, she is the PolicyNet Focal Point coordinating the work of Montenegrin Policy team.
"This project attracted me as it creates the same possibilities for everyone", said Ms Borović, speaking at the first PolicyNet meeting of the working group on Vocational Education and Training (VET), held in June in Turin, Italy.
"It is important to have a person with disabilities like me as a teacher or a trainer and not only in specialised institutions. My work in a mainstream school promotes inclusion and changes ways of thinking", she said. Her colleagues, parents and children of the school see possibilities not only for the disabled, but for all vulnerable groups. They are more tolerant and aware, while those who are marginalized get the message that they can succeed if they want to.
For Ms Borović, the project which is being implemented across South East Europe, is a chance for cooperation, exchange of experiences in facing common problems and finding best solutions. As an example of good practice in Montenegro she mentioned inclusive audio text books made for visually impaired and blind children at primary schools, but which other pupils can also use. The audio text books are the result of the Project "Recording the text book in audio technique" carried out by the Resource Centre for Children and Youth with Disabilities in Podgorica, with the support of the UNICEF Office in Podgorica, the Montenegrin Ministry for Education and Sports, the Institute for textbooks and teaching materials and the Faculty of Drama Arts in Cetinje. "This innovation", she said, "will make Montenegro recognised throughout the world".
Exchange and networking, considers Ms Borović, are key for furthering the project's development and improving inclusive education on the regional level. "PolicyNet gathers people who are not only policy makers but all those who are actually involved in education and can make a difference", she concluded.