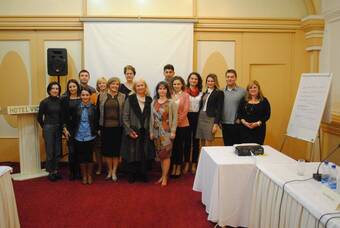 When it is about what happens in the classroom, it is often said that teachers know best. They know what students need and which tools and methods can be used to stimulate the creation of a more inclusive environment. However, it is rare that input from teachers is used in creating new policies and when defining practices that can further improve the inclusiveness of schools in South Eastern Europe.
At least, that is the impression of Jelena Milosavljević, a teacher at the technical school in Bor, Serbia who feels that those who know best are often not consulted when creating new means to better deal with inclusion, even though they are the ones upon which these instruments are imposed.
"With the help of professional associates, teachers can play a pivotal role in the process of creating a more inclusive environment in the schools throughout the region", she says.
This is exactly why the "Regional Support for Inclusive Education" project gathered a working group consisting of school staff, teachers and policy makers (members of the networks created by the project – SchoolNet, TeacherNet and PolicyNet) in a meeting held in Pristina, Kosovo*, as part of a consulting process aimed at improving the development of teacher competences for inclusive education.
The key theme of the meeting held on 18 November 2014 was teacher learning for inclusive education, with focus on the process and tools for achieving it.
Like Jelena, Radmila Pejović, who is a teacher at the primary school Mileva Lajović Lalatović from Nikšić, Montenegro also participated on this meeting. For her, it was an excellent opportunity to exchange experiences with colleagues from throughout the region.
"The insights I have gained at this meeting will help me not only in my everyday work but also in sharing knowledge with those who have not yet fully realized what children can achieve with our support. We all need to constantly search for new and improved methods on how to better deal with differences and how to make sure that every child is treated equally", she says.
The goal of the working group's meeting in Pristina was to discuss how important teacher learning is for achieving student learning and to provide feedback on the framework and tools to be used by teacher education stakeholders in the region for upgrading activities for the teachers' professional development for inclusive education.