The traveling caravan "Tell us your story - Leave a Mark" visited Ohrid this weekend, to talk to young people about the fight against discrimination and the need to build a society of equal opportunities. Public officials, activists, youth, local residents and tourists gathered in the park near the "Grigor Prlichev" Culture Center to talk about diversity and share their motivational personal stories while having artistic and music performances.
The Minister of Labor and Social Policy, Jovanka Trenchevska indicated that a huge number of personal insults and discrimination are still directed specifically at women and young girls, and are still visible in the society. Instead of this, Trenchevska pointed out that she wishes for a battle of concepts, an exchange of different ideas and a debate with arguments where every person will be equal, heard and valued.
"Often when we see or hear personal success stories, it seems to us that the success of those people was a gift or as if it came overnight. But the reality is that in order to achieve even the smallest success, we have to invest in ourselves, give up many things every day, and every time we are in a certain position where we can help someone, we need to do it," Trenchevska said.
We must not allow young people to suffer and be left on their own, emphasized the First Lady, prof. Elizabeta Gjorgievska. She highlighted three important messages for young people:
"Focus on your interests and fulfill your dream, commit to what is important to you, do not give in to challenges. Commit yourself to education, study, research, and don't let anyone discourage you and make you feel less valuable. Youth brings strength, courage, vision and energy. Create and maintain friendships, be ambitious and loud and seek a better future, but also contribute to a better future for you and the generations that will come after you. That's the only way you'll leave a mark," Gjorgievska said during the event that took place in the park near the "Grigor Prlichev" Culture Center in Ohrid.
During the public debate entitled "Equal, unique, successful!" – Minister Slavjanka Petrovska emphasised that in order to succeed, we need to let good people leave a mark in our life, and never forget to leave a special place for love, because when the show is over, the lights will go out, but love will continue to illuminate our path.
"I consider my success to be the achievement of personal happiness. It's not the position, it's not the wealth in the material sense, but for me the greatest luck are the people I meet, those who were by my side during many important moments in my life, and who are with me now, and will be by my side when it's all over. From there, my aspiration is not to be higher in the hierarchy, but to be happier," Petrovska pointed out during the debate titled "Equal, own, successful!"
As long as there are such persons who, despite the general climate, choose not to blend in with the crowd and not to surrender their ideals, there is a way out, Sister Efimija emphasized in part of her success story and thus sent encouraging messages for greater participation of young people in social life.
Marija Andreeva, from the Council of Europe Programme Office in Skopje, tackled the support of the EU and Council of Europe to advance the fight against discrimination and ensure an equal society, especially for the most vulnerable groups. "Mutual respect and equality are the best marks we can leave behind in our society", concluded Andreeva.
During the panel discussion, there were also different guests such as Aida Avehabovic, activist, and Alma Mujanovic, president of the Association for Promotion of Sign Language "Sign for word" from Bosnia and Herzegovina, Marina Vujacic, executive director of the association UMHCG from Montenegro, and Bisera Čadlovska, musical conductor, Lambro Patce, manager, Natasa Popović, director of "Ohrid Summer", Vladanka Trajkoska, president of ORM and Aleksandar Stevoski from the Association of Deaf and People with Hearing Disabilities from Ohrid. The event was moderated by the well-known journalist and human rights activist Ognen Janeski and the musical band "Sherbet" played for the crowd. Artistic performances continued with the mini play "Happiness" while the young artist Martina Naumovska engraved on glass.
This is the fourth in a series of public events to raise public awareness among young people and encourage them to increase their social participation and contribute to an equal society.
The series of public events "Join us and tell your story: Leave a mark" are implemented by the Institute for Good Governance and Euro-Atlantic Perspectives, in co-operation with the Ministry for Labour and Social Policy, with the support of the action "Combating hatred and intolerance in North Macedonia" as part of the joint EU and Council of Europe programme "Horizontal Facility for Western Balkans and Türkiye".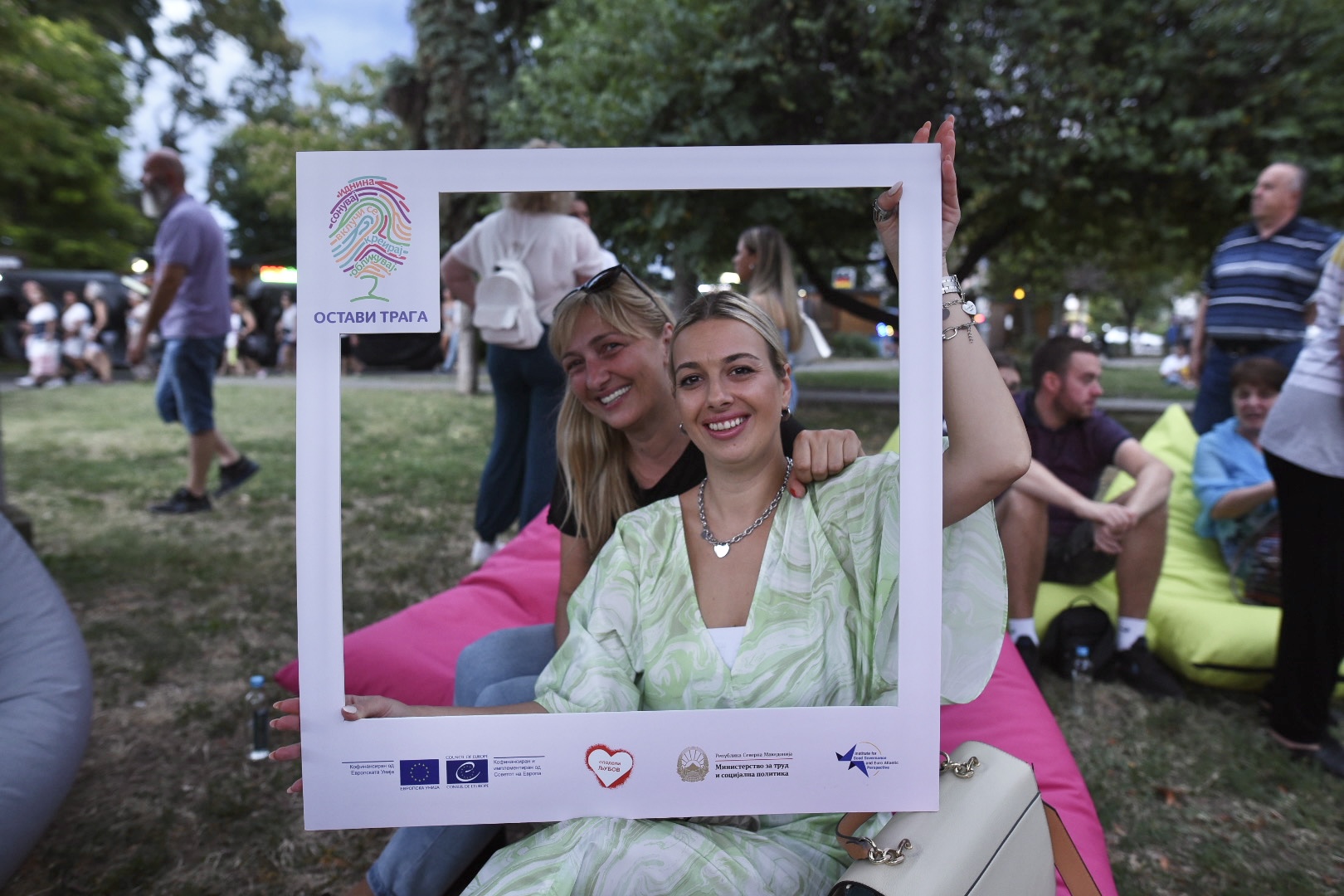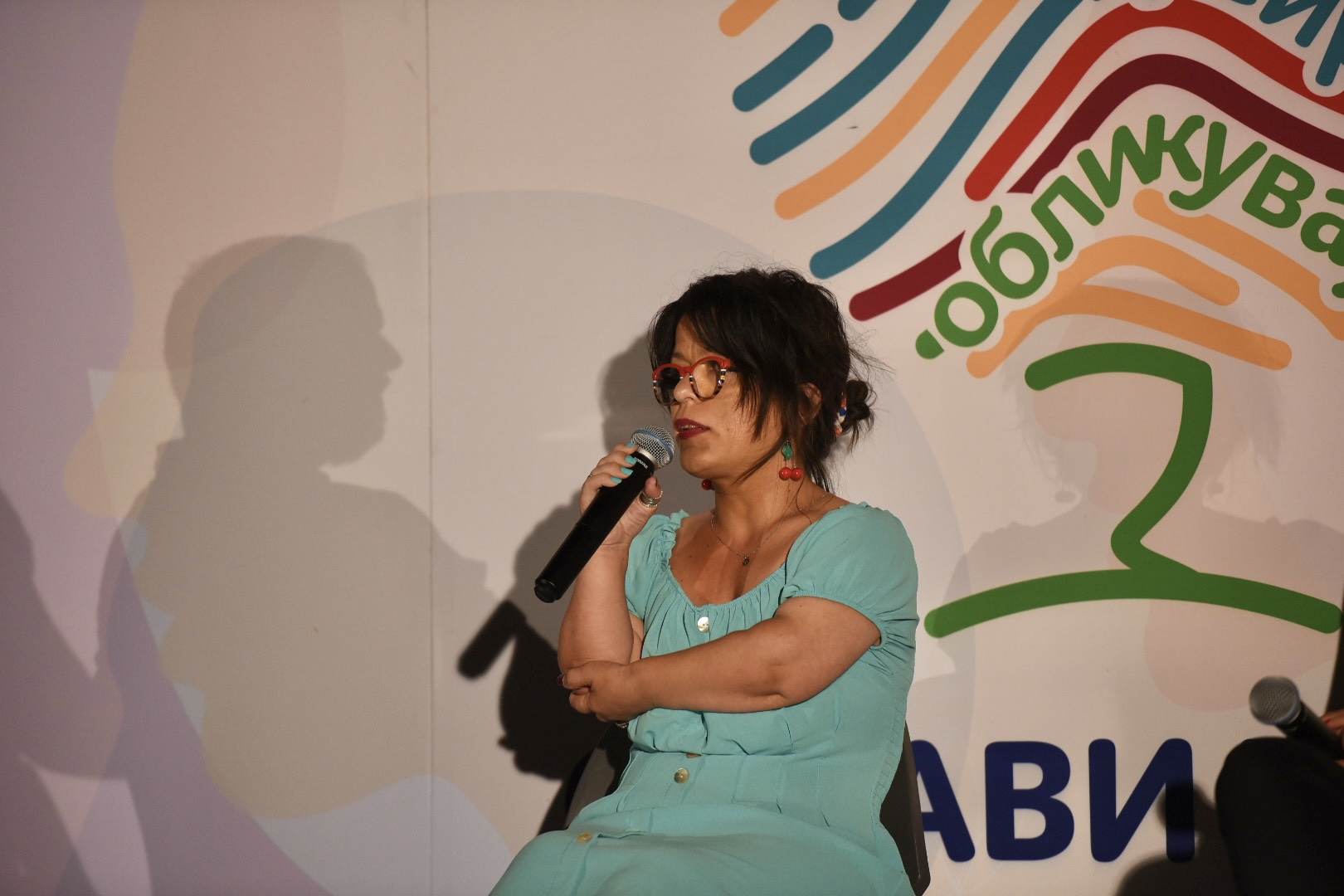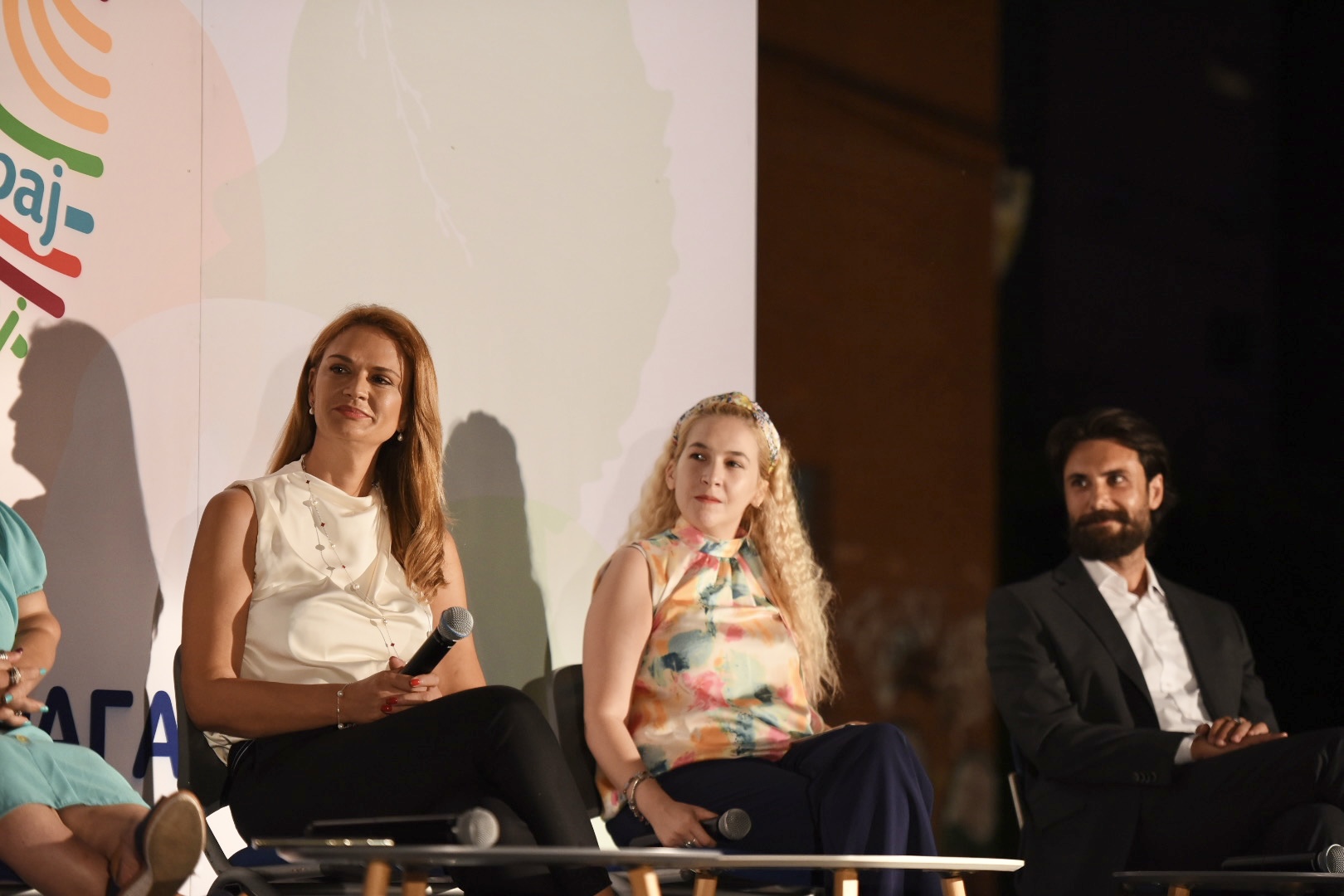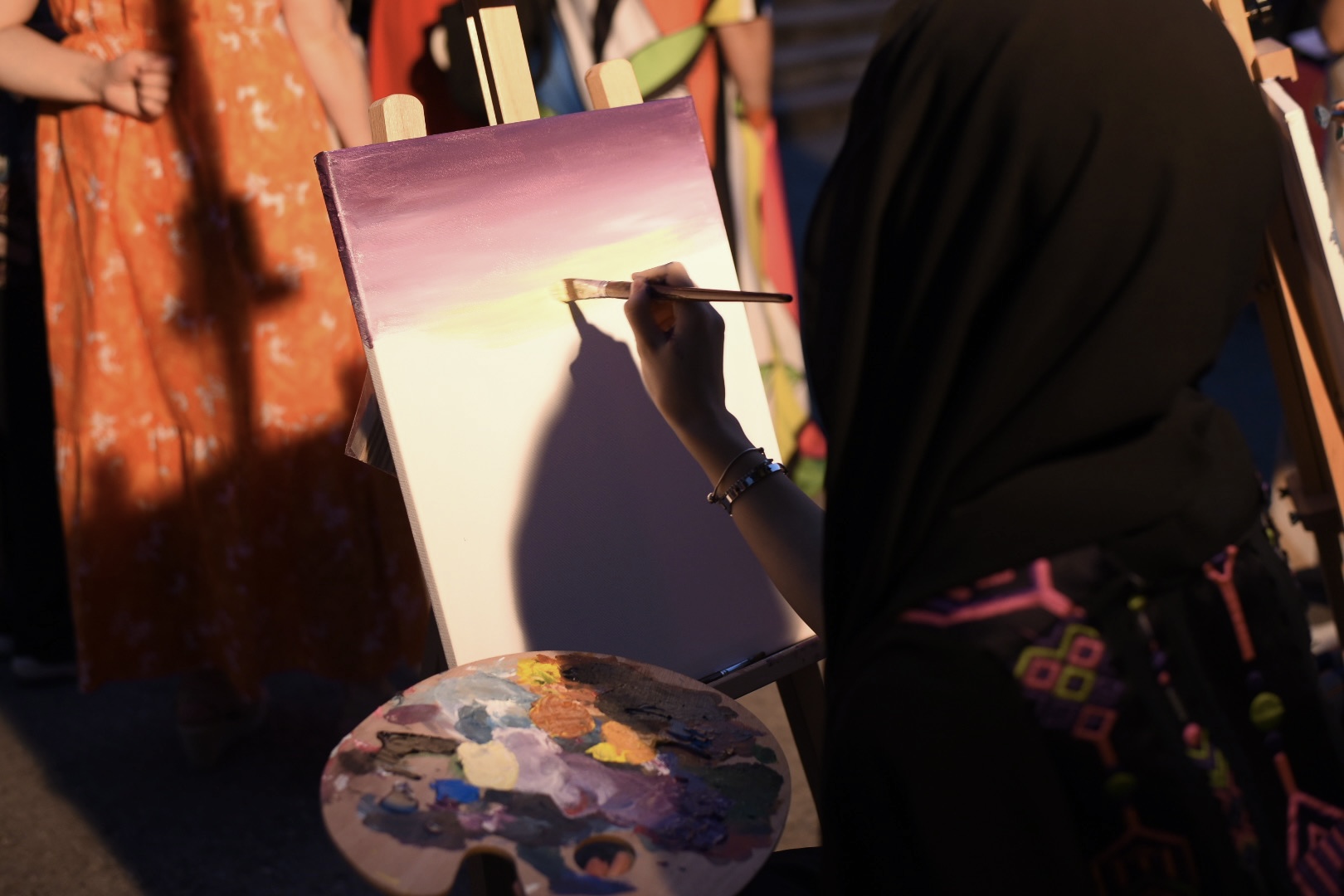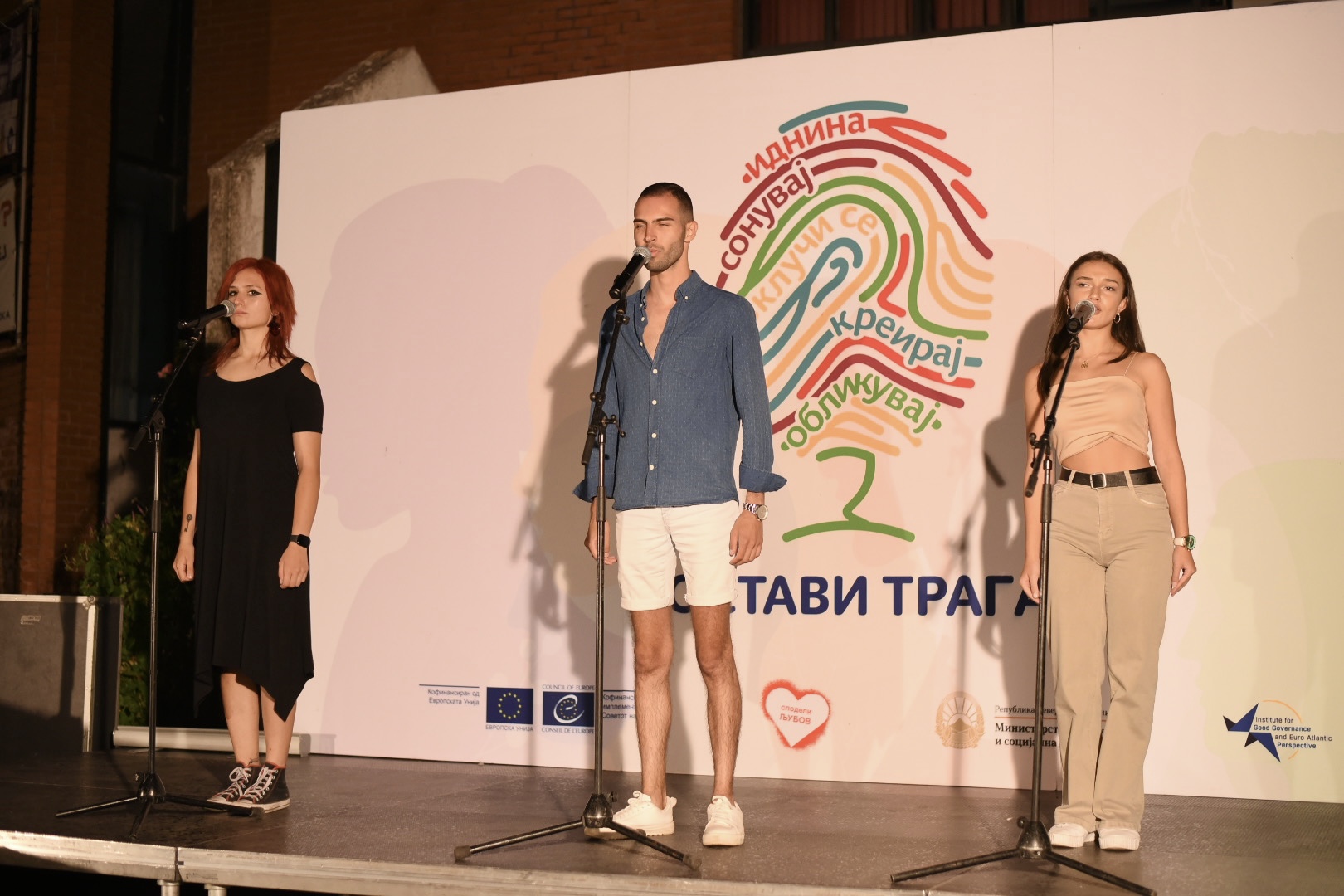 ta