Previous Training for Trainers experiences of the Youth Partnership

Training for trainers
Training for trainers
Previous Training for Trainers experiences of the Youth Partnership
Over the years, the Partnership has developed a widespread experience and played a pivotal role in the field of Training for Trainers, namely through the implementation and evaluation of A.T.T.E (Advanced Training for Trainers in Europe) but also through the organisation of some trainers' forums which provided an opportunity for the exchange of views, experiences and best practices
In 2007, the Partnership organised (together with SALTO) a stakeholders meeting on training for trainers, in order to allow the main partners in the field to review together the existing offers in Europe and explore the possible development of a coherent training strategy for trainers at European level.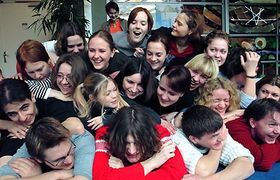 The Open Learning Community (OLC) was designed specifically to facilitate the Advanced Training for Trainers in Europe long-term training course between 2001-2003.
The training course was an advanced training for trainers already active in training youth multipliers at the European level.
Trainer's Forum Linking partners in the youth field The Partnership programme works with a growing number of trainers each year. They participate primarily in the training courses as external trainers but also in the development of our publications, the T-Kits and the Coyote Magazine . In order to provide an opportunity for the exchange of views, experiences and best...

USeful links
USeful links
The Council of Europe Youth Department
The youth programmes of the Council of Europe are integral part of a wealth of initiatives aimed at the development of a common European cultural identity.
SALTO-YOUTH provides youth work and training resources and organises training and contact-making activities to support organisations and National Agencies within the frame of the European Commission's Erasmus+ Youth in Action programme and beyond.
SALTO Training and Cooperation Resource Centre – coordination of the ECTCs
Information about the ECTCs: the Training Courses on European Citizenship aim to support the professional development of youth workers and youth leaders by extending their critical understanding of European Citizenship, exploring and experiencing its potential and by enabling them to recognise and integrate European Citizenship in their youth work. More