South Programme I

Strengthening democratic reform in the Southern Neighbourhood, also known as the South Programme I, was launched in January 2012 as the first-ever joint programme between the Council of Europe and the European Union in the Southern Mediterranean region.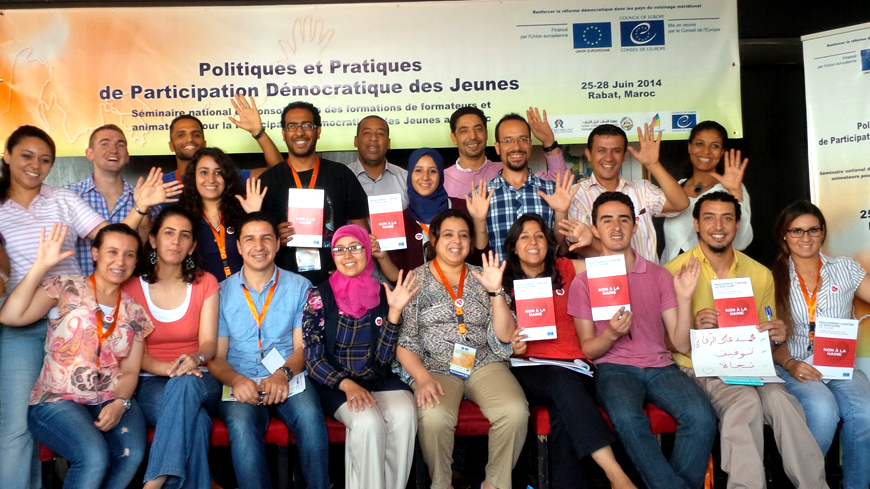 National seminar on the democratic participation of young people in the reform processes, 25-28 June 2014, Rabat
With a budget of € 4, 8 million, the three-year programme (January 2012 - December 2014) was funded by European Union and implemented the Council of Europe. The programme was open to partners of the Southern Mediterranean, covered by the revised European Neighbourhood Instrument (ENI) of the European Union and the Council of Europe's policy towards neighbouring regions: Algeria, Egypt, Israel, Jordan, Lebanon, Libya, Morocco, Palestine*, Tunisia.
Using Council of Europe tools, standards and mechanisms the programme has achieved concrete and sustainable results for the benefit of partners' citizens. From legislative expertise to the strengthening of institutional capacities, through peer-to-peer exchanges and networks, the South Programme I has contributed to the establishment of a common legal area between the two shores of the Mediterranean. It supported partners in the process of their accession to Council of Europe conventions opened to non-members States.
The South Programme I has been instrumental in enhancing the independence of the judiciary in Morocco and Tunisia as well as promoting good governance through the prevention of corruption and money laundering. It has enabled to strengthen human rights protection, particularly through the prevention of trafficking in human beings and the promotion of democratic values in the region. Likewise, the programme has, in particular, supported the adoption of new legislation in line with Council of Europe and other international standards, notably in Morocco and Tunisia. Under the programme, the Council of Europe has provided considerable support in the Tunisian transitional process, i.e. the adoption of the new Constitution in January 2014.
* This designation shall not be construed as recognition of a State of Palestine and is without prejudice to the individual positions of Council of Europe and European Union member States on this issue.