On 25 and 26 September 2014, future anti-rumor agents were trained in Botkyrka, the most ethnically diverse Swedish municipality with its 55 per cent of residents with a foreign background, against 19 per cent nation-wise. The majority of the participants, young people in their twenties, both students and community leaders, attended the training as somebody had recommended them. Networking thus emerged as a distinctive feature and a strength underlying the work of the C4i project team in Botkyrka. The participants offered a pool of creative ideas as to how to address the most widespread rumours in Botkyrka, such as criminality among the immigrant population and the incompatibility of the Swedish and immigrant cultures, – through radio jingles, adverts inside pizza boxes or on ice-cream packages.
During the visit, Christina Baglai, C4i project manager, and Daniel de Torres, C4i campaign and engagement consultant, provided advice on adjusting the focus of Botkyrka's campaign on youth and setting short mid-term goals, to complement long-term objectives. Importantly, the C4i project will become an engine to drive the city's long-term anti-rumour strategy, as underlined by Helena Rojas, Head of Botkyrka's Division for Democracy, Human Rights and Intercultural Development. At the same time, the requirement, for the local C4i team, to seek consensus of a dedicated municipal steering group emerged as a challenge to the pace of the project development.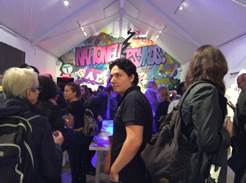 On 25 September, the visitors attended the opening of "Nationel Psykos" (national psychosis), an exhibition at the Multicultural Centre of Botkyrka aiming to demonstrate the evolving Swedish identity.