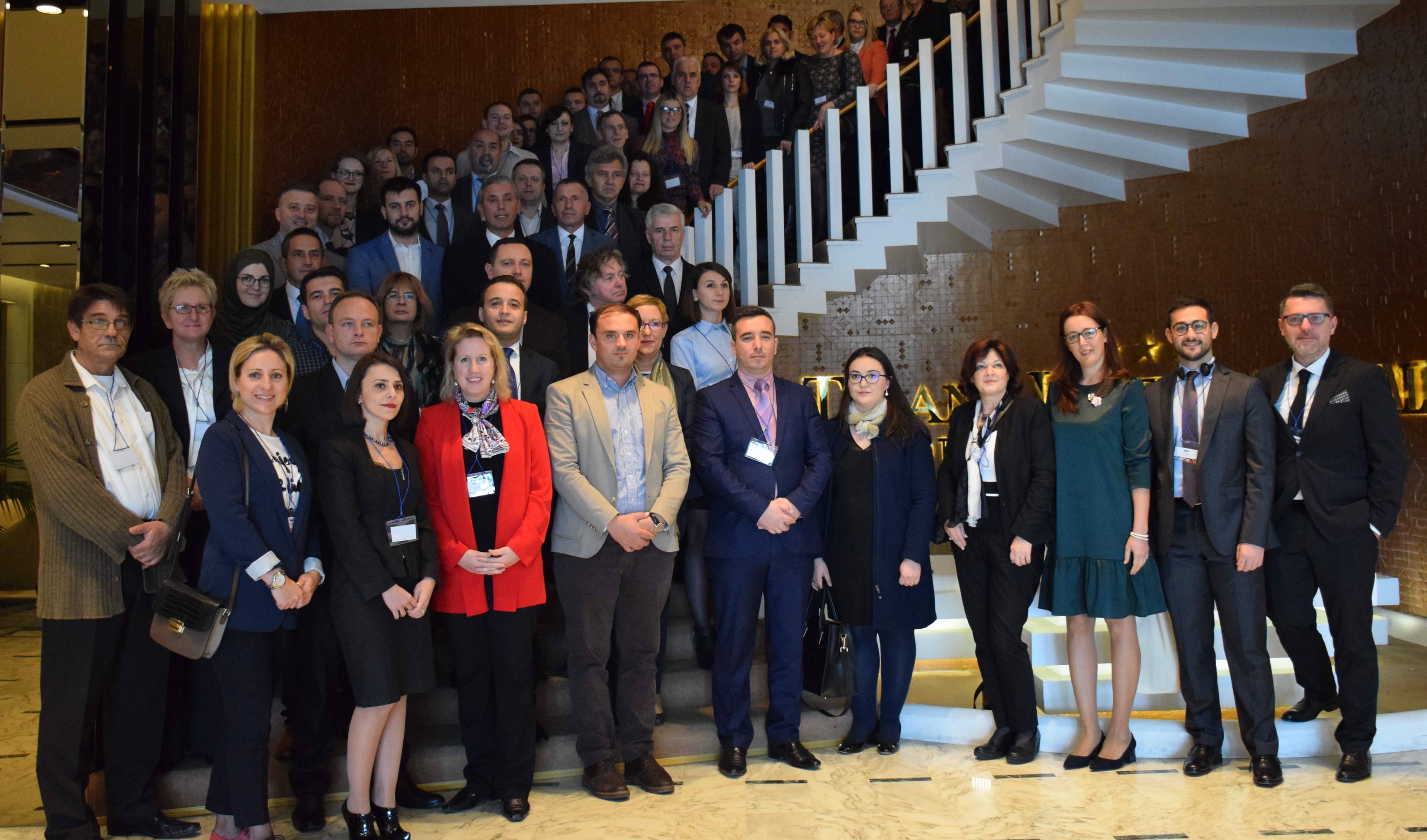 On 16-17 of November a high level regional conference marked the finalisation of a joint EU/CoE project on "Promoting human rights and minority protection in South East Europe". Implemented during 2014-2016 in seven beneficiaries of the South East Europe region – Albania, Bosnia and Herzegovina, Croatia, Montenegro, Serbia, "the former Yugoslav Republic of Macedonia" and Kosovo* - the project aimed at breaking down the barriers for minorities at local level.
The event took place at Tirana International Hotel and brought together representatives from governmental institutions from seven beneficiaries, mayors and other representatives of the 35 selected municipalities, national, regional and international experts, representatives from the Council of Europe and the European Union.
Through direct support to 35 municipalities, the project contributed inter alia to complete elimination of school dropout for Egyptian pupils in Tivat and modernisation of issuing of municipal forms and documents in minority languages in Subotica, setup of a training centre for project drafting for national minorities in Gradiska along with training for desk officers in Pula, providing first ever municipal strategy for inclusion of non-majority communities in Vushtrri as well as pre-qualification and employment of women, members of a national minority in Staro Nagoricane.
The Project has provided a mixture of policy and grassroots support, based on recommendations from the monitoring bodies of our two conventions in the field of minority protection. This was the main aim and the biggest success – bringing European standards and recommendations close to real people who live and deal with the issues that national minorities face every day, right at the places where they live. Listening to their voices and combining our efforts, showing how the Council of Europe can add real value and responses to their needs.
In addition to support provided at the grassroots level, the Project also supported member states at the policy level, from preparation of the Action plan for national minorities under Chapter 23 of pre-accession negotiations in Serbia to revisions of the Law on minorities in Albania. The Project also contributed to promotion of the first ever report on the state of national minority rights in Bosnia and Herzegovina and the capacity building of the relevant institutions that deal with reporting and policy-making in the field of national minority protection in Montenegro.
The Conference was opened by Ms. Odeta Barbullushi, Deputy Minister of Foreign Affairs of Albania, Mr Stephen Stork, representative of the EU Delegation in Tirana and Ms Sarah Keating, representative of Council of Europe.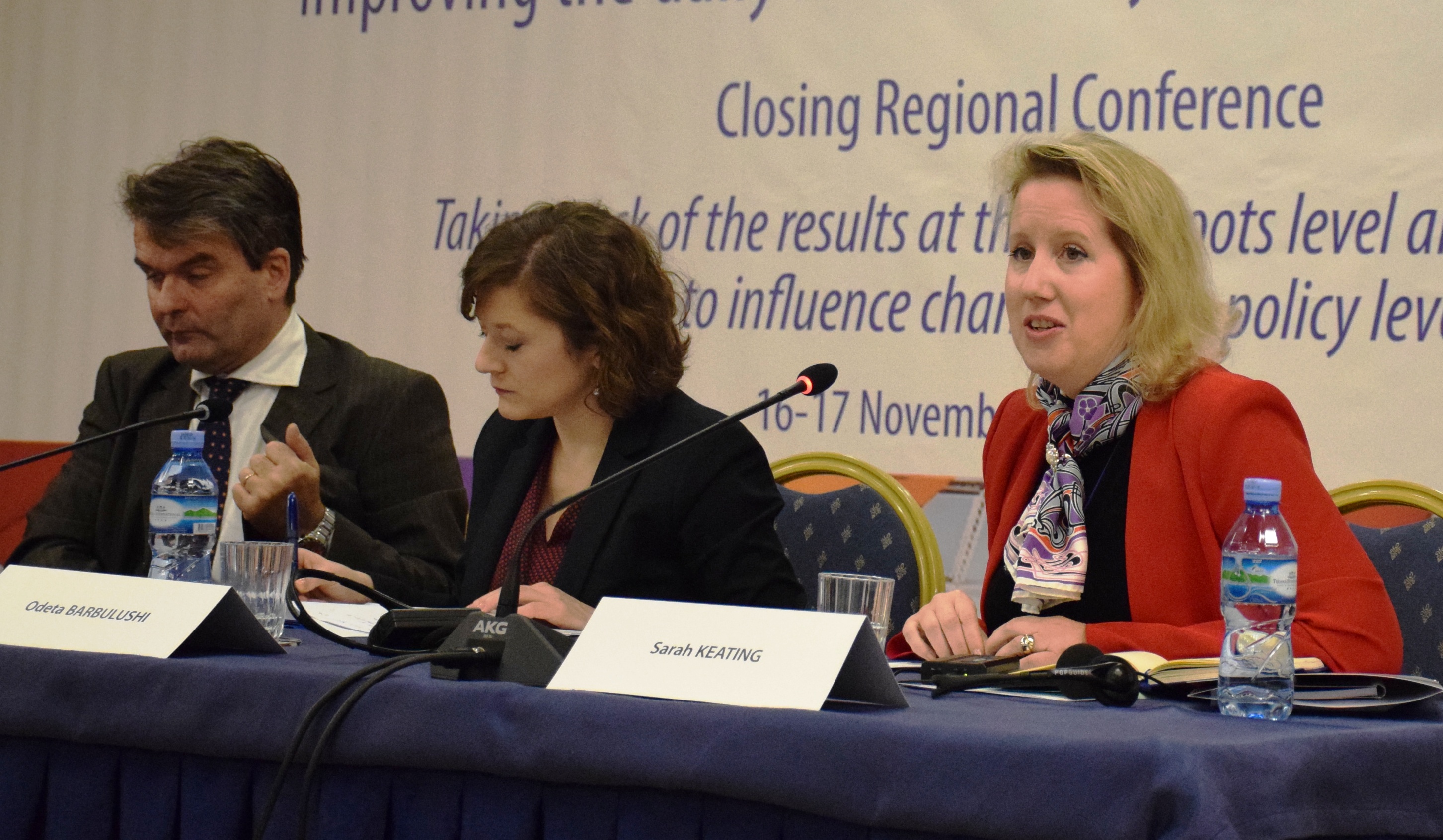 In her welcoming speech, Ms Sarah Keating underlined "the fact that this Project did not try to impose a one-size-fits-all solution based on models developed outside the Region. The elements of good practice […] are bona fide 'home grown' projects designed, developed and tested in the region by people from the region. They have been implemented by local teams formed by mayors, supported by local experts and monitored and evaluated by representatives of the authorities concerned. The Council of Europe did not impose top-down solutions, because the CoE is driven by the importance of relating policy to the impact at the individual level – turning "values" into something practical for individuals. And the best policies are developed on the basis of feedback from those individuals, through a genuine form of participation. Such models will ultimately save public funds if applied on a larger regional scale to solve a specific issue – and be sustainable."